Eisai's Manufacturing and Distribution Activities to Improve Access to Medicines (Demand Chain Systems)
Delivering High-Quality Eisai Products to More Patients Around the World
March 6, 2015
Eisai recognizes our social responsibility, as a pharmaceutical company, to ensure a stable supply of high quality pharmaceutical products and their safe delivery to patients, as we are handling products which directly affect people's lives. Based upon our sense of responsibility and high ethical standard, we established the following General Policy on Product Quality to help us deliver high quality products around the world to those who need them.
Eisai General Policy on Product Quality:
The quality of every single tablet, capsule and ampoule that we produce is integral to the life of patients.
With the aim of achieving more patient-oriented pharmaceutical products' production and distribution, Eisai is building systems not just for the production and supply of products, but also to ensure that production activities and product improvements are actively geared to meeting the demands of patients.
At present, Eisai has manufacturing facilities in Japan, the United States, the United Kingdom, China, India and Indonesia. Each facility possesses its own strategic function based upon its own strength. Through global coordination and considerate response to local needs, these facilities are utilized in a flexible manner to provide a stable supply of high quality products to anywhere in the world. Furthermore, Eisai shares its hhc philosophy with each plant, and with everyone having the same mindset, Eisai promotes the transfer of technology and know-how accumulated from Japan to the global plants. Eisai is also strengthening its production, distribution, quality assurance and product security (against counterfeit medicines) in the developing and emerging world, in addition to developed countries. At the same time, Eisai is accelerating the realization of "affordable pricing", where we aim to provide our products to patients at prices affordable to them, especially in developing and emerging markets.
Our initiatives for leveraging the Demand Chain Systems to improve Access to Medicines are as follows:
1. Realizing Affordable Pricing through Operations at the Vizag Plant (India)
The realization of affordable pricing is crucial for improving access to medicines, which is an aim of the Eisai Group. The Vizag Plant is one manufacturing plant that plays a central role in the achievement of affordable pricing. This plant has obtained GMP* approval from Japan, the United States and India as a manufacturing plant for active pharmaceutical ingredients (APIs) and formulations as well as approval from European countries and South Korea as a manufacturing plant for APIs. In this manner, it has established a role as a production plant serving the entire world, including emerging countries.
*GMP:

GMP stands for "Good Manufacturing Practice" and means the series of standards related to manufacturing controls and quality assurance for medicinal products
The Vizag plant produces diethylcarbamazine citrate (DEC) 100mg tablets for the WHO DEC Provision Program. From October 2013, Eisai began its free supply of DEC tablets produced at its Vizag plant. The DEC tablet formulation was developed at the Vizag plant. The packaging label on the bottle is written in four languages (English, French, Spanish, and Portuguese) to make people living in at-risk communities comfortable with taking the medicine.

2. Suzhou Plant (China) Parenteral Facility
The Eisai Group has operated the Suzhou plant for the manufacturing and packaging of solid dosage products for the Chinese market. A parenteral facility which enables continuous production was recently established in China aiming at building up the local manufacturing capability for stable supply of peripheral neuropathy treatment Methycobal injection for the Chinese market as well as to improve production efficiency in the medium-term.
The company intends to expand the role of the new facility in the future to function as a global supply center of injection products for a wider range of markets including the rest of Asia and Latin America. Strengthening its production system in China through the establishment of this new facility, Eisai seeks to make further contributions to patients by ensuring the stable supply of high-quality products to China and other emerging countries.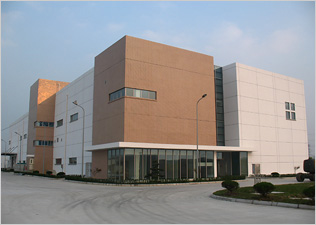 3. Measures Against Counterfeit Drugs
To deliver high quality pharmaceutical products to patients through properly managed routes, the Eisai Group defined the Eisai Global Product Security Policy. In accordance with the policy, Eisai actively works together with authorities and other pharmaceutical companies to share information on counterfeit pharmaceuticals. At the same time, Eisai takes specific precautionary measures during production and distribution to realize a safe healthcare environment.
Measures against counterfeiting of DEC tablets
Each label on a bottle has a unique identification number with a 2D barcode for tracking and traceability of Eisai products. Serialization number on both the outer carton and pallet also enables tracking and traceability of products and prevention of counterfeiting.
4. Provisions for Major Disasters and Pandemics
The Eisai Group has a business continuity plan (BCP) to enable a stable supply of products even in the event of a major disaster or other emergency situation. Under a Group-wide policy that encompasses the Eisai Network Companies, Eisai systematized and upgraded various functions and regional BCPs, and established a framework for making a globally consistent response.
In addition, to prepare for outages of commercial power sources, Eisai installed in-house power generators in all domestic and overseas plants to secure necessary electric power. We are promoting the building of a stronger and more flexible structure for ensuring stable supplies.