FTSE4Good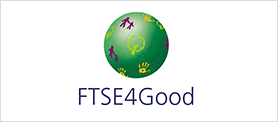 The FTSE4Good Index Series is a stock index series designed to promote investment in companies that meet the global standards of ESG practices.
FTSE Blossom Japan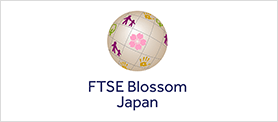 The FTSE Blossom Japan Index is an indicator to measure the performance of Japanese companies that demonstrate strong ESG practices.
2021 Constituent MSCI Japan ESG Select Leaders Index

An index that captures the comprehensive Environmental, Social and Governance (ESG) risk for equities with outstanding ESG ratings relative to their sector peers from among the top 500 equities in terms of market capitalization.
2021 Constituent MSCI Japan Empowering Women Index (WIN)

An index that selects companies in terms of attracting, retaining and promoting women, as well as advancing gender diversity. Selection is based on data regarding female employment disclosed according to the Act on Promotion of Women's Participation and Advancement in the Workplace as well as information publicly disclosed by companies such as company policy on gender diversity.
IR GRAND PRIX AWARD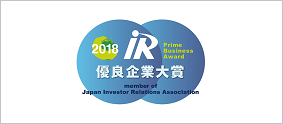 The "Most Liked!" IR Award, a newly created award by the Japan Investor Relations Association in 2020, aims to reflect the viewpoints of companies that applied for the IR Award based on their voting, share their proactive IR experiences, and realize best practices.
"Most Liked!" IR Award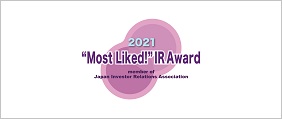 Japan Investor Relations Association recognizes companies which have been highly accredited in the investment community for their understanding and promotion of IR activities. Eisai has received the IR Grand Prix Award for the second time following 2006.
Access to Medicine Index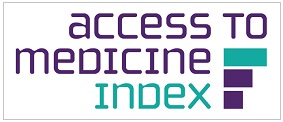 Compiled by the Access to Medicine Foundation once every two years, the Access to Medicine Index is a survey which evaluates 20 global pharmaceutical companies leading in initiatives for access to medicine issues in developing and emerging countries. Eisai has been ranked 11th in 2021.
CDP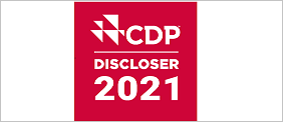 The CDP is a non-profit organization based in London that requests top ranking market capitalization companies and municipalities in principal countries to disclose information on climate change measures, water resource protection and forest conservation. In 2021, Eisai has acquired "A- " in the fields of "climate change" and "water security".
Ministry of Economy, Trade and Industry (METI) Minister's Award of the New Diversity Management Selection 100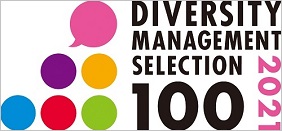 The Ministry of Economy, Trade and Industry (METI) has been presenting a METI Minister's Award under the New Diversity Management Selection 100 Program with the aim of widely introducing the advanced efforts of companies that link diversity promotion to management results and encouraging companies to engage in diversity management. Among the priority themes, Eisai received a particularly high evaluation for items such as activities promoting participation of diverse employees including women and employees with foreign nationalities, realizing diverse career paths for employees, and implementing workstyle innovation and management strategy transformation, and so on.
Outstanding Health and Productivity Management Organization 2022

Japan's Ministry of Economy, Trade and Industry examines enterprises engaging in initiatives for overcoming health-related challenges in regional communities or for promoting health-conscious activities, and recognizes outstanding enterprises engaging in efforts for health and productivity management. Eisai has been certified as an Outstanding Health and Productivity Management Organization in the large enterprise category for the fourth consecutive year.
Nikkei SDGs Management Survey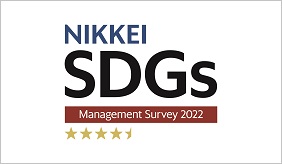 The SDGs Management Survey, rates corporate initiatives for achieving the United Nations' Sustainable Development Goals (SDGs) in four categories of SDGs Strategy & Economic Value, Social Value, Environmental Value, and Governance. Eisai was selected among top 54 companies in the 2022 Nikkei SDGs Management Survey.
NIKKEI Smart Work Management Survey

Eisai awarded 4 stars in the 6th Nikkei Smart Work Management Survey (November 2022) Eisai was recognized with a 4-star rating in the 6th Nikkei Smart Work Management Survey, which selects leading companies that are taking on the challenge of revolutionizing productivity through reforms in the way they work. This survey, conducted by Nikkei Inc. since 2017, targets listed companies and leading unlisted companies nationwide, and evaluates "Smart Work Management", which is defined as an initiative to maximize organizational performance through three elements: the realization of diverse and flexible work styles, a system to create new businesses, etc., and the ability to develop markets, and is evaluated on a five-star scale.