Medium-term Business Plan EWAY Future & Beyond From "Patients" to "Everyone in the Daily Living Domain"
Under our medium-term business plan "EWAY Future & Beyond" commenced in FY 2021, the key players to whom Eisai should make a contribution have been expanded from "patients and their families" to "patients and the people in the daily living domain".
With our vision of supporting patients and the people to "live their lives to fullest," we will promote the creation of solutions based on science and data in the areas of neurology and oncology in which we have the greatest strength, and an ecosystem in collaboration with other industries.
Additionally, we will further enhance the hhc (human health care) process that is based on the hhc concept that we have long been implementing. In the hhc process, we obtain an understanding of the anxieties of our customers, and resolve those anxieties by formulating strategies for their removal. We will keep ourselves close to the lives of the people by enhancing this process. As a result of such efforts, we will aim to evolve the hhc process to "hhceco" (hhc + ecosystem) that will support and enable the people to realize their fullest life from the time that they are in good health up to the final moments of their lives.
Dementia hhceco Model
The hhceco Model for dementia is the first social issue that we should tackle. The foundation of this Model is Eisai's unique competitive advantage: the acquisition and accumulation of data on Human Biology. Using data obtained through in-house R&D processes and collaboration with partners as input, our research and development system based on Deep Human Biology Learning (DHBL) plays a central role in value creation. We will not only develop new drugs such as lecanemab and the AD pipeline but also build data models and create solution packages based on the research results.
Collaboration with partners such as academia, companies, and local governments will accelerate this value creation process. The foundational data will accumulate through collaboration with our partners, and in R&D, research alliances with academia and startups are being developed.
Furthermore, the data models, drugs, and digital solutions created will be widely offered to the people by Eisai either directly or in collaboration with partner companies and local governments and will relieve their anxiety at any stage, from healthy state before the onset of dementia to the follow-up and prognosis stages after onset and treatment. For example, by providing a variety of solutions through collaboration with companies and local governments, such as providing an AI tool that predicts the risk of onset to healthy people, implementing apps that check cognitive function of people who are high-risk, and leveraging solutions that visualize treatment effects for people undergoing treatment, we will be able to approach the right people at the right time.
These solutions will contribute to improving benefits for the people and provide social impact to a variety of stakeholders. Such social impact will lead to efficient funding for future value creation and creates a virtuous spiral that leads to the development of new solutions. That is the overall picture of the hhceco Model.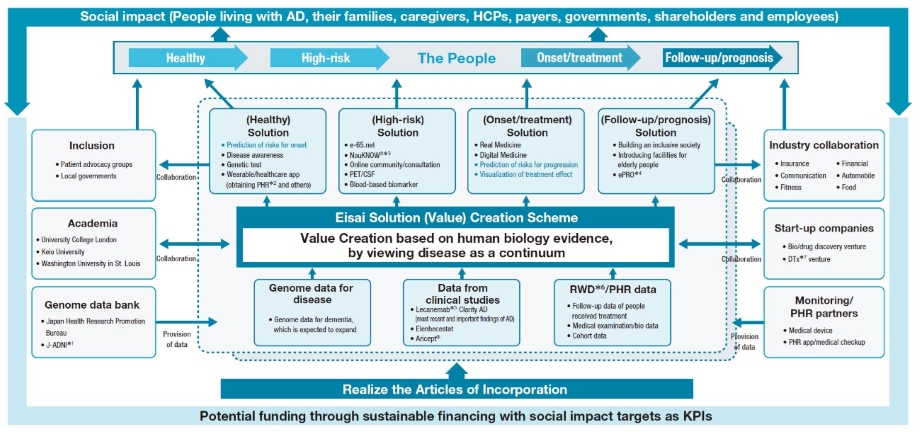 *1

Japanese Alzheimer's Disease Neuroimaging Initiative

*2

Personal Health Record

*3

A self-evaluation tool that assesses brain health through a simple card test using a computer or tablet device (non-medical device)

*4

Electronic Patient Reported Outcome

*5

Antibody for Alzheimer's disease produced as the result of a strategic research alliance between Eisai and BioArctic. Collaboration with Biogen Inc.

*6

Real World Data

*7

Digital Therapeutics
Examples of collaboration with other industry partners in building the ecosystem