Our Medium-Term Business Plan 'EWAY 2025' with the Core Concept of "hhc" and "Ricchi"
Eisai started 'EWAY 2025', the medium-term business plan up to fiscal year 2025, in April 2016. For a pharmaceutical company which has conducted development of medicines over the course of many years, a decade is certainly not a long period of time. Eisai will endeavor to make steady contributions to patients with looking ahead the goal which must be reached 10 years later.
'EWAY 2025' aims to achieve the following three strategic intents:
Aim to support patients' thought: "I do not want to get sick. I want to know if I get sick, and I want to be cured."
Aim to support patients' thought: "I want to control my disease in my neighborhood and safely spend the rest of my life with peace of mind."
Focus on a business domain where Eisai can find out "Ricchi" based onhhcneeds and fulfill them with Eisai innovation
The foundation of these strategic intents is the hhc (human health care), the corporate philosophy, which reflects the desire to contribute to patients. Thehhcphilosophy was enacted in 1992, and is now acknowledged as a common value among all employees, both in Japan and overseas. Spending time with patients and understanding their true needs motivates employees, and this becomes the source of Eisai's innovation. All employees are recommended to spend 1% of their business hours with patients. Additionally, since the inauguration of 'EWAY 2025', patient socialization programs have been included into internal training programs, which has motivated employees to contribute to patients.
In 'EWAY 2025', Eisai has selected two therapeutic areas of focus to fulfill patient's unmet needs: neurology and oncology. In these two areas, we believe that it is important to find out "Ricchi", areas where real patient needs are still unmet, and where Eisai can become a frontrunner. Establishing a center line at "Ricchi" through innovation is a core concept of 'EWAY 2025'.
Eisai has identified 6 "Ricchi" in neurology area and 2 "Ricchi" in oncology area, and will focus efforts on producing innovation for each.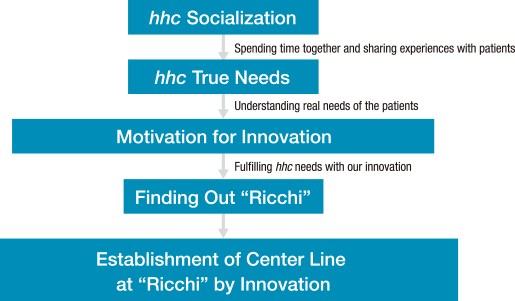 What is "Ricchi"
Areas where real patient needs are still unmet, and where Eisai can become a frontrunner
Accelerate Development of Flagship Pipeline in Neurology and Oncology Areas under Business Group Structure
Eisai has established business groups, end-to-end organizations that integrate functions from research and development to commercial, in the two major areas of neurology and oncology, upon the initiation of 'EWAY 2025'. One of the objectives of the establishment of business groups is to enhance productivity in business through Early Decision Making. Another is to develop Scientific Acumen, an important organizational culture, through integrated business structure which includes discovery research. Development of flagship drugs based on "Ricchi" in neurology and oncology areas is accelerating since the organizational shift to business group structure has been made.