Promotion Structure
The Eisai Group established the Company-Wide Environment and Safety Committee as a decision-making body for deliberation of important environmental issues.
The committee is promoting global activities encompassing topics from overseas and is also strengthening activities for ascertaining environment-related risks and for establishing measures to address them.
Moreover, as a consultative body promoting the environmental activities of Group companies in Japan, the Eisai Group also established the Environment and Safety Conference of Group Companies in Japan to share information and discuss relevant activities.
Each operational site of the Eisai Group has established its own unique management system to promote environmental activities. The Eisai Group's main production sites in Japan as well as the Suzhou Plant in China and Vizag Plant in India have all acquired ISO 14001 certification and are conducting activities based on the ISO standard while striving to raise awareness through environmental education and environmental risk management training. Besides complying with environmental laws, ordinances and agreements, we periodically conduct internal environmental audits by a department specializing in internal auditing to identify and solve issues.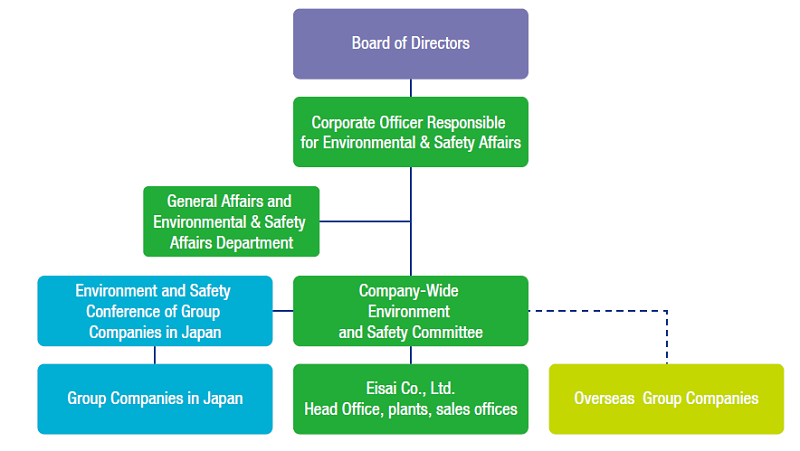 Operational Sites Certified under ISO 14001
Eisai Co., Ltd., Kawashima Plant and Kashima Plant
EA Pharma Co., Ltd., Fukushima Plant and Drug Discovery Research Institute and Head Office
Eisai China Inc., Suzhou Plant
Eisai Pharmaceuticals India Pvt. Ltd., Vizag Plant
Environmental Education
In order to promote environmental protection activities ensuring coexistence with the global environment, it is important that all employees have a proper understanding of the relationship between their daily work and environmental problems, and that they make efforts to enhance their own individual awareness for problem-solving. At the Eisai Group, operational sites and Group companies voluntarily formulate education programs in accordance with their respective business characteristics and local issues. In addition to education targeted at all workers, education is also provided for various levels of employees, along with further efforts to improve the learning content. Furthermore, for the purpose of developing environmental educators and officially qualified employees and improving the level of environmental awareness of individual employees, we also actively promote participation in both internal and external professional training courses.
Internal Audits
The Eisai Group has environmental internal audits conducted by a department specializing in internal auditing. This department makes efforts to undertake objective audits from an independent standpoint, and the audits cover all Group companies in and outside Japan. The audits for fiscal 2019 indicated that there were no urgent or serious issues.
External inspections are also carried out once a year at those operational sites and Group companies that have acquired ISO 14001 certification to confirm the validity of their environmental management systems. Furthermore, these certified operational sites and companies also educate their own internal auditors and seek to raise the level of their audits through training. The results of each annual independent internal audit are reflected in the ongoing improvement of the Group's environmental management and translate into the enhanced quality of our environmental protection activities. During fiscal 2019, no serious material issues were identified by external auditing organizations.
Environmental Risk Management
The Eisai Group in Japan has compiled its procedures for responding to environmental incidents in its Disaster and Accident Response Manual and the Industrial Accident Reporting and Compilation Standards. We aim to minimize damage by collecting accurate information and taking swift and appropriate action and at the same time make every possible effort to prevent recurrence. At production plants and research facilities, in particular, we have been preparing for an emergency by regularly conducting emergency drills assuming, for instance, the leak of hazardous chemical substances from wastewater, exhaust gas or effluents as situations that significantly affect the environment.
Along with these efforts, we issued our own independent guidelines, working to identify sources of risks, and enhancing our risk management structure with a view to further ensuring appropriate environmental risk management Group-wide, including Group companies outside Japan.
Compliance with Laws and Regulations
The Eisai Group in Japan is committed to observing environmental laws and regulations, ordinances and agreements with local governments. In particular, at production plants and research facilities, we regularly measure the environmental burden of
causative agents in air pollution and water pollution to check that there are no problems. Also, from the perspective of protecting the neighboring environment, we conducted regular measurements of noise, vibrations and offensive odors at production plants and research facilities and confirmed that these all were below the regulatory values. We also made steady progress in our response to the Act on Rational Use and Proper Management of Fluorocarbons and submitted each type of environmental notification to the relevant authorities without any delay.
During fiscal 2019, there were no administrative dispositions, lawsuits related to the environment.
Environmental Communication
In promoting our business activities, mutual understanding and cooperation with the local community is extremely important. As such, the Kawashima Plant has been holding local community meetings every year since 2008 as a platform for sharing information and enhancing communication with the local community. The plant invites neighborhood representatives and government officials to these meetings to introduce its production activities and environmental protection initiatives and also listen directly to participants' comments and requests to the plant.
Similar initiatives are also undertaken by the Fukushima Plant of EA Pharma Co., Ltd. to share information on the plant's environmental and local community contribution activities and cultivate a deeper mutual understanding.
Environmental Incident Report
Instances and Actions Regarding Environmental Risks