Policy and Basic Concept
As a global healthcare company, the Eisai Group has established the ENW (Eisai Network Companies) Environmental Protection Policy and conducts business activities with an emphasis on global environmental protection. It is stated in our Action Guidelines that we will "6. Contribute to the realization of a society in harmony with nature by developing business activities that take into consideration the conservation of biodiversity" and as such, we are promoting biodiversity conservation efforts on a global scale.
The Eisai Group conducts its business activities by utilizing natural resources brought by biodiversity. The anti-cancer agent Halaven, which was discovered and developed in-house is derived from the natural product Halichondria okadai and the conservation of biodiversity is becoming an important issue for our sustainable business activities. The Biodiversity Guidelines established in August 2020 by the Eisai Group state our basic philosophy and principles aiming to ensure that all employees understand the importance of biodiversity and fulfill their social responsibilities relating to biodiversity.
Eisai Biodiversity Guidelines
Basic concept
The Eisai Group is grateful for the blessings of nature produced by biodiversity and strives to conserve biodiversity and use biological resources in a sustainable manner. We will consider the impact of our business activities on biodiversity and contribute to the realization of a society coexisting with nature based on harmony with the global environment.
Basic policy
We will strive to understand the impact of our business activities on biodiversity not only in the Group companies but also in the entire supply chain, and conduct corporate management that emphasizes the conservation of biodiversity.
We will actively promote the reduction of greenhouse gas emissions, the prevention of environmental pollution caused by the emission of chemical substances, and the proper disposal of waste as well as the effective use of resources for the purpose of reducing the environmental impact that adversely affects biodiversity.
We will conduct our business activities in compliance with international laws, regulations, and agreements as well as the fair use of biological resources, including genetic resources to ensure their sustainable use.
We will raise awareness of our employees regarding the necessity to conserve biodiversity and contribute to the creation of a society that fosters biodiversity through cooperation and collaboration with stakeholders in and outside Japan.
We will improve our credibility with society through proactive disclosure of environmental information related to the conservation of biodiversity.
Map of Relationships Between Eisai's Business and Biodiversity
The relationship between Eisai's business and biodiversity was organized with reference to "The Business and Biodiversity Interrelationship Map®" developed by Japan Business Initiative for Biodiversity (JBIB) to understand how business activities depend on and affect biodiversity.
As a result, we have identified the following two long-term risks in the activities of the Eisai Group.
Impact on biodiversity in neighboring areas due to emissions of hazardous substances into the water, air, etc., at operating sites.

Environmental impact of waste generated from product use (e.g. marine plastic problem).
*Created with reference to "The Business and Biodiversity Interrelationship Map®" (JBIB)
Setting Mid-term Biodiversity Targets
In order to contribute to the conservation of biodiversity, the Eisai Group has set the following medium-term targets, and in addition to existing initiatives, will undertake new activities to reduce the impact of our business activities on biodiversity.
FY2025


-Each ENW and business site will identify one or more important species in the vicinity of their operating sites and undertake conservation activities. (at 10 or more out of 13 operation sites)

FY2030


1) -All major operating sites have initiated conservation activities for critical species in the vicinity of their sites, with species preserved and maintained at 7 or more sites.
2) -Introduction of eco-friendly materials for product packaging, etc.
*Major manufacturing and research sites are as follows
Kawashima Industrial Park, Kashima Plant, Tsukuba Research Laboratories, EA Pharma Fukushima Plant, KAN Research Institute, Suzhou Plant (China), Benxi Plant (China), Bogor Plant (Indonesia), Vizag Site (India), European Knowledge Center (UK), Exton Site (U.S.), Baltimore Plant (U.S.), G2D2 (U.S.)
Targets and Actions
Our goal is to ensure that all employees understand the importance of biodiversity, and fulfill their social responsibilities relating to biodiversity in our global business activities. In accordance with the ENW Environmental Protection Policy (revised in April 2021) and the Biodiversity Guidelines (established in August 2020), we will comply with the Cartagena Act, the Invasive Alien Species Act, and other laws and regulations, strive to understand and improve the impact on biodiversity at each stage of our business activities, and work to preserve the natural environment at each site of operation. We will promote business activities in consideration of the natural environment, including forests, satoyama (a traditional Japanese rural landscape), rivers, and oceans.
Structures and Systems
The Eisai Group established the Company-Wide Environment and Safety Committee as a decision-making body for deliberation of important environmental issues. The committee is promoting global activities such as reducing greenhouse gas emissions and effectively using resources and is also strengthening activities to identify environment-related risks and develop countermeasures. Moreover, as a consultative body promoting the environmental activities of Group companies in Japan, the Eisai Group also established the Environment and Safety Conference of Group Companies in Japan to share information and discuss relevant activities.
Each operational site of the Eisai Group has established its own unique management system to promote environmental activities. The Eisai Group's main production sites in Japan as well as the Suzhou Plant in China and Vizag Site in India have all acquired ISO 14001 certification and are conducting activities based on the ISO standard while striving to raise awareness through environmental education and environmental risk management training. In addition to complying with environmental laws, ordinances and agreements, we periodically conduct internal environmental audits by a department specializing in internal auditing to identify and solve issues.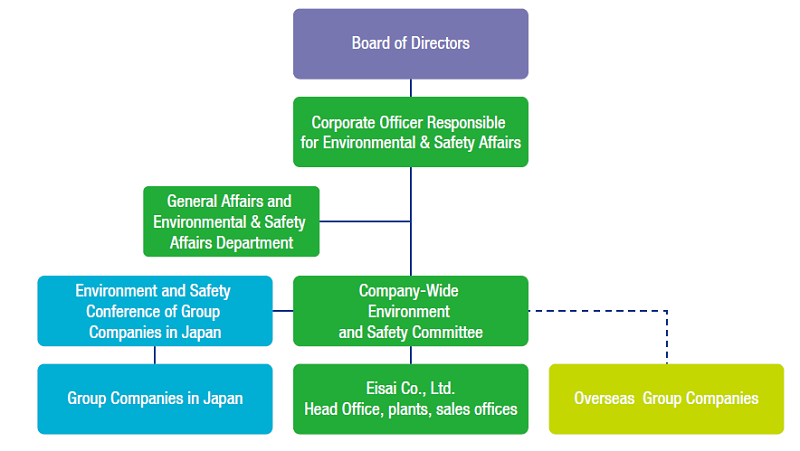 Operational Sites Certified under ISO 14001
Kawashima Plant and Kashima Plant, Eisai Co., Ltd.
Fukushima Plant, EA Pharma Co., Ltd.
Suzhou Plant, Eisai China Inc.
Vizag Site, Eisai Pharmaceuticals india Pvt. Ltd.
Initiatives
Since commencing operations in March 1966, the Kawashima Plant has been working to preserve the natural environment within the plant under the concept of "All for Patients and Nature." The green plot ratio at the Kawashima Plant is around 50% of the total site area of approximately 470,000 m2 and the plant maintains and manages approximately 30,000 trees, in keeping with our founder's thought that "if you cut one tree, plant three trees." Among them, almost all the black pine trees, the town tree of the former Kawashima town, are maintained and managed on the plant premises. Furthermore, the Medicinal Herbal Garden at the Naito Museum of Pharmaceutical Science and Industry cultivates and conserves about 700 types of medicinal and beneficial plants. In particular, we protect 38 of the threatened species (including near threatened species) on the Ministry of the Environment's Red List. In fiscal 2022, we assisted the reproduction of 5 species.
The Kashima Plant maintains and manages trees on its premises in accordance with its annual plan. In addition to replacing old trees with new ones, we plant more trees on the plant premises. In fiscal 2021, we planted azalea, Cerasus speciosa, abelia and other trees that are suited to the land. In addition, the Vizag Site (India) continues its tree planting program coinciding with World Environment Day in June to raise its employees' environmental awareness. As of March 2023, the Vizag Site has planted nearly 5,000 trees in Andhra Pradesh, India where the operating site is located, and nearly 4,000 trees on the premises of the office itself.