In order to accelerate the realization of our corporate mission, Eisai is conducting corporate venture capital (CVC) activities aimed at achieving strategic returns through financial investments. Under the leadership of the Corporate Venture Investment (CVI) Office*1, we devise global investment strategies for the following, and invest in startup companies with innovative technology, science, and business models:
Reinforcement and expansion of Eisai Universal Platform*2
Access to/acquisition of cutting-edge digital technologies
Access to/acquisition of drug development technologies that Eisai doesn't cover
*1

*2

Eisai Universal Platform: In addition to drug discovery through collaboration with academia and startups, our unique platform creates and provides various solutions related to clinical data, biomarkers, etc.
Overview of CVC Policy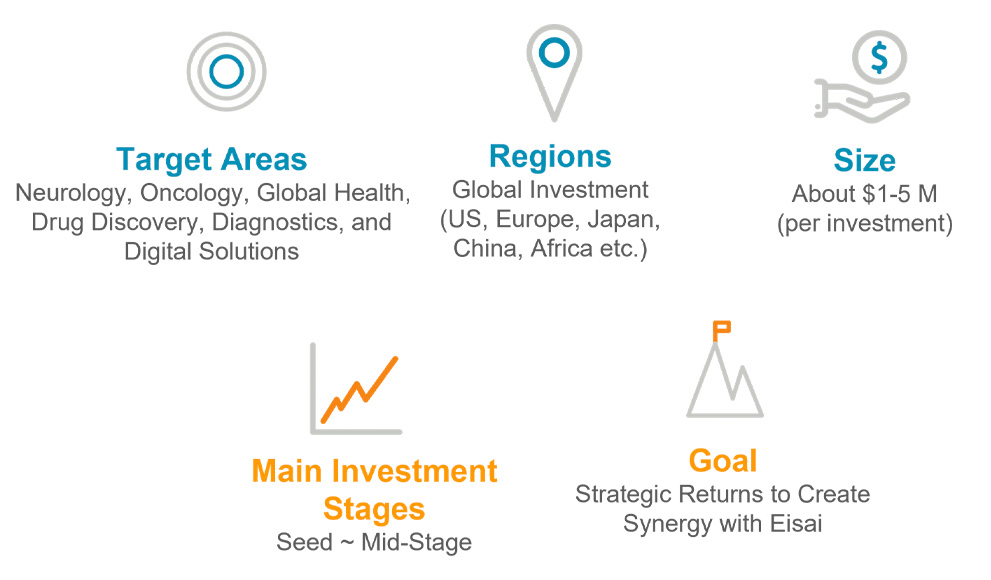 Investments
Biotech

Digital/Ecosystem

*

Eisai made Arteryex Inc. a subsidiary, as of March 31, 2022.
Limited Partner Investment

Leadership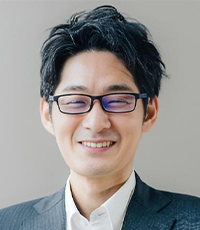 Hidekazu Ishida, DVM, Ph.D
Corporate Venture Capitalist, Head of CVI Office
Hidekazu Ishida joined Eisai Co., Ltd. in 2020, and has worked on a variety of global venture investments including minority investments, capital and business alliances, M&A (Acqui-hiring), and Exits gaining over 2 billion JPY. Previously, he worked as an in-house analyst for the Investment Banking division of SMBC Nikko Securities Inc., and pursued deal originations in pharmaceutical/healthcare sectors. Furthermore, he was responsible for increasing valuations of startups by supporting business developments, and creating equity story etc. and assessing valuation as an IPO professional service, particularly in the digital health area. Before that, he engaged in planning and establishing new business with other sectors such as insurance companies at Otsuka Pharmaceutical Co., Ltd., where his career started as a pharmaceutical researcher to develop novel drugs for tuberculosis and malaria in 2011. He graduated from Kitasato University with a DVM, and received his Ph.D. (Immunology/Infectious diseases) from Kyushu University.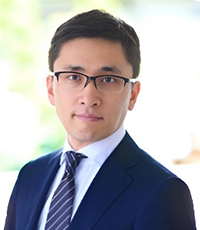 Ryutaro Adachi, Ph.D, CFA
Corporate Venture Capitalist, CVI Office
Ryutaro Adachi joined Eisai Co., Ltd. in 2020 and has been involved in global strategic investment activities in biotech and digital-related startups. In collaboration with laboratories and corporate, he has been leading investments in small-molecule, biologics, oligonucleotide, and gene-therapy as well as digital technologies intended for neurological diseases. Previously, he worked for 13 years in drug discovery research with a foundation in biochemistry and molecular biology at Takeda Pharmaceutical Company Limited. Since 2017, he served as a venture capitalist in a Japanese private equity firm, where he led investments in a portfolio diversified with biotech and other cutting edge technology startups as well as managed fund operations. He received his M.Sc. from Osaka University and his Ph.D. from Tsukuba University. He is a CFA charterholder.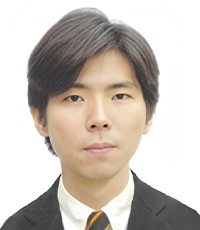 Dan Araki, M.Sc.
Corporate Venture Capitalist, CVI Office
Dan Araki joined Eisai Co., Ltd. in 2022. Previously he worked for SBI Investment, a Tokyo-based venture capital firm where he was responsible for sourcing, conducting due diligence, execution and monitoring after investment in biotech startups in Japan, the United States and Europe. Prior to his career in startup finance, he worked as a researcher for five years at PeptiDream Inc., a pharmaceutical enterprise dedicated to discovering novel macrocyclic peptides for therapeutic applications. He received his M.Sc. from University of Wisconsin Madison and a B.A. from The University of Chicago.
Contact
If you are interested in our corporate venture capital activities, please contact us here.