Eisai's corporate concept is to give first thought to patients and the people in the daily living domain. Likewise, Eisai provides employees, who are responsible for making a positive contribution to patients, with opportunities to develop their talents to enrich their careers and cultivate work satisfaction. Eisai's mission is the enhancement of satisfaction of patients and the people in the daily living domain. We believe that fulfilling this mission first will generate revenue and earnings. We attach great importance to this sequence of placing the mission before the ensuing results.
At the same time, in order to sustainably maximize corporate value in a way that satisfies all stakeholders and taking into account our corporate concept of "mission and the results," it can be seen as more efficient to focus on long-term investors, who are beneficiaries of residual income, as the most important stakeholder*1. While taking the long-term interests of all stakeholders including the people in the daily living domain and employees into account, we believe that identifying the concerns relating to the interests of long-term investors and then implementing related initiatives on a priority basis, is the fast track to the maximization of corporate value. The Identified Materiality Matrix and the process to identify Materiality are shown below.
*1

Value Maximization, Stakeholder Theory, and the Corporate Objective Function (Michael C. Jensen, 2001)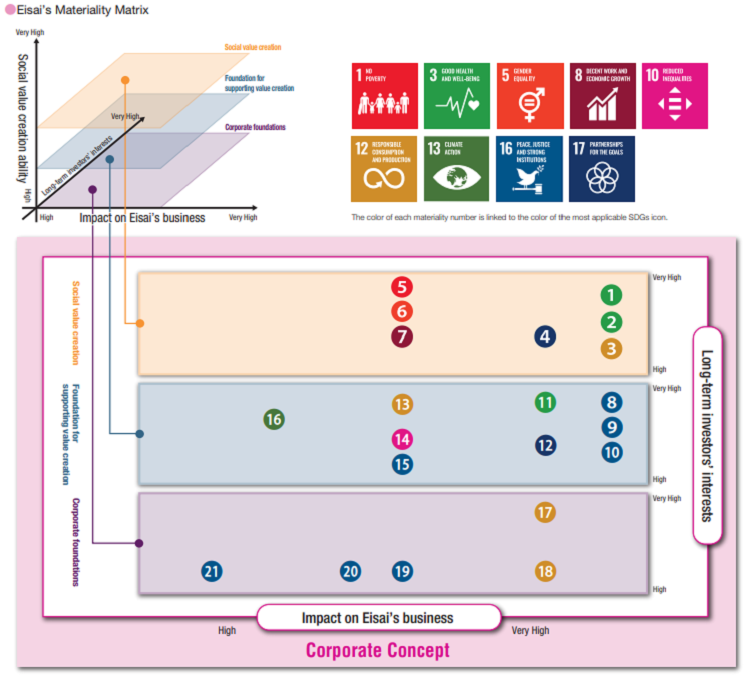 Process 1 : Identification of issues
In identifying issues, we take into account various types of guidelines (e.g., Sustainability Accounting Standards for Pharmaceuticals by SASB*2, GRI Guidelines), the Sustainable Development Goals (SDGs)*3, the United Nations Global Compact, communication with stakeholders, and socially responsible investment (SRI) indices (e.g., Dow Jones Sustainability Index)
*2

SASB (Sustainability Accounting Standards Board) is a U.S.-based nonprofit

organization that identifies materiality by industry for reasonable investors and develops sustainability disclosure standards.

*3

Sustainable Development Goals (SDGs) are a set of international goals

established under the 2030 Agenda for Sustainable Development adopted at the United nations. Sustainable Development Summit in September 2015.
Process 2 : Prioritization of issues and creation of Materiality Matrix
We prioritize issues that have a particularly high degree of importance, compare the identified issues to the corporate concept and mid-term business plan, and create a matrix in terms of "long-term investor interest", such as financial impact, financial reporting, opportunities to create innovation, impact of legal regulations and industry norms, and "ability to create value to society."
Process 3 : Reviews and updates
Determined from various perspectives with reviews by external experts, including long-term investors, and are approved by the Chief Investor Relations Officer and the Corporate Officer in charge of ESG. Reviews and updates are conducted as needed, taking into account progress in addressing relevant issues and changes in the business environment.