Pharmacovigilance – For Ensuring Patient Safety and Rational Use of Medicines
April 2023
Medicines exhibit their maximum value only when used rationally, which should be based on a good understanding of their risks and benefits. Pharmacovigilance (PV), defined by the World Health Organization (WHO) as "the science and activities relating to the detection, assessment, understanding and prevention of adverse effects or any other drug-related problem" plays a pivotal role in evaluating the balance of risks and benefits.
From the early stages of development through marketing, Eisai continuously and expeditiously collects and evaluates safety information on our products all over the world, and by timely updating the safety profiles of products, we aim to promote their rational use and safe conduct of clinical trials in all countries.
The Eisai Global Safety Board, which consists of the Regional Safety Officer (RSO) in each region and the safety physicians assigned to each of our medical products (GSO: General Safety Officer), is the heart of the Eisai Global PV Organization. At the Global Safety Board, a uniform global standard safety profile for each product is defined through discussion of safety-related issues with careful consideration of the most up-to-date information on medical care and regulations in each country, and safety measures for the rational use of our products are thoroughly implemented. For each country, a Local Safety Officer (LSO) is assigned, and he or she is responsible for PV activities. Eisai establishes local PV systems and operational procedures under the leadership of the LSO in each country taking account of local laws, regulations and the medical care environment.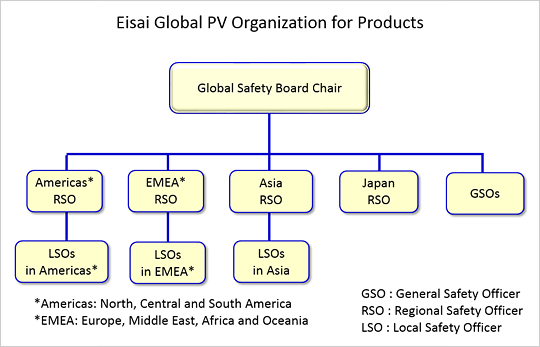 Eisai established a quality management system to maintain and continuously improve the Eisai PV system for fulfilling its PV legal tasks and responsibilities and monitor the safety of Eisai products to detect any changes to their benefit-risk balance.
In many emerging market countries and developing countries, we see rapid development of PV regulations as well as a large variety of medical care and regulatory environments. Our mission is to support improving the access to medicines with the cooperation of all PV staff in Eisai corresponding to the situation in each country.