hhc for the World
Eisai is a global research and development based pharmaceutical company committed to maintaining and improving the health of all individuals worldwide regardless of wealth or geography. We give our first thoughts to patients and the people in the daily living domain and to increasing the benefits healthcare provides – a principle that forms the basis of Eisai's human health care(hhc) concept, which has been embedded into our Articles of Incorporation, and is implemented by Eisai employees and in our business activities across the globe. Eisai aims to evolve into an hhceco (hhc concept + ecosystem) company that empowers people "to realize their fullest life" by creating solutions based on science and data, and effectively achieve social good in the form of relieving anxiety over health and reducing health disparities.
Today, we face the issue of access to medicines, which refers to the inaccessibility of essential medicines to patients in need of them due to poverty and problems with healthcare infrastructure. There are 2 billion people in the world who lack access to essential health care and medicines*1.
The United Nations' Sustainable Development Goals (SDGs) Target 3.8 aims to "achieve universal health coverage, including financial risk protection, access to quality essential health-care services and access to safe, effective, quality and affordable essential medicines and vaccines for all".
In this context, Eisai believes that it is the mission of modern global R&D-based pharmaceutical companies to create innovative new medicines and contribute to global health and medicine. This means securing access to medicines by developing new medicines based on the latest discoveries in life sciences that meet medical needs, and making necessary medicines available to those who need them.
Eisai aims for long-term sustainable solutions and plans to implement them through partnership for securing access to medicines in global health. Our partnership-based model is directed toward improving affordability, availability, adoption, architecture, and access to medicines*2.
*1

Access to Medicine Foundation

*2

Frost LJ, Reich MR, Access: How Do Good Health Technologies Get to Poor People in Poor Countries? Cambridge: Harvard Center for Population and Development Studies, distributed by Harvard University Press, 2008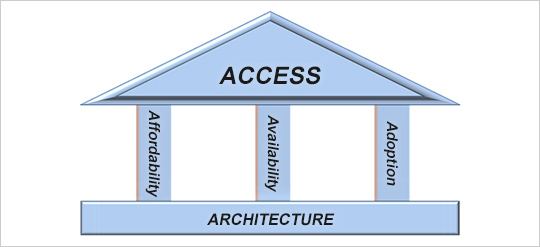 The problem of access to medicines, especially in in low- and middle-income countries, cannot be solved by the efforts of a single pharmaceutical company. Rather, it is a global issue that requires cooperation from all sides to solve. Along with governments, international organizations such as the World Health Organization (WHO), nonprofit organizations (NPOs), non-government organizations (NGOs), and other private sector companies, Eisai is determined to play a central role in improving access to medicines worldwide through public-private partnerships.
Access to medicines is more than assuring the supply of medicines. Similar to health care access, access to medicines is a complex issue that needs to be addressed from multiple perspectives. For instance, our models of access to medicines need to take into account affordability for patients and societies in each region, shared decision-making with patients, understanding of and adherence to therapies, and sustainable provision of healthcare.