hhc for the world
Revised in October 2015
Eisai is a global research and development based pharmaceutical company committed to improving the health of all individuals worldwide regardless of wealth or geography. We give our first thoughts to patients and their families and to increasing the benefits healthcare provides – a principle that forms the basis of Eisai's human health care (hhc) philosophy, which has been embedded into our Articles of Incorporation and national programs across the globe. We realize this using the Knowledge Creation SECI (Socialization, Externalization, Combination, Internalization) Model*1, emphasizing the importance of socialization. Socialization with patients and understanding the realities they face is an essential part of hhc. We recommend all Eisai employees to spend 1% of their business time in socialization, namely spending time together with the patients.
Today, it is estimated that over 1.2 billion people live in absolute poverty (Less than US$1.25 per day) and a further 1.2 billion live on US$2 or less per day*2. Most of these 2.4 billion people lack access to essential health care and medicines.
In this context, Eisai believes that it is the mission of modern research and development based pharmaceutical companies to create innovative new medicines and contribute to global health and medicine. This means securing "Access to Medicines" by developing new medicines based on the latest discoveries in life sciences that meet medical needs, and making necessary medicines available to those who need them.
Eisai is committed to developing and implementing long-term sustainable solutions for challenges in Global Health. Our strategy is a partnership-based model directed toward improving affordability, availability, adoption, architecture, and access to medicines*3.
*1

Ikujiro Nonaka, Noboru Konno, The concept of "Ba": Building foundation for Knowledge Creation. California Management Review Vol. 40, No.3 Spring 1998

*2

World Bank, 2013.

*3

Frost LJ, Reich MR,

Access: How Do Good Health Technologies Get to Poor People in Poor Countries?

Cambridge: Harvard Center for Population and Development Studies, distributed by Harvard University Press, 2008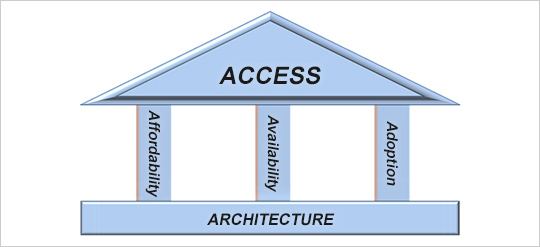 The problem of access to medicines cannot be solved by the efforts of a single pharmaceutical company. Rather, it is a global issue that requires cooperation from all sides to solve. Along with governments, international organizations such as the World Health Organization (WHO), nonprofit organizations (NPOs), non-government organizations (NGOs), and other private sector companies, Eisai is determined to play a central role in improving access to medicines worldwide through public-private partnerships with such stakeholders.
Access to Medicines (ATM) is more than assuring the supply of medicines. Similar to health care access, ATM is a complex issue that needs to be addressed from multiple perspectives. For instance, our models of ATM need to take into account affordability for patients and society, shared decision-making with patients, understanding of and adherence to therapies, and sustainable provision of healthcare. We are committed to improving ATM worldwide and have developed a five-target action plan consisting of the following components:
Product creation (Availability)
Strategic solutions (Affordability)
Capacity building (Architecture)
Safety assurance (Adoption)
Long-term investment (Availability)
Eisai believes in fusing ATM with hhc and our employees try to promote ATM activities with hhc in mind. We believe that this philosophy is highly conducive to the effective improvement of ATM.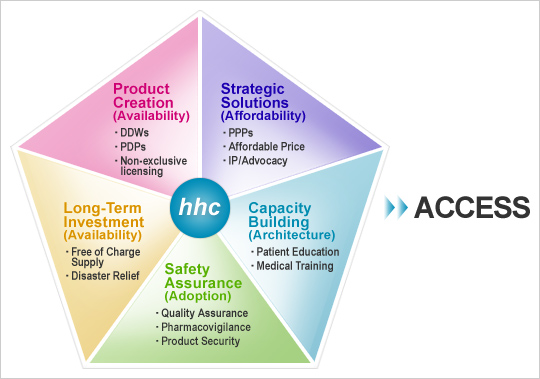 1. Product Creation
Research and development at Eisai is called "Product Creation" as Eisai believes R&D activities should be patient-oriented. Eisai's mission is to create products that can address the explicit and implicit needs of patients and their families. Our product creation caters to the local needs of each market, with different products offered for distinct markets. Differences in medical needs, disease structures and healthcare systems among countries underline the need to adapt our product portfolio to the market needs of each country.
As part of our Product Creation philosophy, Eisai invests in the research and development for access to medicines. Eisai is dedicated to the treatment of Diseases of the Developing World (DDW). This includes both communicable and non-communicable diseases. For communicable diseases, Eisai undertakes in-house product creation for tropical diseases. This can be seen in "Eisai's Research & Development Activities for the Improvement of Access to Medicines (Product Creation)", in which we make investments in new treatments for malaria, Chagas Disease, filariasis, malaria, tuberculosis and other neglected tropical diseases. Where suitable partners can bring experience, expertise and commitment, we seek to form Product Development Partnerships (PDPs) and join consortiums. PDPs address the lack of commercial incentive to develop medicines for diseases that particularly affect the developing world, using public and philanthropic funds in cooperation with pharmaceutical companies such as Eisai. This approach is reflected in our current project to develop a new treatment for Chagas disease with Drugs for Neglected Diseases initiative (DNDi), an independent entity based in Geneva, Switzerland. For non-communicable diseases, Eisai is committed to implementing new models to improve access to our medicines for neurological diseases and cancer in the developing world.
Eisai also considers granting a non-exclusive license for our medicinal products, subject to agreement of a reasonable royalty, in order to facilitate sales of our products worldwide. Eisai is open to discussing material transfer, collaborations or other arrangements regarding our proprietary compounds with public and private, for-profit and non-profit research institutions seeking to develop new medicines. We are willing to enter negotiations for non-exclusive licensing of single molecules. We are also willing to share our compound libraries on a voluntary basis with research institutions, subject to discussion of the terms and conditions.
2. Strategic Solutions
At Eisai, we aim to deploy business models that represent sustainable solutions.
Public-Private Partnerships (PPPs) are new business models between private companies and public or government bodies, often also involving NPOs and NGOs working in public health. PPPs can make a contribution towards improving health outcomes in developing countries by combining the different skills and resources of the various organizations in innovative ways. Eisai develops and implements partnership business models that bring together non-profit organizations and private companies in creative ways that improve access to services and healthcare products while meeting both public health and private business objectives. One example is the co-establishment of the Global Health Innovative Technology (GHIT) Fund, a public-private partnership to advance the development of new medicines from Japan to fight infectious diseases in emerging countries and the developing world. Currently we have various GHIT grant-aided projects underway and agree to sell its future potential products based on a 'No Gain, No Loss' principle for patients and citizens of least developed countries, low and middle income countries.
Eisai is also committed to improving the affordability of its products. To realize this commitment, we have introduced strategies for Affordable Pricing for countries outside of those defined as high-income for selected products. Currently, in developing countries such as India and the Philippines, we use inter-country differential pricing based on the social, economic, and medical environments of individual countries for products including, but not limited to, Aricept® for Alzheimer's Disease, and the proton-pump inhibitor Pariet®. In countries where more than one price is possible, we use intra-country differential pricing based on the differences in hospital type and thus their subpopulation of patients. The representative case is the inter-country tiered pricing scheme for the new anticancer agent Halaven® (generic name: eribulin mesylate). Eisai strives to improve access to Halaven® by introducing tiered pricing that involves establishing multiple price burden levels, from full payment by the patient to free of charge, to enable patients who need this medicine to receive treatment regardless of their income level. In the future, Eisai will continue to pursue sustainable business models matched to the medical care systems of each country to ensure that innovative new medicines created by Eisai reach even more patients throughout the world.
For those patients who lack access to basic health care, affordability is only part of the issue and more comprehensive solutions to access are needed. To improve access in middle income countries and low income countries, comprehensive solutions that address infrastructure, availability and education are needed. Accordingly, Eisai works with NPOs, NGOs, and other committed parties as a partner to create access programs unique to each country income level to increase rates of screening, diagnosis and treatment of breast cancer in those low to middle income countries. Eisai develops access programs to improve access for specific patient populations within a single country to address these intra-country disparities.
Under our "hhc" philosophy, Eisai strives to provide new effective treatments to patients through research and development of innovative medicinal products. For this goal, Eisai commits substantial resources, not only in-house R&D but also third-parties' contributions through "Open-Innovation" opportunities. Furthermore, Eisai promotes research and development of medicines by expediently publishing the outcome and technical details of development through the patent system. Launching innovative medicines requires enormous amounts of time, effort and expense. The patent system encourages such commitment of resources to bring innovative products as soon as possible to patients and their families by assuring that critical inventions are made public and will be properly and appropriately protected.
With regards to Eisai advocacy activities, all of Eisai's activities, including its advocacy work, are based on the company's hhc philosophy.
3. Capacity Building
Eisai fully endorses the IFPMA statement that "in many parts of the world, much still needs to be done to build better health care infrastructures for the prevention, diagnosis, treatment and follow-up of a broad range of diseases".
Eisai, either on its own or through industry associations, is committed to working closely with national governments to help strengthen healthcare systems to support the use of modern medicines. This often takes the form of Patient Education and Medical Training.
For instance, we work with the Special Program for Research and Training in Tropical Diseases (TDR), a global program of scientific collaboration that helps coordinate, support and influence global efforts to combat a portfolio of major diseases of the poor and disadvantaged. Eisai welcomes collaborations on relevant educational and training initiatives for health workers and healthcare professionals, which help to transfer medical knowledge, skills, and technologies.
4. Safety Assurance
Quality assurance in the pharmaceutical industry directly affects safety and efficacy. Medicines of poor quality can harm patients and be a serious threat to public health. Quality assurance at Eisai is an underlying principle of our Company, and therefore we try to secure the stable supply of high quality medicines tailored to the respective market environments of developing countries.
At Eisai, we comply thoroughly with all regulatory requirements related to Quality Assurance in order to secure the supply of high quality products. We have established our own corporate GMP standards in line with the GMP requirements set by key regions and countries including the United States and the EU as well as those set by WHO. Eisai's corporate standards are strict and are applied throughout the company's operations worldwide. We carefully address country-specific regulatory requirements in order to maintain and improve access to medicines in each country, actively implementing quality assurance activities in consideration of the local regulatory requirements as well as the environmental conditions which affect the supply and long-term storage of medicines.
Medicines exhibit their maximum value only when used rationally, which should be based on a good understanding of their risks and benefits. Pharmacovigilance (PV), defined by WHO as "the science and activities relating to the detection, assessment, understanding and prevention of adverse effects or any other drug-related problem," plays a pivotal role in evaluating the balance of risks and benefits.
Patient Safety, Rational Use of Medicines and Pharmacovigilance are of utmost importance in our operations. At Eisai, we continuously and expeditiously collect and evaluate safety information on our products throughout the world, and by timely updating the safety profiles of products, we aim to promote their rational use as well as the safe conduct of clinical trials in all countries.
To protect patient health, Product Security at Eisai deals with all criminal attacks against our products. These crimes include drug counterfeiting, illegal diversion of products from authorized channels, theft of products, product tampering, intentional adulteration of products or components, and other acts of fraud that may potentially compromise our products and thereby cause harm to Eisai patients.
5. Long-term Investments
Eisai believes strongly in its responsibility to global society. We recognize that the growth of developing economies is the source of future growth of global society. In particular, improved health of people in the developing world is a fundamental requirement for these countries' economies to grow. Eisai invests in the enhancement of health in developing countries and is committed to contributing to the rise of a more populous middle class world-wide.
Our approach to long-term investments is two-fold. First, Disaster Relief is one form of long-term investment in society. In cases where a natural disaster has occurred, Eisai provides support with cash donations when required. The purpose of these contributions is to assist in the recovery of the regional economy and strengthen systems of public health and clinical care. However, this type of support is ultimately only a temporary measure in times of crisis.
Second, free of charge Product Provisions also are a form of investment in the long term stability and growth of a region's economy as well as systems of public health and clinical care. Free of charge Product Provisions, when conducted as part of an explicit plan to achieve specified health outcome targets and in cooperation with partners, have a direct impact on future growth and prosperity for the region. All free of charge Product Provisions are carried out in accordance with the WHO Guidelines for Medicine Donation (updated 2010). One example is Eisai's production and supply of diethylcarbamazine (generic name, "DEC"), a medicine used to treat lymphatic filariasis, of which up to 2.2 billion 100 mg tablets over a seven year period between 2013 and 2020 are provided to the WHO free of charge. Here, Eisai does not only supply DEC, but also works at the implementation level as a partner with WHO HQ, WHO regional offices, local governments and other non-profit organizations to ensure that DEC is utilized in the most effective and sustainable way to eliminate the disease. Eisai staff involved in project implementation include not only employees from Eisai's HQ in Tokyo but also DEC project managers directly assigned at each affiliate company. In addition, through development of a novel anti-filarial drug and provision of diagnostics kits, Eisai is taking a comprehensive approach in trying to accelerate the elimination of lymphatic filariasis.