Policy and Basic Concept
Since the late 1980s, Eisai has embarked on the globalization of the company with a clear corporate vision for the 21st century of becoming a global, R&D-based pharmaceutical company. At the same time, identifying changes in the times, society, and people's attitudes, the company announced the concept of "Eisai Innovation (EI)", and renewed the organizational climate, style of business, and sense of value with the message "The world is changing. Let us change along with it," and thus aimed for each employee to transform themselves. Since the "Eisai Diversity Declaration" was issued by the CEO in 2012, Eisai has further strengthened its commitment to diversity and inclusion. In expanding our business perspective from the previous "patients and their families" to "patients and the people in the daily living domain," we are promoting Diversity, Equity & Inclusion (DE&I) throughout the Company to ensure we have the diversity to meet their increasingly diverse needs.
The Eisai Diversity Declaration (2012)
It was shared throughout entire company that diversity is the source of innovation and an important approach to realize thehhcconcept. We are committed to creating a corporate culture where human talents with diverse values can play an active role, regardless of nationality, gender, or age, or other factors.
Genealogy of DE&I
Targets, Issues and Actions
We aim to realize the spiral of knowledge generated by diversity, regardless of differences in nationality, gender, age, etc., leading to the creation of innovation.
In Japan, we have been working on the following goals and action plans, which are collectively referred to as Diversity & Inclusion 2021, and cover the period up to fiscal 2030.
Materiality
Goals
Objectives
Actions
Results
End of fiscal year 2021

Talent management to support HR Strategies

&

Preparing suitable working environment and healthcare support to assist self-actualization

A ratio of female employees and managers of 30% or more
Transform to an organization that enables decision making and human talent development based on a wide range of values and leadership, and develop an environment in which the individuality and strength of each employee is reflected in management and daily operations
Career development programs for female employees
Enhance career development and training by dispatching employees to various external training programs, e-learning, etc.
Training on unconscious bias for all employees

Percentage of female employees
26%

Percentage of female managers
11.5%

Achieving a 50% utilization rate for paternity and childcare leave of over 5 days among male employees
Encourage all employees to understand the significance of equal participation of men and women in the family, and foster a workplace climate that encourages both male and female employees to take childcare and caregiving leave, etc.
Foster a workplace climate that encourages to take childcare leave (training for management)
E-papa E-mama Passport (a system for early application for leave for life events)
Establish a community for employees on childcare
(Support for self-development during leave, follow-up for a smooth return to work)
46.9%
A ratio of management in their 30s or younger of 20% or more
Further increase diversity in management, and accelerate creating an environment in which new ideas are utilized in decision-making
Enhance career development and training using e-learning, etc.
14.1%
Establish opportunities for seasoned employees to take on challenges
Produce veteran employees who contribute to the revitalization of organizations and the realization of a spiral of knowledge
Career training
Establish opportunities for seasoned employees to demonstrate their unique abilities and create an environment that allows them to continuously take on challenges regardless of age
-
Work style reform that accelerates the success of diverse individuals and involvement with society
Realize the best work-life balance for each and every one of our diverse employees
Promote mid-career hiring to acquire talents with diverse background
Expand options for employees to choose their working location, such as shared offices and workcation system
Consider expanding the discretionary labor system
Percentage of mid-career hires
15.0%
Realizing a company where diverse talents coexist
Contribute to the creation of a society with coexistence and mutualism through realizing a workplace where employees can feel motivated to work, by creating a working environment where employees can actively engage in the work, and thereby supporting them even if employees have illnesses or disabilities
Consider further improvement of the environment to support employees with disabilities, such as increasing the number of a vocational life consultant for persons with disabilities
Introduce measures to maintain and improve employee health
Percentage of handicapped employees
2.33%*
*

This information is guaranteed by SGS Japan Inc.
Ratio of Diversity KPI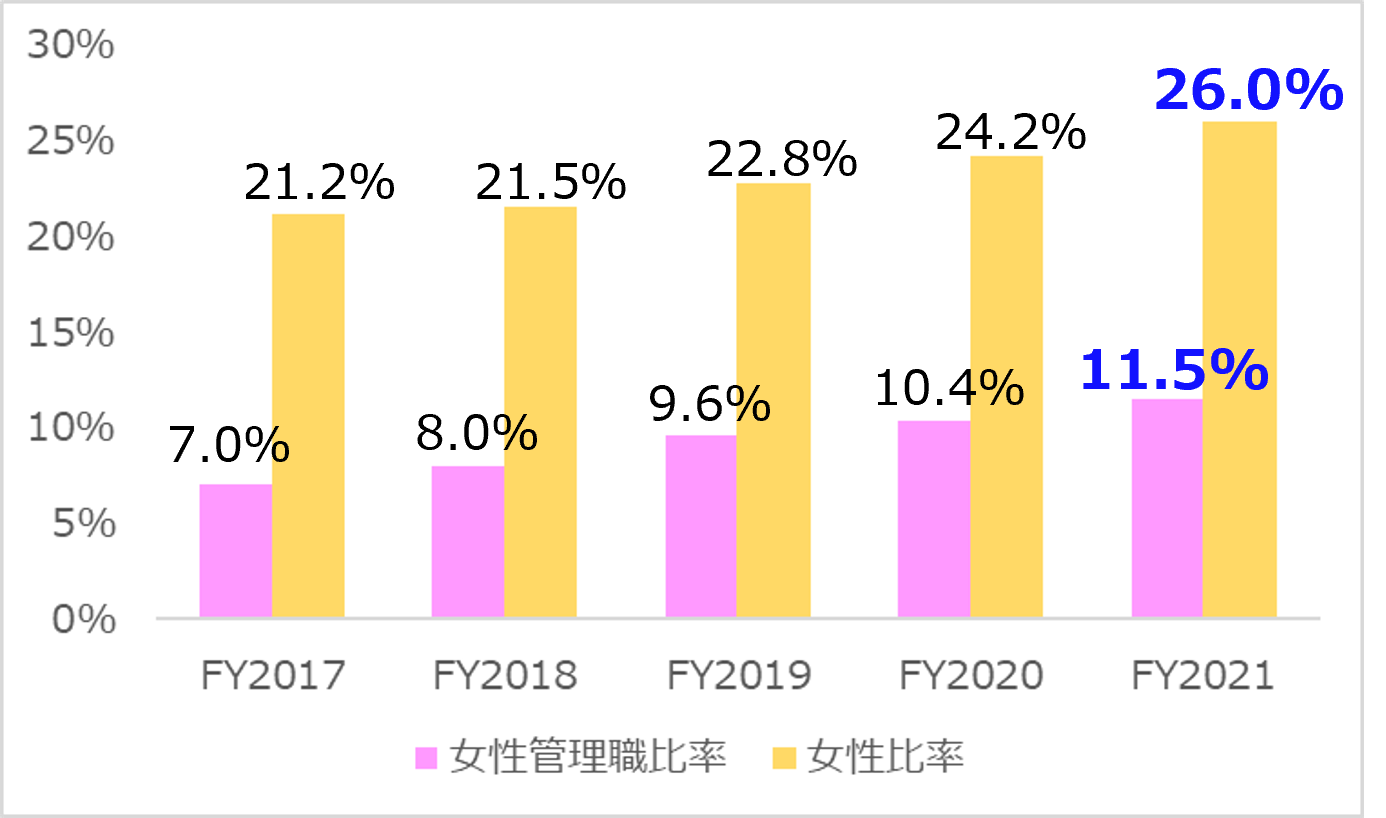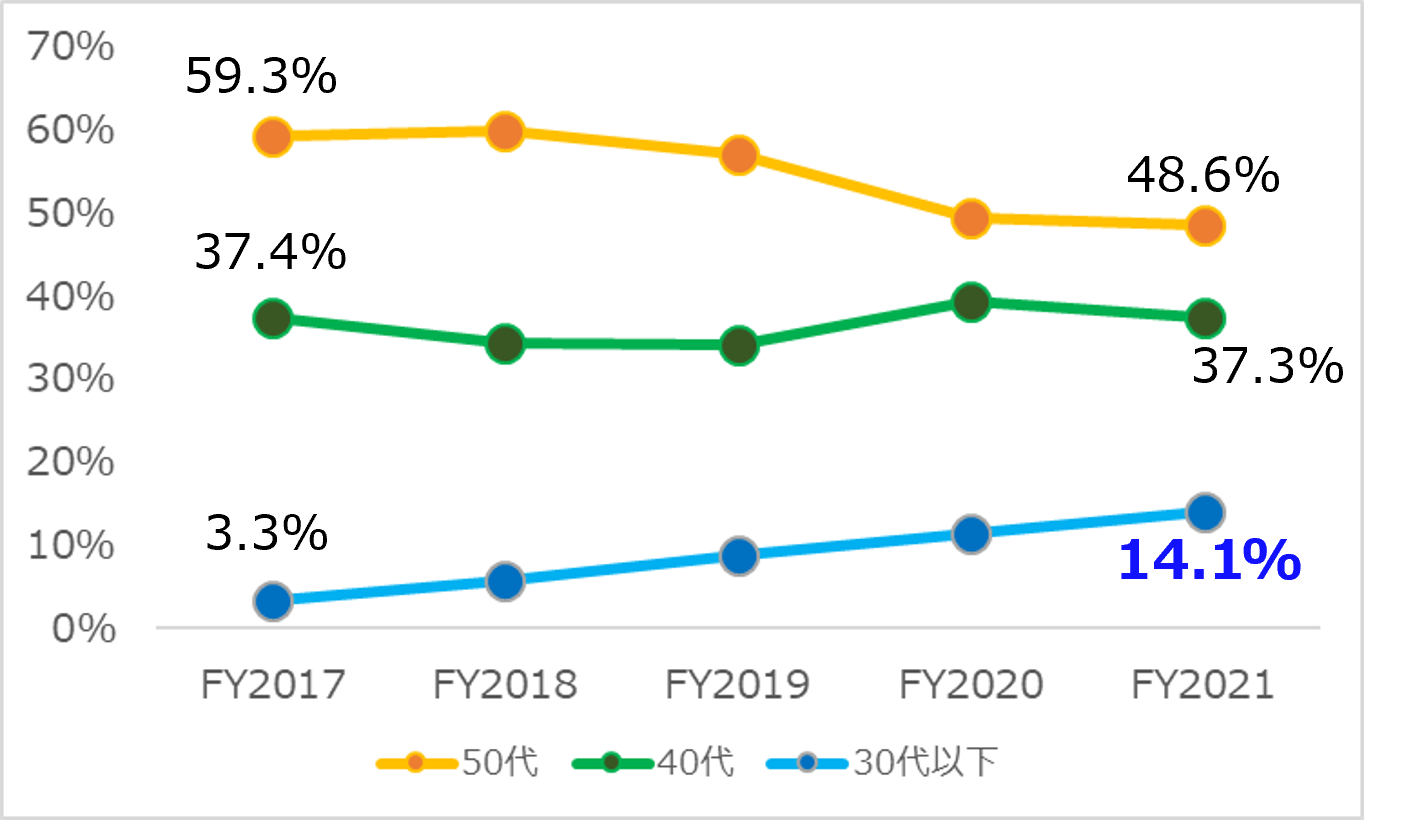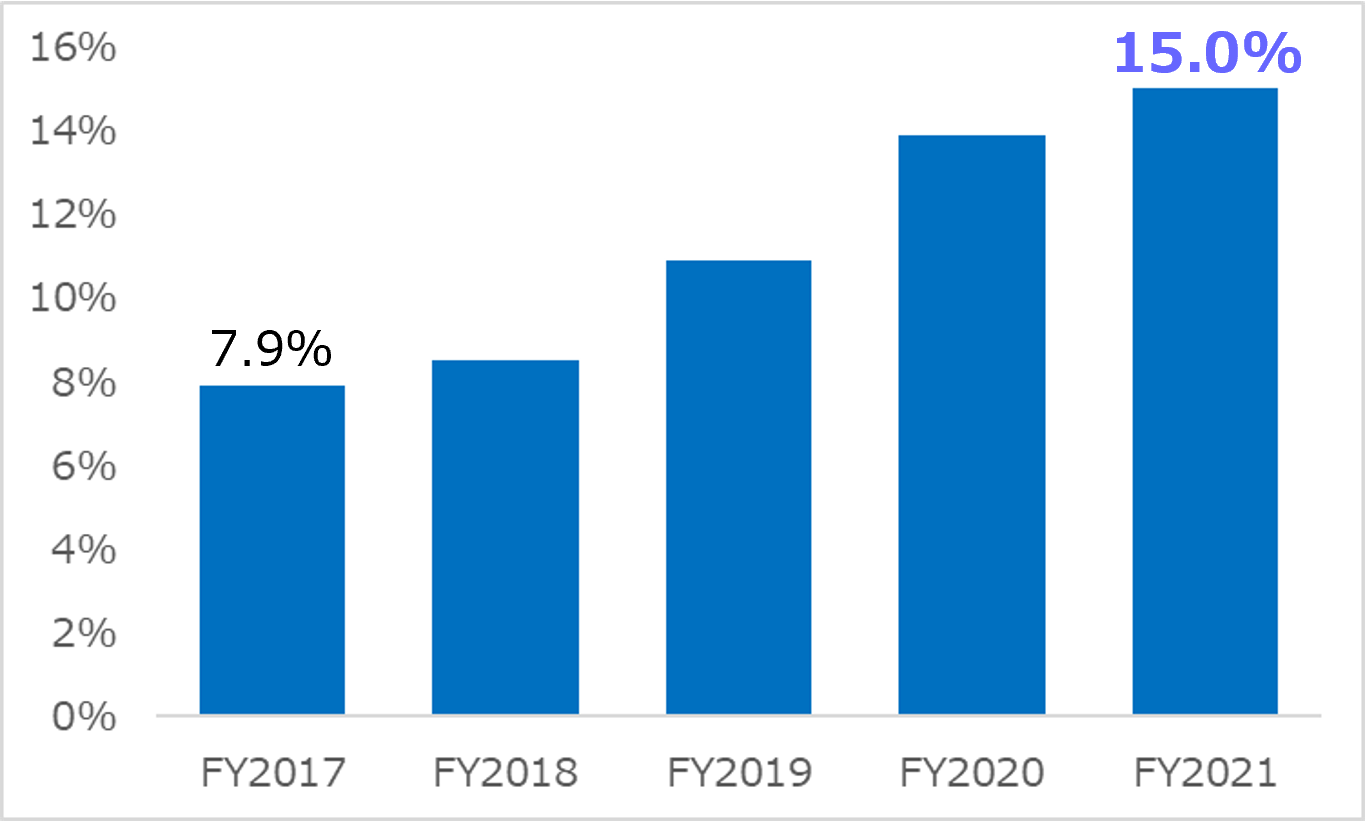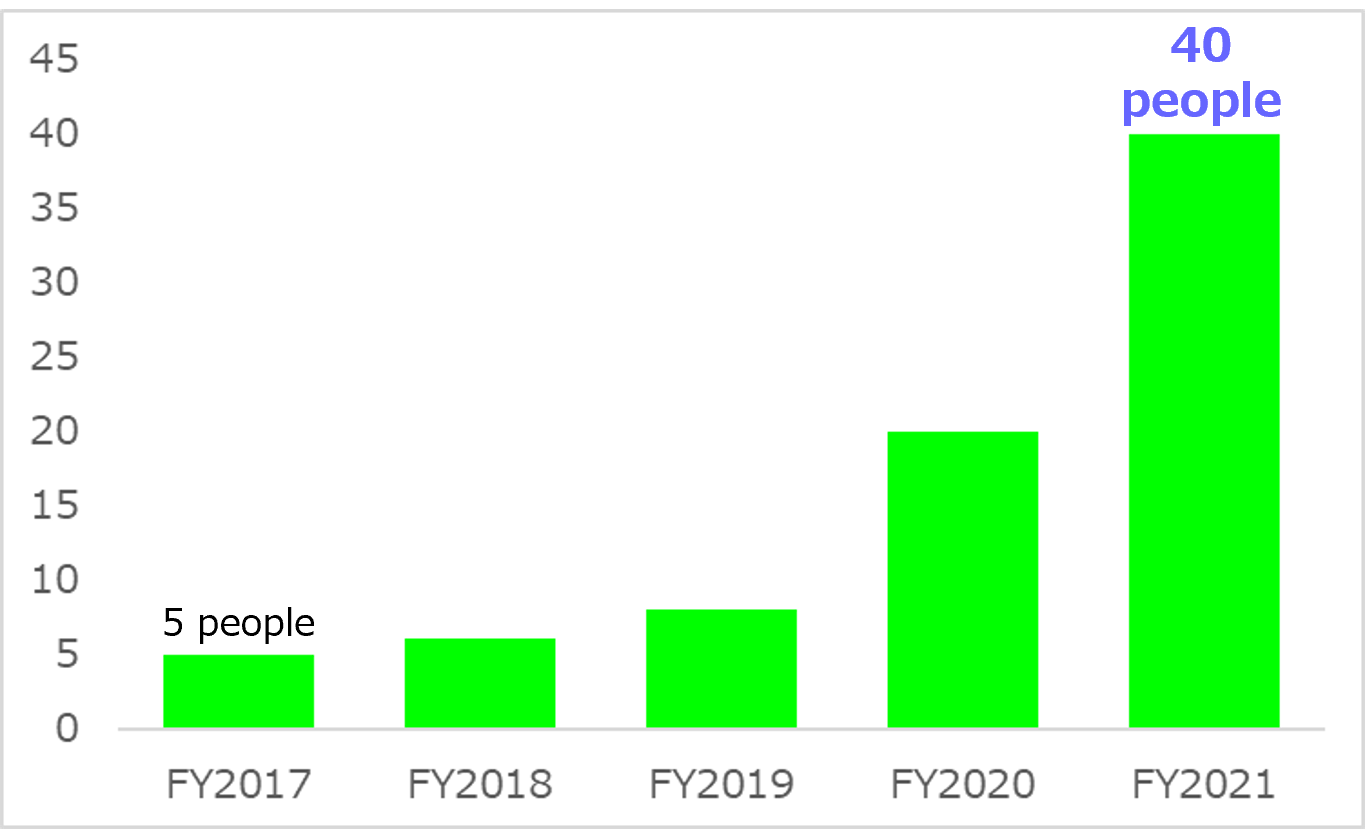 Structures and Systems
We are committed to establishing opportunities and improving an environment in which diverse human talents can demonstrate their abilities and strive to create innovation. At Eisai, positions and benefits are determined based on a fair evaluation of each individual's role, abilities, and achievements.
In Japan, under the DE&I Promotion Committee system chaired by the Chief HR Officer, we are planning and promoting effective and specific measures based on the goals and action plan of Eisai Diversity and Inclusion 2021, while considering the circumstances of both the entire Company and each individual site.
Initiatives
Initiatives in Japan
Developing Autonomous Talents Capable of Respecting Diverse Values
Promote a shift from company-led career development to proactive career development based on individual employees' diverse values and willingness to take on challenges, such as promoting the transition from a one-size-fits-all training program to a selective training system based on the diverse career perspectives of each individual
Expand the crossing of borders to gain diverse experience both in and outside the company, providing new opportunities that will lead to employee growth and career development
Further increase diversity in management and create an environment in which new ideas are utilized in decision-making and where each employee's individuality and strengths are reflected in management and daily operations
Expansion of career development programs and challenging opportunities for young employees and female employees to foster and produce diverse leaders
Providing information on nursery schools and other facilities for a smooth return to work after employees take childcare leave, and support for self-development during leave for those who wish to do so
Establish opportunities for seasoned employees to demonstrate their unique abilities and create an environment that allows them to continuously take on challenges regardless of age (career awareness seminars and training for middle and senior age groups will be held a total of five times between January and June, 2022)
Hiring of international students began in fiscal 2013
Conduct unbiased, fair screening of mid-career hires for advancement and promotion to management positions
Implement an annual succession planning process for key global positions to select, develop, and promote the next generation of leaders, ensuring diversity in terms of nationality, gender, age, etc.
Improvement in the working environment for employees of diverse nationalities and religions, including by setting up a Prayer Room in the Tokyo headquarters office
Career Development Program for Female Employees
E-Win (Eisai Women's Innovative Network)
By setting the key concepts of "aspiration" and "colleagues," Eisai aims to develop the independence, initiative, and leadership skills of female employees who are motivated to continue to shine in their own way and to take a step forward in all aspects of their work and life, for adapting to changes in work and life by deepening their self-understanding and fostering a career perspective that is unique to each individual with a long-term perspective.
Ensuring Diversity of Corporate Executives (Directors and Corporate Officer)
In 2000, directors with foreign nationalities were appointed, followed by the appointment of executive officers with foreign nationalities in 2006. Female directors were appointed in 2009, and female corporate officers in 2013. As of June 17, 2022, there were 5 officers with foreign nationalities and 5 female officers among the 32 directors. As a global company, Eisai is promoting the appointment of local human talent to the management of local subsidiaries, and has also placed local personnel, who are executive officers, in management positions in the Americas, EMEA, and China. The ratio of women in management globally is approximately 30%.
Initiatives in Each Regions
The U.S.
Europe
Asia
Priority issues

1)

Awareness-raising activities

2)

Increase representation of diverse talent

3)

Growth and development of diverse talent

4)

Support health equity initiatives for all employees

1)

Awareness and understanding of ED&I

2)

Clear vision & strategy

3)

Establishment of governance and implementation

4)

HR policies promoting diversity (hiring, training, career development, etc.)

5)

Data collection and communication

China
Enhancing work efficiency through a hybrid work style combining remote and in-office work, and promotion of the following 2 items

1)

Maintaining a ratio of female managers of 30% or more

2)

Promoting work style reforms by expanding the range of individual discretion in choosing work locations and working hours

India
Gender diversity

Fiscal 2021
Key initiatives

Integrated DE&I trainings into 2 key leadership development programs
Workshops, luncheons, and learning opportunities offered, along with social media outreach
Initiatives for establishment of a strong presence at diversity-related conferences and job fairs
Inclusion of items such as gender and ethnicity in the talent review and development process
Equal pay for equal work surveys conducted company-wide to ensure there are no wage disparities based on gender or ethnicity
Investments made in programs in which employees can participate to rectify health disparities

Inclusion of ED&I priority items in corporate goals and areas of focus
Changes in governance structure
Conducted first audit of ED&I situation and activities (the U.K.)
Initiatives conducted based on national labor laws (Spain, Italy)
Creation of employee diversity monitoring data

China

Hybrid work style introduced 1 day a week on a pilot basis and then started formally
Ratio of female managers: Reached 47%

India

Focused on increasing the number of female employed, and repeatedly communicated messages about their importance and related initiatives at town hall meetings and monthly meetings

Major Initiatives for Fiscal 2022 (including plans)

Announcement of top management's commitment to DE&I and the initiation of a series of workshops
Plans to participate in a diversity job fair, with a focus on medical representatives (MRs)

ED&I concept, common vision, and objectives to be shared in "learning journey" for senior management
Promote activities centered on the establishment of a Europe-wide ED&I project through the formation of an ED&I governance structure and action committee

China

Maintain a target of 30% or more female in management positions, and implement initiatives such as providing opportunities for female employees to have dialogue with female leaders, incorporating health psychology for female into employee health management, etc.

India

Identify concerns that female employees at the manufacturing plant have, and encourage the development of career plans and participation in a variety of forums
Consider proactive hiring of female leaders
Data
| | | FY 2021 |
| --- | --- | --- |
| Japan*1 | Ratio of female employees | 26.0% |
| | Ratio of female managers | 11.5% |
| | Ratio of directors in their 30s or younger | 14.1% |
| | Percentage of spousal maternity leave and male childcare leave taken of five days or more | 46.9% |
| | Ratio of mid-career hires | 15.0% |
| Eisai Group*2 | Ratio of female employees | 41%☑ |
| | Ratio of female managers | 33%☑ |
*1

Excluding Group companies in Japan

*2

Eisai Co., Ltd. and Group companies in Japan

☑

This information is guaranteed by SGS Japan Inc.
External Evaluations
Platinum Kurumin Certification
Eisai has been certified as a "childcare supporting company" by the Ministry of Health, Labour and Welfare's Tokyo Labor Bureau, under the Act on Advancement of Measures to Support Raising Next-Generation Children.
The New Diversity Management Selection 100
The Ministry of Economy, Trade and Industry (METI) has been presenting a METI Minister's Award under the New Diversity Management Selection 100 Program since fiscal 2012. Among the priority themes of the New Diversity Management Selection 100 Program, Eisai received a particularly high evaluation for items such as activities promoting participation of diverse employees including women and employees with foreign nationalities, realizing diverse career paths for employees, and implementing workstyle innovation and management strategy transformation, and so on.