Eisai participated in "RECYCLE TO END POLIO" campaign recycling PET bottle caps, supporting the polio eradication initiative organized by the Japan Committee, Vaccines for the World's Children (JCV), an accredited NPO. The campaign is also sponsored by the Bill & Melinda Gates Foundation, with which Eisai collaborates in the field of global health. A total of 239,350 caps, including 14,900 caps from Eisai, were collected during the campaign period from Friday, July 28 to Friday, October 6, contributing to provision of polio vaccines to 5,239 children around the world.
On the World Polio Day, October 24, the campaign ambassador Mr. EXILE TETSUYA and others reported on the results to the members of the Diet Task Force on Global Polio Eradication. Please visit here for details (in Japanese only).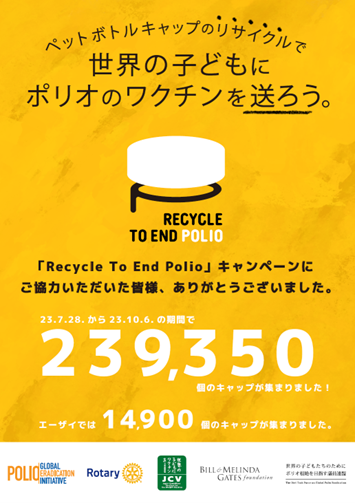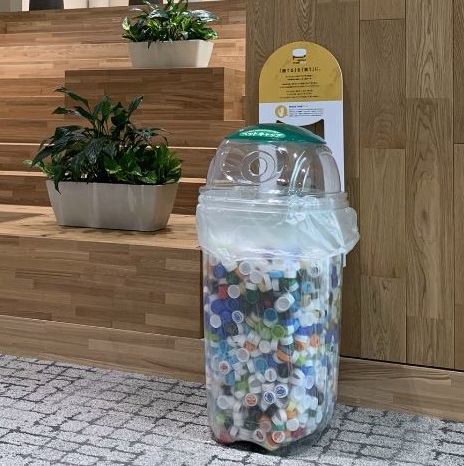 Polio is an infectious disease which can be eradicated by humans just like smallpox. It largely affects children under 5 years of age and can cause disability. As a result of world-wide activities to eradicate polio, wild poliovirus cases among children have decreased by over 99% since 1988, but some areas in the world are still at risk of polio. Although Japan has not had any new cases of wild poliovirus since 1980 thanks to the nation-wide vaccine administration, new cases have been reported in developed countries such as the United Kingdom and the United States in recent years. This year's G7 Hiroshima Leaders' Communiqué also called for continued support for the Global Polio Eradication Initiative (GPEI).
<Outline of the campaign>
RECYCLE TO END POLIO
Organizer:the Japan Committee, Vaccines for the World's Children (JCV), an accredited NPO
Supporters: the Global Polio Eradication Initiative (GPEI), the World Health Organization (WHO), Rotary International, Centers for Disease Control and Prevention (CDC),the United Nations Children's Fund (UNICEF), Bill & Melinda Gates Foundation, Gavi, the Vaccine Alliance, the Diet Task Force on Global Polio Eradication
Campaign period: from Friday, July 28, 2023 to Friday, October 6, 2023 (the campaign ended)
Initiatives for Improving Access to Medicines Initiatives for Elimination of Neglected Tropical Diseases Recent Activities TOP