Respect for Human Rights Based on International Law
In placing value on the Universal Declaration of Human Rights, international treaties related to civil and political rights as well as international treaties related to economic, social and cultural rights, Eisai has formulated the Eisai Network Companies (ENW) Charter of Business Conduct, which encompasses global internal rules, and the Compliance Handbook summarizing the Charter. The Compliance Handbook sets forth fair treatment of all employees and the development of an environment where employees can work with enthusiasm. Based on this idea, Eisai strives to follow labor-related laws in all countries where it operates, for example, in terms of minimum wages and appropriate working hours.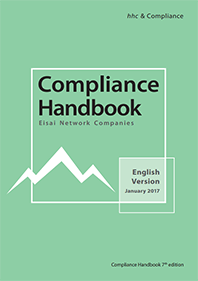 We respect the human rights and individuality of each employee and ensure that our workplaces are free from unjust discrimination or other forms of unfair treatment based on race, gender, age, physical or mental disorder, nationality, religion, sexual orientation, marital status, presence of children or other circumstances. The same thinking is also reflected in our recruitment, human resources development and promotions. Based on our position of respecting and protecting human rights, we explicitly stay true to the attitude of not tolerating child labor, forced labor, human trafficking, slavery and any other such acts that may compromise the dignity or respect of an individual by any of ENW or our business partners.
Eisai has become a member of the Industrial Federation for Human Rights, Tokyo, with the aims of promoting understanding of global human rights issues and raising awareness of human rights as a company. As a member company, we proactively take part in meetings*1, lectures*2, events*3 and other initiatives to discuss global trends, problems and topics. Within Eisai, we have established a Human Rights Awareness Committee that is chaired by the Chief Talent Officer.
The committee conducts a variety of activities to enlighten employees through such means as human rights training, e-learning and human rights catch phrases based on our policy for promoting awareness of human rights that we devised. We are aiming to fulfill our social responsibility as a company by instilling respect for human rights as part of our corporate culture.
*1

General Assembly of International Movement Against All Forms of Discrimination and Racism Japan Committee (IMADRA JC) and Universal Declaration of Human Rights Commemorative Gathering in Tokyo

*2

Human Rights Seminar

*3

Human Rights Festa Tokyo