Initiatives for Stable Supply - Formulating a Business Continuity Plan
Eisai has formulated a business continuity plan (BCP) to ensure stable supply in case of risks such as natural disaster, accident or act of terrorism. Even in the event of a large earthquake, we are committed to resuming plant operations as soon as possible and continuing the stable supply of products by consistently ensuring appropriate product inventory. Additionally, we are undertaking initiatives for securing backup sites that enable alternate operations in times of emergency, primarily for specific products, especially products with a high degree of urgency and importance.
Global Production System (Innovation Base)
Eisai provides high-quality products that generate customer satisfaction by establishing "Ricchi" with utilizing the strengths of each manufacturing site and conducting demand innovation activities worldwide.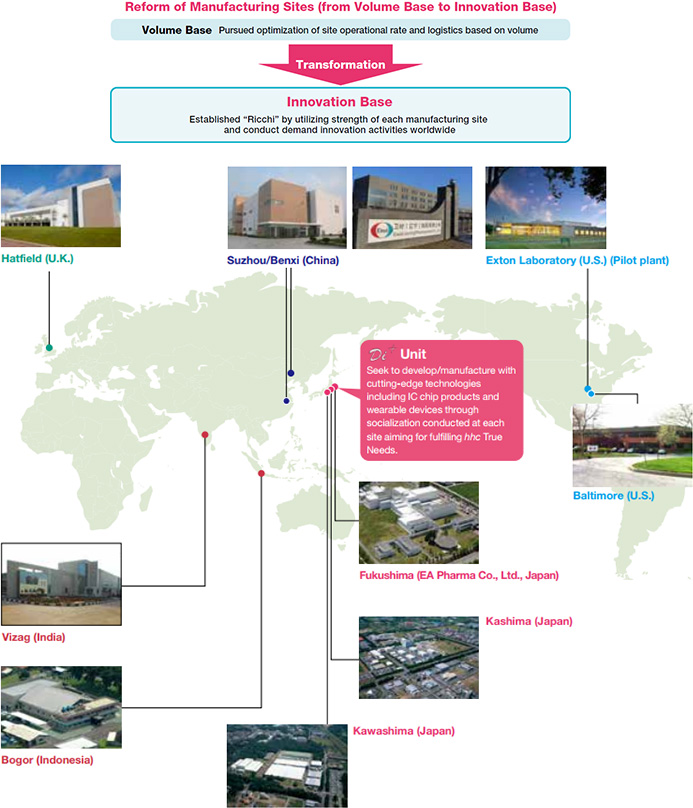 ※

Di+: "Demand Innovation Plus" is the symbol of aspiration aiming for maximizing value of products and solutions for patients.