Companies are required to carry out socially and environmentally conscious business activities throughout the entire supply chain. In addition, in order to ensure a stable supply of products, it is necessary for them to make continuous efforts to identify and mitigate sustainability risks in the supply chain. In the spirit of coexistence and co-prosperity, we are strengthening cooperation with business partners such as raw material suppliers, manufacturing contractors, subcontractors, trading companies and wholesalers, and promoting "responsible procurement" initiatives with them to contribute to SDGs by improving sustainability, and to increase the corporate value of both parties.
Sustainable Procurement Program
Our sustainable procurement is carried out by the following fourth-step scheme.
(1) Explanation of our sustainability policy and sustainable procurement implementation program to suppliers: sustainable procurement briefing sessions for suppliers in Japan, and individual explanations to overseas suppliers
(2) Request for agreement to comply with the "Eisai Global Code of Conduct for Business Partners" and submission of the signature form
(3) Sustainability assessment of suppliers using EcoVadis platform
(4) Improvement of the sustainability of business partners through engagement
PSCI: Pharmaceutical Supply Chain Initiative
It makes sense for both pharmaceutical companies and suppliers to tackle sustainability issues and share the information and the results in the whole industry. In January 2021, we joined PSCI, a global non-profit organization that aims to promote responsible procurement of supply chains in the pharmaceutical industry.
Eisai Global Code of Conduct for Business Partner
The minimum requirements for our business partners are summarized in the Code of Conduct for Business Partners. It sets the standards for legal compliance, ethics, human rights and labor, health and safety, environment, as well as management system. It complies with the PSCI Principles that is the Pharmaceutical Industry Principles for Responsible Supply Chain Management issued by the PSCI.
Target Suppliers for Sustainable Procurement
The risk factors of sustainability are considered to be higher in the manufacturing companies which have factories. Therefore, we targeted the manufacturing companies of direct materials (including manufacturing contractors) of our own plants in Japan in the first step. We implemented sustainable procurement program to Tier-1 direct material suppliers, and Tier-2 manufacturing companies when the Tier-1 suppliers are wholesalers / trading companies.
Briefing Session for Sustainable Procurement to Suppliers
In FY2021, we held business partner briefing sessions to 89 major Tier-1 and Tier-2 suppliers in Japan of direct materials twice. We explained the importance of improving sustainability, procurement policy, the Code of Conduct for Business Partners, and EcoVadis platform, and asked for their understanding and cooperation. For 18 overseas suppliers, we individually sent letters explaining our efforts regarding sustainable procurement and asked for their cooperation.
EcoVadis Sustainability Assessment and Supplier Engagement for Improvement
The EcoVadis program consists of assessments of the environment, human rights and labor, ethics, and sustainable material procurement, covering the items of our Code of Conduct. No supplier was classified as high risk based on our EcoVadis rating scoring criteria. In terms of overall score or individual score of human rights, environment, and ethics, we conducted remote interviews with the suppliers who were considered to require improvement based on our criteria to agree the corrective action plans up to the next evaluation.
Progress in FY2021
In FY2021, we explained our sustainable supply chain management policy for 107 companies, mainly domestic and overseas manufacturing companies (including 8 wholesalers and trading companies) to our own manufacturing plants in Japan. The table below shows the results for FY2020 and FY2021. Over the two years, the sustainable procurement program was implemented for 151 business partners, covering more than 98% on a trading volume basis.
.
Summary of Sustainable Procurement Results
| | FY2020 | FY2021 |
| --- | --- | --- |
| Number of companies | 44 | 107(overseas18) |
| Number of companies submitting signature forms for the Code of Conduct | 43 | 93 (overseas14) |
| Number of companies measuring sustainability performance by EcoVadis platformEcoVadis | 34 | 64 (overseas11) |
| Number of companies for engagement with remote interview | 12 | 11 |
In FY2022, we will expand the sustainable procurement program to suppliers of our own overseas plants and promote responsible procurement in the whole supply chain continuously.
Geographical Distribution of Suppliers
We are continuing a stable supply at our domestic manufacturing plants in strong cooperation with suppliers located in the areas shown in the pie chart. We also continuously confirm the operating and logistic status not only for all the 9 global manufacturing sites but for both raw material suppliers and manufacturing contractors.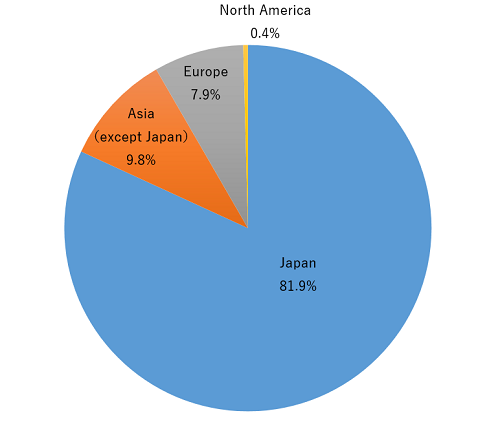 Supplier Selection / Collaboration with Suppliers
In order to build a sustainable supply chain, Eisai evaluates potential business partners (raw material manufacturing suppliers, production contractors), which work together for establishing the stable supply of high-quality products, in terms of Technology, Quality, Manufacturing Capability, Regulatory Affairs, Finance, Compliance, etc., on selection process.
In addition, after entering into supply agreement, Eisai works with its business partners to ensure a stable supply of high-quality products through the aforementioned sustainable procurement initiatives and other measures.