Each Eisai office overseas has an hhc manager who is in charge of promoting hhc activities and is involved in driving each country's hhc projects in the pursuit of the realization of hhc.
These managers gathered per region for an hhc Managers Meeting recently, with a European meeting held in November 2009 and an Asia meeting in January 2010.
(Click here to read about the FY2008 European hhc Managers Meeting)
In the European meeting, each manager reported on the hhc activities taking place at his/her country, which included training for the further penetration of the hhc philosophy among employees, educational activities on epilepsy and interchange with patients.
Epilepsy, in particular, is a disease that is not highly recognized, and there is a strong need to improve the environment surrounding patients. There was a discussion of efforts not limited to those as a traditional pharma that could be made by Eisai.
Participants also listened raptly to a lecture on the utilization of an elderly simulation program in future employee training in Europe. This hands-on program, which hhc managers underwent in the previous year's meeting, allows participants to experience the lowered physical functions and psychological changes of elderly persons.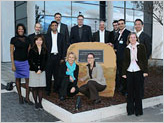 In the Asia meeting, an outside lecturer from a local healthcare organization was invited to speak on topics such as "patients' reality," what 'hope' means to patients and the desirable roles of pharmaceutical companies.
Disease education activities, patient support programs and efforts being undertaken to fulfill regional healthcare needs were introduced in the reports of the hhc activities of each country. Many Asian offices are proactively involved in educational activities that raise awareness of Alzheimer's disease, and there were reports on activities geared to match the situation in respective countries including participation in World Alzheimer's Day events. After activity reports, hhc managers carried out lively discussion, exchanging opinions and offering proposals based on their individual experiences.
In Asia, the issues present differ according to the country, and each is taking an original approach to its hhc activities. The hhc managers are now involved in formulating concrete action plans for the next fiscal year, using the actual cases they learned of in the meeting and the discussions that took place as reference.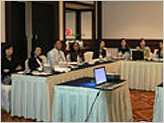 Eisai has hhc managers in place in each country and promotes global exchange that goes beyond regions and national boundaries. This is because Eisai places the highest priority on the realization of the hhc philosophy and believes that this is Eisai's raison d'etre. Even better hhc activities result from the passion toward hhc held by each hhc manager, the sharing of their experiences and related discussions. Our hope is to further contribute to the enhancement of benefits to patients, their families and consumers around the world through the series of such hhc activities.