The Eisai Group's Corporate Concept is to give first thought to patients and the people in the daily living domain and increase the benefits that health care provides. We regard our employees as important stakeholders who can directly contribute to achieving this goal, which we describe as "human talent".
Eisai aims for every employee to become a human talent who cultivates confidence and pride through proactive and challenging work, and voluntarily contributes to the creation of new value with a strong appreciation of Eisai's Corporate Concept, while pursuing their dreams and self-realization. We also want to be a global human resource group, that builds relationships of trust with all people anywhere in the world, adapting to any change, and creating innovation.
Eisai will promote HR strategies from a global and diversity perspective, respect the diverse values of employees, and through the development of an ecosystem model of collaboration with other industries (hhcconcept + ecosystem: hhceco), will effectively achieve the social good of relieving anxiety over health and reducing health disparities.
Eisai's Vision for HR
Eisai;
values the ability of employees to build their dreams based on their individual missions and reasons for working. For employees striving to achieve those dreams, we provide rewarding work, opportunities for growth and a comfortable working environment. From our employees' diverse dreams, we will realize

hhc

eco to make an even better society.
will create a large, symbiotic group and a corporate culture where diverse talents gather to realize

hhc

eco, where every employee can unleash their own individuality, thrive and grow.
Eisai employees;
define their own social missions and reasons for working, and build diverse dreams for themselves, through socialization with patients and the people in the daily living domain. While striving to realize those dreams, they are the ones who bring about a better change in society.
recognize, utilize, and learn from one another's aspirations and values. Eisai will foster a workplace that rejoices in and supports new challenges, and continues to pursue better results through the successes and failures that arise from those challenges.
must be healthy in mind and body, full of the energy needed "to live their own lives to the fullest" because Eisai employees play a leading role in helping patients and the people in the daily living domain "to live their lives to the fullest."
Materiality in HR Strategies
Eisai will put in place an environment in which every employee can work independently and aggressively toward realizing our vision, based on a strong sense of empathy with our corporate concept.
To achieve this, we have identified materialities in HR strategy, focusing on the four aspects of health, work style, employees, and business, and based on the demands of society and priority issues in the business environment.
This is also an important theme as we work to realize our long-term vision, towards which we will implement a PDCA cycle in conjunction with our business plan.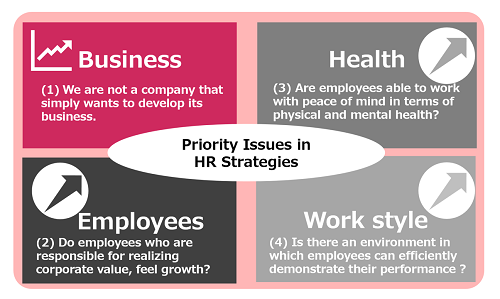 Materiality
Priority actions
Reference indices
Talent management to support business strategy

Implement data-driven talent management policies
Operate programs that support employee self-realization
Acquire diverse human talent to support business growth
Reform corporate climate through policies to strengthen management and promote dialogue within the organization
Implement programs to develop next generation of global leaders
Promote Diversity, Equity, and Inclusion (DE&I)

Global survey results, pulse survey results
Status of succession plan execution
Frequency of and satisfaction with one-on-one meetings
Frequency of communication outside the organization
Number and diversity of employee participants in global training programs
Number of employees participating in internal training (re-skilling) and voluntary participation rate
Number and diversity of employees dispatched to external training programs
Diversity, etc. in hiring and promotions

Preparing a suitable working environment and healthcare support to assist self-actualization

Putting in place support and an environment for the health of employees and their families
Building programs to encourage new challenges
Reforming awareness of working hours
Establishment of human resource systems (including a secondary employment system) to accommodate diverse working styles, motivation, and growth
Validate measures for disease prevention and support for people who continue to work during treatment
Validate measures for improving skills, enriching lives, and supporting careers

Rectification of long working hours
Rates at which leave is taken and work from home promoted
Retention and turnover rates
Ratio of individuals undergoing regular health checkups and follow-up on those with findings
Number of participants in re-skilling training
Number of users of various support programs, etc.
Global HR Structure
We have established a system under the supervision of the Chief Human Resource Officer (CHRO), in which the HR organizations of each country and division collaborate with each other on a global level, to realize our company-wide management strategy.
We also hold a Global HR Board attended by HR managers from each region HQ in order to share the initiatives and challenges of each country's HR department and to improve the driving force of the entire company's HR department.
We also actively promote the frequent sharing of information between departments in order to realize personnel policies and initiatives that reflect on-site opinions as well as timely personnel transfers.
Message from the Chief HR Officer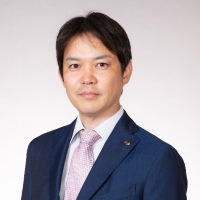 Eisai defines the main object of itshhcConcept as "the people in the daily living and medical domain," and our goal is to evolve into a company that supports people throughout their lives (empowering them to live their lives to the fullest),and to establish an ecosystem model (hhceco) through collaboration with other industries to further contribute to the patients and the people in the daily living domain. The key to achieving this is the "employees."
The Articles of Incorporation clearly list employees as a principal stakeholder group, ensuring "stable employment," "respecting human rights and diversity," "providing full opportunities for growth in support of self-fulfillment," and "creating an employee-friendly environment."
In today's era of accelerating diversity of human resources in terms of nationality, age and gender, we will foster a workplace culture in which employees can recognize, utilize and learn from one another's aspirations and values, as well as pursue better results through the successes and failures that arise from new challenges.
Further, we are actively working to introduce a talent management policy that will enable our employees, who are the driving force behind the realization of hhceco, to each lead fulfilling lives - to live their lives to the fullest - in good physical and mental health.
We will also proactively disclose information about our efforts to build hhceco and the HR strategies that will contribute to a sustainable growth story, for the understanding of our stakeholders both in and outside the company.
We would like to realize hhceco, which solves social issues such as dementia, by providing employees who are trying to realize their dreams with work they feel is meaningful, growth opportunities that support self-realization, and a comfortable working environment.