Support of the United Nations Global Compact
In December 2017, Eisai announced its support of the United Nations Global Compact, a global initiative to realize sustainable growth in the international community.
Eisai's corporate philosophy is to give first thought to patients and their families, and to increase the benefits health care provides. Based on this corporate philosophy, all employees thoroughly conduct business activities in compliance with laws and ethics, and we aim to be a human health care (hhc) company capable of making a meaningful contribution under any health care system.
Eisai shall fulfill its contribution to the international community under its corporate philosophy, in accordance with the ten principles of the UN Global Compact in the areas of Human Rights, Labour, Environment and Anti-Corruption.
What is the UN Global Compact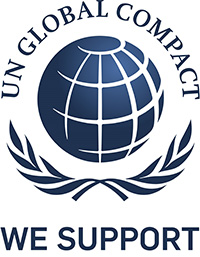 The UN Global Compact is a global framework proposed by Kofi Annan (Secretary-General of the United Nations at the time) in 1999 at the World Economic Forum (Davos Conference) held in Davos, Switzerland, and launched in 2000, for realizing sustainable growth. Various organizations, centered on corporations, are expected to act as good corporate citizens by demonstrating responsible and creative leadership.
The Ten Principles of the UN Global Compact
Human Rights

Principle 1: Businesses should support and respect the protection of human rights; and
Principle 2: make sure that they are not complicit in human rights abuses.

Labour

Principle 3: Businesses should uphold the freedom of association and the recognition of the right to collective bargaining;
Principle 4: the elimination of all forms of forced and compulsory labour;
Principle 5: the effective abolition of child labour; and
Principle 6: the elimination of discrimination in respect of employment and occupation.

Environment

Principle 7: Businesses should support a precautionary approach to environmental challenges;
Principle 8: undertake initiatives to promote greater environmental responsibility
Principle 9: encourage the development and diffusion of environmentally friendly technologies.

Anti-Corruption

Principle 10: Businesses should work against corruption in all its forms, including extortion and bribery.