Eisai designates a Chief Compliance Officer, who is concurrently the corporate officer responsible for internal control, oversees the Corporate Compliance and Risk Management Department and promotes compliance and risk management.
Regarding internal audit, the corporate officer responsible for internal audit oversees the Internal Audit Department and promote audits from a position independent of the business execution division.
Compliance Promotion
Eisai promotes its compliance program that consists of delivering the message of top management, developing the Code of Conduct and other relevant rules, conducting educational activities, establishing a training system as well as providing consultation services by defining compliance as "the observance of the highest legal and ethical standards" and positioning it at the core of management activities. Based on a lesson from an international cartel for synthetic bulk vitamin E products, Eisai started to promote full-fledged compliance in fiscal 2000. These compliance promotion programs periodically undergo objective reviews by a Compliance Committee that consists of outside experts such as lawyers and consultants from Japan and overseas.
1. Establishment of Code of Conduct and Other Relevant Rules and Conducting Educational Activities to Foster Compliance Awareness
Eisai has been publishing Compliance Handbook, which outlines Eisai Network Companies (ENW) Charter of Business Conduct and the Code of Conduct, to cultivate the compliance awareness. For all officers and employees in all Eisai network companies, this handbook is available in 16 languages.
In addition, various training programs are continuously held utilizing different formats, such as a compliance workshop for officer, e-learning, and a workshop utilizing training material in each department.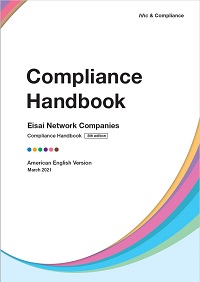 2. Use of Compliance Counter
The Compliance Counter serves as a point of contact for the whistle-blowing system in ENW. This counter is set up at each ENW company and it is available for ENW employees to contact directly to the Compliances Counter at Eisai Headquarters. The Compliance Counter also provides resources, such as the contact to independent lawyers and outside contact operated by ombudsperson who handles issues at workplace or works to improve environment for compliance promotion. The Compliance Counter accepts not only whistle-blowing reports but also all sorts of consultations such as interpretation of laws and rules as well as daily activities regarding compliance. In fiscal 2020, more than 350 inquiries were received at the Compliances Counter at Eisai Headquarters.
3. Prevention of Bribery and Corruption
Based on its strong determination to undertake honest business activities, Eisai formulated the Corporate Anti-Bribery and Anti-Corruption (ABAC) Policy for Eisai network companies in January 2012 (revised on October 1, 2018). This policy provides common rules for Eisai network companies when dealing with external parties in line with efforts to carry out business activities without bribery or corruption across the Eisai network companies.
As one concrete initiative, Eisai introduced the ABAC due diligence system that uses a webbased system for receiving responses to a globally common questionnaire on the possibility of bribery and corruption that is sent out beforehand to companies with which we plan to newly undertake transactions. By using this system, we have already achieved certain results in reducing risk associated with new business transactions. Based on the thinking of a risk-based approach, this system is being operated in the Americas region that includes Mexico, Brazil and Canada; the EMEA region that encompasses Russia and Eastern Europe; China, India, and countries in Asia.
Additionally, Eisai is moving ahead with the advanced introduction of a system at overseas subsidiaries that detects signs of potential fraud by monitoring accounting and financial data.
4. Compliance-based promotion
Eisai conducts ethical promotion globally in accordance with compliance requirements. We disclose information on payments to medical institutions and patient groups, in accordance with the Japan Pharmaceutical Manufacturers Association (JPMA) guidelines, and the regulations and guidelines of each country in order to have broad societal understanding that our corporate activities are undertaken based on the highest ethics.
■Setting Forth a Code of Conduct in the Compliance Handbook
Eisai has set forth a code of conduct in the Compliance Handbook that is distributed to all employees to ensure compliance-based promotion. The following is an excerpt from the handbook.
Eisai markets and promotes its pharmaceutical products worldwide. We provide accurate and balanced scientific information, and promote our products only for the uses for which they have been approved by the applicable regulatory authorities.

Off-label and false or misleading promotion and promotion of pre-approved drugs are prohibited as they may raise legal, regulatory and product liability issues. The relevant department must approve the content of any promotional materials, and we must avoid improper promotional activities.

If we are engaged in promotional activities, we are expected to be familiar with the rules governing promotional activities.
■Formulation of Eisai Co., Ltd. Code of Practice
In March 2012, the International Federation of Pharmaceutical Manufacturers & Associations (IFPMA) announced the "IFPMA Code of Practice" ("IFPMA Code") as a code covering not only marketing activities but also interactions with healthcare professionals, medical institutions and patient organizations, as well as the promotion of medicines. In line with the intent of the IFPMA Code, the "JPMA Code of Practice" was established and implemented by the JPMA. Then Eisai, as a member of JPMA, established the "Eisai Co., Ltd. Code of Practice" in line with the aforementioned Code. All the executives and employees at Eisai engage in corporate activities with the aim of earning the trust from society by ensuring high level of transparency, ethics and corporate accountability in corporate activities involving researchers, healthcare professionals and patient organizations.
Risk Management Promotion
In accordance with the Companies Act, Eisai's Board of Directors formulated the "Rules for Preparing Necessary Systems for Ensuring the Suitability in the Performance of Duties by Corporate Officers." These rules stipulate that all corporate officers should identify and evaluate the risks in their duties and establish, develop, and operate the internal control systems. Regarding the risk management, Eisai defines risks as "the threat or probability that an action or event will adversely affect the achievement of corporate and/or organizational objectives." In order to avoid or keep risks within acceptable levels, Eisai has developed "ENW Internal Control Policy" and is carrying out various initiatives including establishment, development, and operation of internal control systems in whole ENW.
1. Promoting a Risk Management System and Response to Risks
At the Risk Management Committee, critical risks are managed unitedly by the corporate officer responsible for internal control as chair. Also, Eisai quickly detects its own potential similar risks through continuous monitoring for external corporate scandals and responds to risks promptly by the risk avoidance and elicitation prevention activity.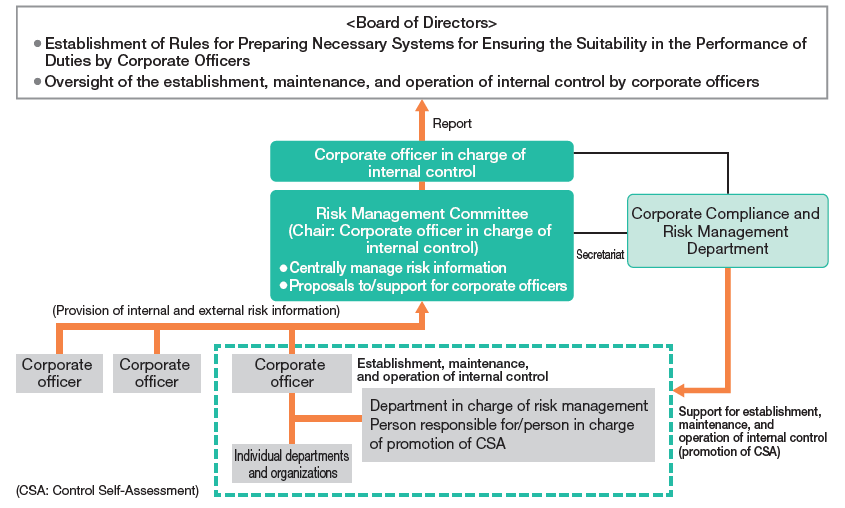 2. CSA (Control Self-Assessment)
One of the tools used by Eisai for risk management is CSA. In the CSA activity, all the department managers in ENW identify and evaluate risks in their own structure every year, and works to address the identified risks.
In addition, Eisai enhances the effectiveness of risk management by understanding critical risks and following up on risk response status by corporate officers.
Internal Audit Activities Based on International Standards
Eisai implements internal audits focusing on the themes selected by the internal audit departments in each region on a risk basis. The results of internal audits assessed independently and objectively are reported to the Board of Directors and to the Audit Committee.
To assure high-quality audits that conform to global standards, the Corporate Internal Audit Department undergoes an assessment by an external assessment committee composed of outside experts in accordance with the standards of The Institute of Internal Auditors (an international professional association for internal auditors based in the U.S.).
"IIA Japan Chairman's Award" of the Institute of Internal Auditors was granted
Eisai received the 33rd "IIA Japan Chairman's Award" of the Institute of Internal Auditors for its efforts related to internal audit activities in September 2019.
The following initiatives were highly evaluated such as emphasis on contribution for achieving the corporate objectives, implementation of audit by the full consideration of business operation risks and socially focused matters and selecting the theme for audit, emphasis on cause analysis of problems, and implementation of regular internal and external evaluations for continuous audit quality improvement.