Aiming to develop corporate activities emphasized harmony with the global environment
At Eisai, we have been developing business activities in harmony with the global environment as part of our universal social responsibility. In the new medium-term business plan "EWAY Future & Beyond" started in FY2021, we aim to remove the anxiety of The People, including not only patients but also individual consumers, with delivering not only pharmaceutical products but also solutions to The People. In order to continuously realize its hhc philosophy, it is essential for us to strengthen the activities to ensure the sustainability of the global environment, so in April 2021, we completely revised the "Eisai Network Companies (ENW) Environmental Policy", which is the basis of our environmental protection activities.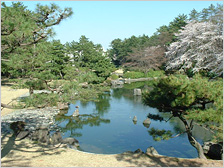 ENW Environmental Protection Policy
The ENW Environmental Protection Policy is based on the ENW Charter of Business Conduct and states the basic philosophy underlying environmental protection activities at ENW companies, along with a set of nine concrete environmental protection guidelines. The Japan ENW companies are constantly striving to promote environmental protection activities based on this policy.
Basic Policy
Eisai Co., Ltd. and its group companies ("ENW") contribute to the health and welfare of people around the world and the realization of a sustainable society by developing business activities that emphasize harmony with the global environment.
Action Guidelines
Establish an environmental management system and strive to reduce the environmental impact of all aspects of our business activities.

Promote environmental protection activities in compliance with environmental laws, regulations, and agreements.

Contribute to the mitigation of climate change by reducing greenhouse gas emissions and promoting energy conservation.

Contribute to the formation of a recycling-oriented society by promoting the sustainable use of resources, including water, along with waste reduction and recycling.

Prevent environmental pollution by promoting proper management of chemical substances and reducing their use.

Contribute to the realization of a society in harmony with nature by developing business activities that take into consideration the conservation of biodiversity.

Systematically provide education and enlightenment on environmental protection to raise awareness of environmental issues among all employees.

Strive to improve our credibility with society through proactive disclosure of environmental information and communication with local communities.

Promote environmental protection in our supply chain in cooperation with our business partners.

April 22, 2021
Masayuki Miyajima
Vice President
General Affairs, Environmental and Safety Affairs
Eisai Co., Ltd.