Working to Conduct Business That is Friendly to the Global Environment
At Eisai, we are making a concerted effort to ensure that all of our employees in Eisai Network (ENW) companies adhere to the Eisai Network Companies Environmental Protection Policy and share the same philosophy towards environmental action. Through the daily activities of each employee, we are constantly striving to expand and improve our environmental protection activities.
We are also making every effort to reduce the impact that our business activities have on the environment. We thus place great emphasis on establishing environmental management systems that promote the reduction of environmental impact and are working hard to make qualitative improvements by acquiring ISO 14001 certification at our principal operating units.
Finally, as a pharmaceutical company, our goal is to make positive contributions to the well-being of people throughout the world, maintain a healthy environment, and work to create sustainable societies.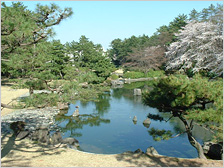 ENW Environmental Protection Policy
The ENW Environmental Protection Policy is based on the ENW Charter of Business Conduct and states the basic philosophy underlying environmental protection activities at ENW companies, along with a set of nine concrete environmental protection guidelines. The Japan ENW companies are constantly striving to promote environmental protection activities based on this policy.
Fundamental Environmental Protection Policy
ENW companies place global environmental protection as an important component of business operations and strives to maintain the environment.
Environmental Protection Guidelines
ENW is aware of the "dignity and importance of nature" and adopts measures to maintain the global environment in all business operations.
ENW places environmental protection as a top priority at all stages of corporate activities from research and development, production, distribution, and sales, to product usage and disposal.
ENW constructs and operates an environmental management system and promotes environmentally protective operations.
ENW complies with all applicable laws, regulations, and agreements concerning environmental protection, and each company implements voluntary standards that exceed the minimum standards set forth in the applicable laws, regulations and agreements.
ENW actively introduces advanced environmental technology to be at the forefront of reducing environmental impacts.
ENW reduces usage of resources and energy as well as reduces or recycles waste products in all business operations.
ENW reduces usage and promotes the removal of chemical substances that cause environmental pollutant emission and prevents environmental pollution.
ENW shares the fundamental policy on environmental protection and implements educational training to strengthen specialties at each workplace progressively and continuously.
ENW actively discloses information on policies, objectives, programs, and results concerning environmental protection.