Effective Use of Water Resources
As the sufficient acquisition of water resources is absolutely essential for the production of highquality pharmaceuticals, the Eisai Group is working to ensure the quality of water discharged from its production plants and research laboratories and is also implementing initiatives to reduce water consumption. We have an acute awareness of the need to conserve water and are taking such steps as minimizing consumption of water for production, reusing wastewater and working to use water resources effectively. In addition, we have established a framework for preventing the contamination of groundwater at Eisai production plants and research laboratories in Japan in response to the Water Pollution Control Law.
We implemented an in-house questionnaire at overseas plants and research laboratories based on a medium-term outlook. The results of the questionnaire showed that no plants or research laboratories are located in regions where there is a high risk of operations being suspended due to a water shortage. However, according to the analysis of the database Think Hazard, there is expected to be medium-level risk of water shortages in China, India and Indonesia. While always taking into account the risk of facing water shortages due to changes in the environment caused by the progress of climate change, we will strive to ensure stable supplies of high quality products.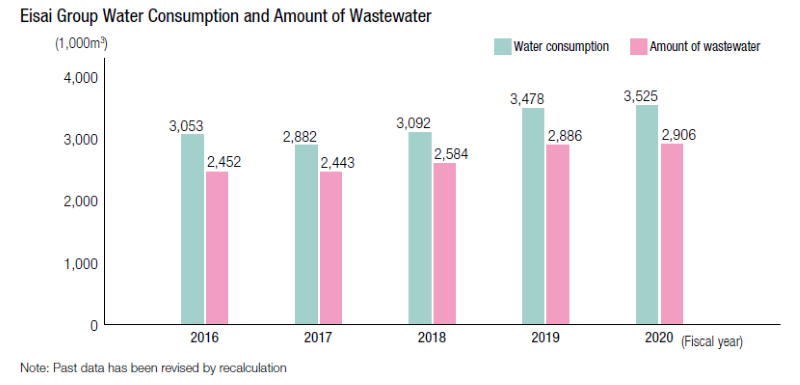 Green Purchasing
The Eisai Group in Japan promotes "green purchasing" as an environmental initiative that employees take on a daily basis, purchasing only what they need and giving priority to more environmentally friendly products if they are of comparable quality and price. Through this initiative, we aim to break away from a society of mass-production, mass-consumption and mass-waste. Eisai Co., Ltd., in particular, has been actively committed to this initiative through participation in the Green Purchasing Network* and in accordance with its own Green Purchasing Guidelines.
*

A network of companies, local governments and consumer groups (private organizations) supporting the concept of green purchasing