Effective Use of Water Resources
As the sufficient acquisition of water resources is absolutely essential for the production of high-quality pharmaceuticals, the Eisai Group is working to ensure the quality of water discharged from its production plants and research facilities and is also implementing initiatives to reduce water consumption. We have an acute awareness of the need to conserve water and are taking such steps as minimizing consumption of water for production plants and reusing wastewater. In addition, we have established a framework for preventing the contamination of groundwater at Eisai production plants and research facilities in Japan in response to the Water Pollution Control Law.
In a survey carried out at the Eisai Group outside Japan, we confirmed that none of our production plants or research facilities are situated in areas with a high risk of having to stop operations due to water shortages in the near future. Over the medium to long term, however, there is an undeniable risk of water shortages due to the quickening pace of climate change and the resulting changes in the natural environment. We will endeavor to ensure a stable supply of high-quality products while effectively utilizing water resources and monitoring the information on water supply.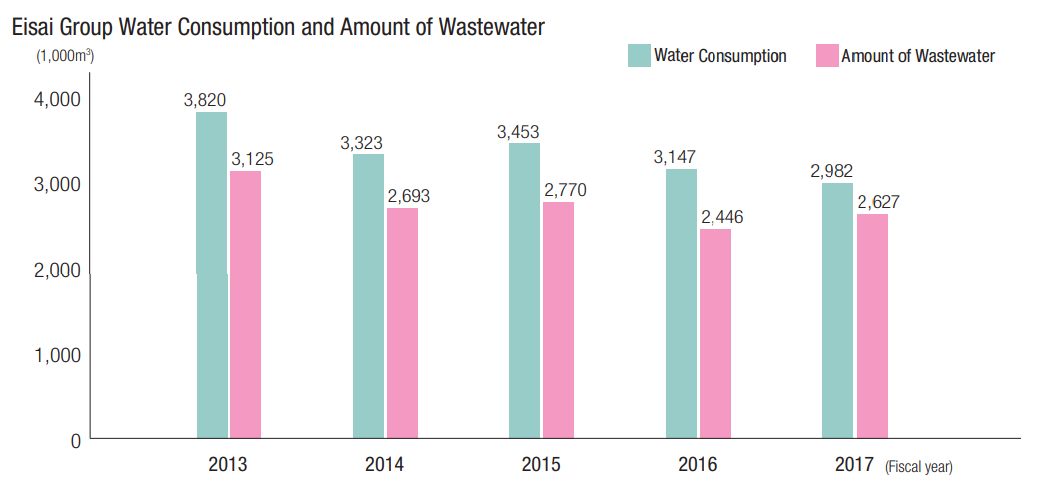 Green Purchasing
As one environmental effort undertaken by employees on a daily basis, the Eisai Group in Japan is promoting green purchasing, an initiative to purchase what is needed in the quantity needed, and if there are two products equivalent in both quality and price, to give preference to the one that is more environment-friendly. By this initiative, we are gearing our efforts toward shifting away from a society of mass-production, mass-consumption and mass-waste. Eisai Co., Ltd., in particular, has been actively committed to this initiative through participation in the Green Purchasing Network* and in accordance with its own Green Purchasing Guidelines.
*

A network of companies, local governments and consumer groups (private organizations) supporting the concept of green purchasing