Environmental Management Vision
As a human health care (hhc) company, the Eisai Group not only delivers pharmaceutical products to patients and the people in the daily living domain, but offers solutions tailored to diverse needs. Our goal in doing so is to accomplish two social goods: relieving anxiety over health, and reducing health disparities.
We view the global environment as the foundation of business activities aimed at achieving social good. There is a relationship between the global environment and people's health. Climate change, for example, is already causing adverse effects such as an increase in infectious disease, and in the future is expected to increase the number of deaths from malaria, heat stroke, and other causes. This is why we recognize the extremely high importance of environmental protection as the Group aims to relieve anxiety over health.
The Eisai Group has established the ENW (Eisai Network Companies) Environmental Policy and the entire company has been working together on environmental protection. And now, because it is our responsibility as anhhccompany to simultaneously address social good and environmental protection, we have established the Eisai Environmental Management Vision. Based on this Vision, in addition to climate change countermeasures aimed at achieving carbon neutrality by fiscal 2040, we have formed a medium- to long-term plan for environmental issues including efficient use of water, recycling of resources, preservation of biodiversity, and proper management of chemical substances, and will work to further advance these efforts.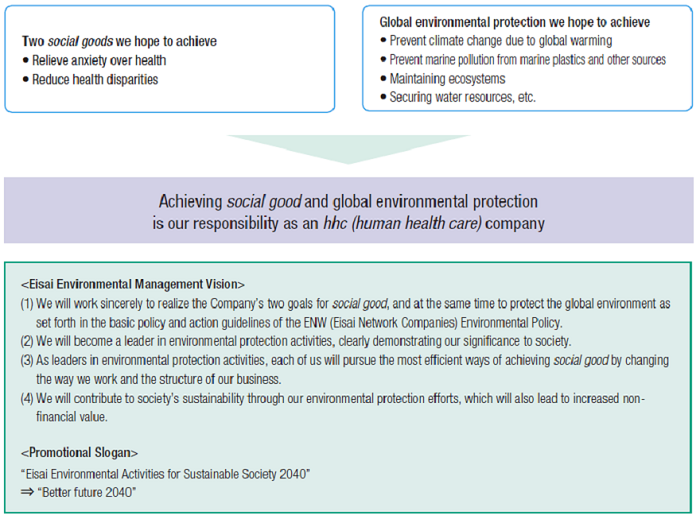 The key to the Eisai Environmental Management Vision is for each individual employee to treat environmental protection as a personal matter, and to help advance changes in work styles and operations. Going forward, we will explore and put into practice business development that differs from conventional methods. This will include work styles built on Activity Based Working, in which employees across all departments choose where and when they work; building next-generation plants; AI and data-driven research; use of web interviews in conducting activities around providing information; and virtual clinical trials utilizing telemedicine.
As we work toward "Better future 2040," each employee, as a global citizen, will work sincerely to reform our operations and act with an awareness of the environment, starting with issues closest to home.
ENW Environmental Protection Policy
The ENW Environmental Protection Policy is based on the ENW Charter of Business Conduct and states the basic philosophy underlying environmental protection activities at ENW companies, along with a set of nine concrete environmental protection guidelines. The Japan ENW companies are constantly striving to promote environmental protection activities based on this policy.
Basic Policy
Eisai Co., Ltd. and its group companies ("ENW") contribute to the health and welfare of people around the world and the realization of a sustainable society by developing business activities that emphasize harmony with the global environment.
Action Guidelines
Establish an environmental management system and strive to reduce the environmental impact of all aspects of our business activities.

Promote environmental protection activities in compliance with environmental laws, regulations, and agreements.

Contribute to the mitigation of climate change by reducing greenhouse gas emissions and promoting energy conservation.

Contribute to the formation of a recycling-oriented society by promoting the sustainable use of resources, including water, along with waste reduction and recycling.

Prevent environmental pollution by promoting proper management of chemical substances and reducing their use.

Contribute to the realization of a society in harmony with nature by developing business activities that take into consideration the conservation of biodiversity.

Systematically provide education and enlightenment on environmental protection to raise awareness of environmental issues among all employees.

Strive to improve our credibility with society through proactive disclosure of environmental information and communication with local communities.

Promote environmental protection in our supply chain in cooperation with our business partners.
April 22, 2021
Masayuki Miyajima
Vice President
General Affairs, Environmental and Safety Affairs
Eisai Co., Ltd.