The Eisai Group in Japan is promoting initiatives for the formation of a low-carbon society to help solve the problem of climate change. Eisai Co., Ltd. is participating in the Commitment to a Low Carbon Society initiated by the Federation of Pharmaceutical Manufacturers' Associations of Japan (FPMAJ), and the Eisai Group in Japan is implementing relevant initiatives based on its own medium-term plan for the reduction of CO2 emissions.
During fiscal 2016, EA Pharma Co., Ltd., which was established through a merger of Eisai's corresponding business with AJINOMOTO PHARMACEUTICALS CO., LTD., initiated business operations as an Eisai Group company in Japan. In China, the Benxi Plant also went into full-scale operation. Our production and research operations are becoming more active both in and outside Japan. These factors led to an increase in the amount of energy consumption, causing more CO2 emissions.
As energy-saving initiatives, we adopted two measures at the Kawashima Plant. Firstly, we renewed the plant's co-generation system. Secondly, we installed an inverter-equipped air conditioning system for production processes and successfully set up an energy-saving mode of operation. Moreover, Kawashima plant's Synthesis Facility ended operation following the termination of in-house production of vitamin E. Consequently, we reduced CO2 emissions by more than 3,000 tons.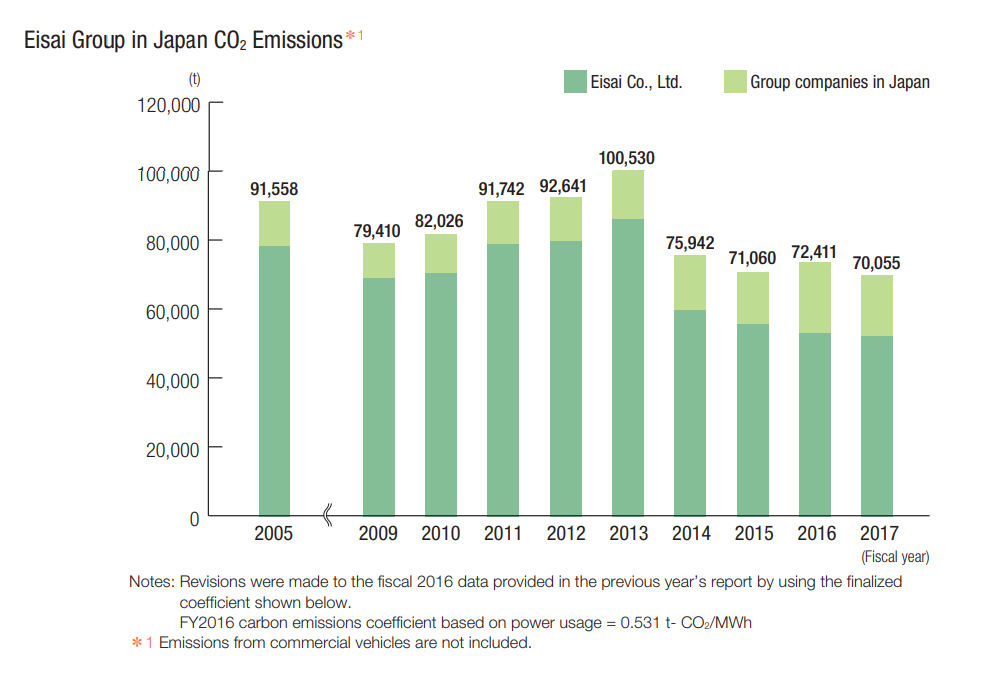 *1

Revisions were made to the fiscal 2015 data provided in the previous year's report by using the finalized coefficient shown below.
FY2015 carbon emissions coefficient based on power usage = 0.531 t - CO2/MWh

*2

Emissions from vehicles are not included.
The transfer of the North Carolina Plant in the U.S. to another company in fiscal 2015 has greatly contributed to lower CO2 emissions overseas.
As a result of this and the above, the Eisai Group's CO2 emissions for the Eisai Group in Japan and production plants and research facilities outside Japan showed a 4.1% increase and 1.3% decrease, respectively, from fiscal 2015.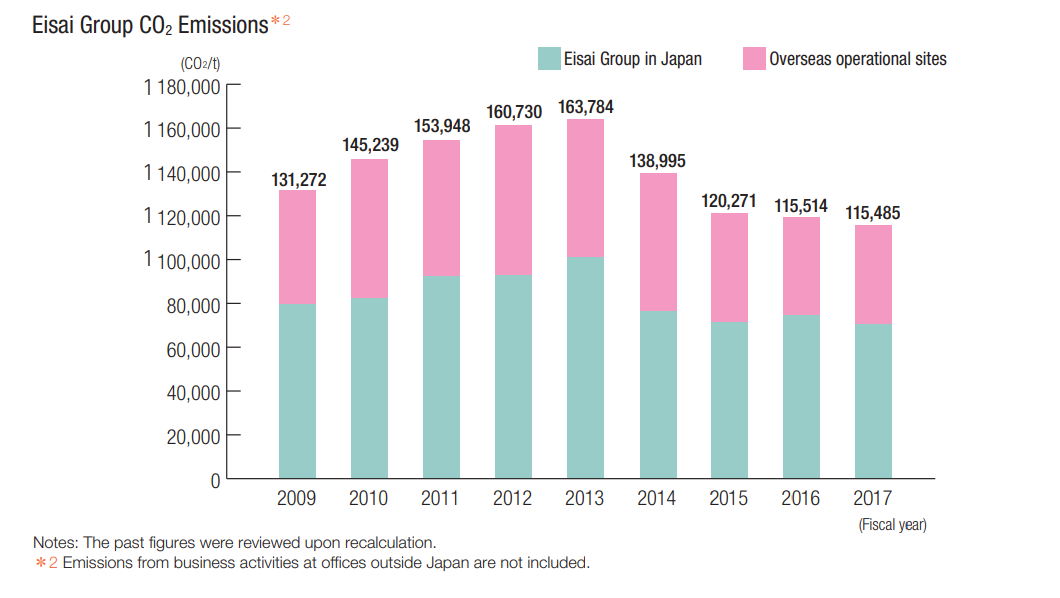 *2

Emissions from vehicles are not included.

*3

Emissions from business activities at offices outside Japan are not included.
Efforts Undertaken at Offices
Based on the "Seven Power-Saving Rules," (see Figure A) the Eisai Group in Japan strives to save electricity throughout the year, not only during the power-saving campaigns held in summer and winter. Offices, including administration and sales offices, are trying to save power through such means as controlling the temperature of air-conditioning systems, turning off lights when not in use and shutting down computers when employees leave their seats for a while. At the head office buildings, we have installed demand controllers to control peak power. We are also focusing on raising employee awareness of reducing power by implementing regular energy-saving patrols and visualizing actual power savings achieved. CO2 emissions originating from office activities of the Eisai Group in Japan in fiscal 2016 totaled 3,918 tons, a 12.6% increase from fiscal 2015. The increase is attributable to the addition of the head and sales offices of EA Pharma Co., Ltd.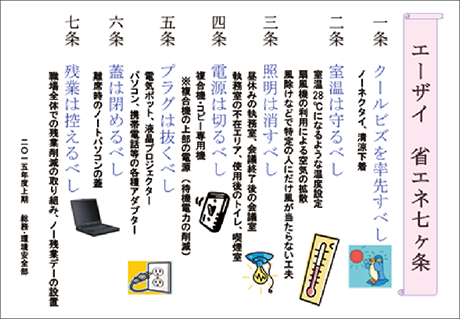 Efforts concerning Commercial Vehicles
Eisai Co., Ltd. also undertakes efforts to reduce CO2 emissions from sales operations. In Japan, the replacement of commercial vehicles with hybrid vehicles (HV) has been proceeding, whereby as a general rule, we have required to choose HVs when purchasing new vehicles since 2010. (However, from the viewpoint of preventing traffic accidents by new employees, we purchased some vehicles other than HVs in fiscal 2016.) The adoption rate of HVs rose 2.5% to 62.3% in fiscal 2016, and CO2 emissions originating from commercial vehicles decreased 20% from fiscal 2015 to 3,786 tons. We will continue shifting to more fuel-efficient vehicles as part of our efforts to further reduce emissions.