The Eisai Group in Japan is making efforts to realize a low carbon society to solve climate-related issues. The plants and research laboratories of Eisai Co., Ltd. are involved in the Commitment to a Low Carbon Society (Phase I) of the Federation of Pharmaceutical Manufacturers' Associations of JAPAN, which will end in fiscal 2020.The Eisai Group in Japan has also formulated and followed a mid-term plan for the reduction of CO2 emissions toward fiscal 2020.
The results are shown in the figure below. Emissions in fiscal 2020 amounted to 65,846 tons, down 28.1% from 91,558 tons in fiscal 2005, the base year.

Meanwhile, the Eisai Group in Japan launched its own CO2 emission management plan in fiscal 2013. In this plan, we set emission targets based on the assumption of emission factors from electricity use, which were unclear at the time of formulation, and sets emission targets (refer to page 44 of the 2014 Environmental and Social Report). The target value for fiscal 2020, the final year of the plan, was 71,008 tons while the actual value was 54,967 tons (22.6% less than the plan target), meaning that the emission reductions of the Eisai Group in Japan exceeded the plan's target.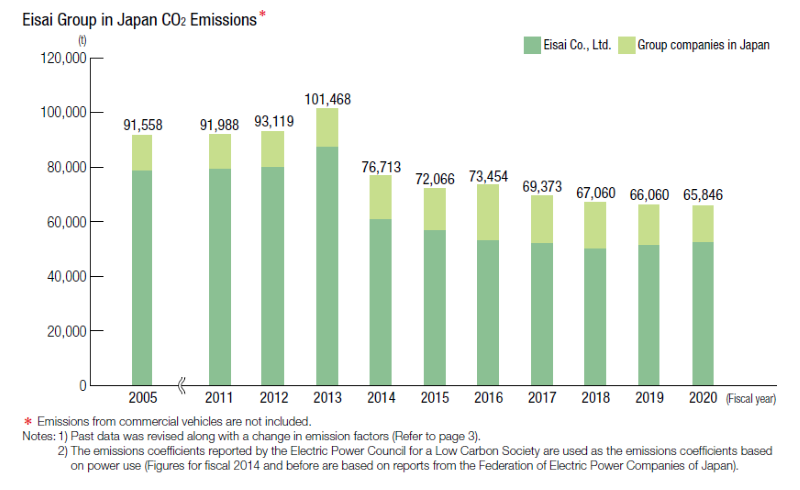 SBT* (Science Based Targets: targets for reducing greenhouse gas (GHG) emissions based on scientific grounds)
The Eisai Group has set medium- to long-term greenhouse gas emission reduction targets shown below (SBT 2°C target) based on scientific grounds to help mitigate climate change and is working to reduce CO2 emissions derived from its business activities.
1.

A 30% reduction in GHG emissions (scope 1+2) by fiscal 2030 compared with fiscal 2016

2.

A 30% reduction in GHG emissions (Scope 3, category 1; emissions from purchased products and services) by fiscal 2030 compared with fiscal 2016
In fiscal 2020, domestic and overseas production activities and R&D activities mainly in the fields of oncology and neurology continued to be brisk and were a major factor driving the increase in CO2 emissions. In response, at domestic plants and research laboratories we introduced a heat pump system, made renovations to highly efficient air conditioning equipment, adjusted the air volumes of an experimental draft chamber, and optimized product storage conditions. These measures enabled a reduction in CO2 emissions of more than 1,500 tons. We also promoted the introduction of renewable energy mainly at overseas plants and research laboratories and we achieved a remarkable reduction in CO2 emissions exceeding 20,000 tons.
Additionally, in the COVID-19 pandemic, the sales department is actively providing information to medical professionals through remote interviews using digital devices thus reducing the use of commercial vehicles. We are also raising the adoption rate for HVs (hybrid vehicles) for use as commercial vehicles and as a result of these efforts, CO2 emissions from commercial vehicles decreased by 741 tons in the Eisai Group in Japan compared with fiscal 2019 (a decrease of 530 tons by Eisai Co., Ltd. alone). As a result of the preceding activities, scope (1 + 2) emissions in fiscal 2020 were 81,573 tons, a decrease of 22.5% from fiscal 2019 and a decrease of 39.4% from the base year, as we made significant strides toward achieving the SBT target.
The amount of Scope 3 emissions based on Category 1, purchased products and services, increased by 6.5% compared with fiscal 2019 against a background of growth in sales of new products and introduced products. The emission intensity, with sales as the denominator, increased by 14.7% compared with 2019 due to additional factors such as a decrease in sales milestone payments from Merck & Co., Inc., (Kenilworth, N.J., U.S.A.). We will continue working toward reductions by increasing the ratio of in-house products and promoting the effective use of raw materials.
* These targets have been approved by the international NGO SBTi (https://sciencebasedtargets.org/).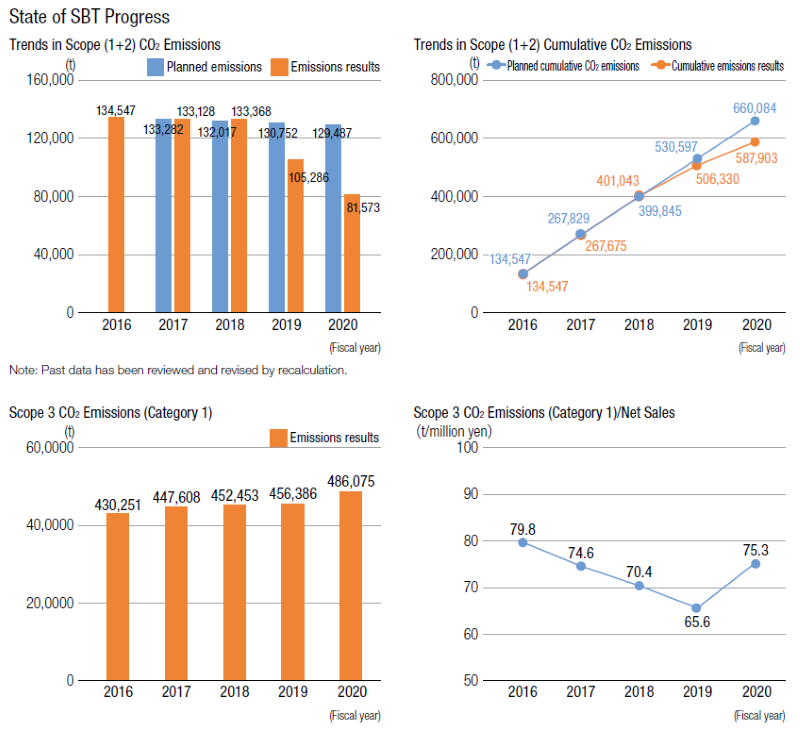 Track Record of Introducing Renewable Energy
The Eisai Group conducts R&D and manufacturing activities in compliance with GLP (Good Laboratory Practices) and GMP (Good Manufacturing Practices) standards. As our operations are required to perform under strict temperature and humidity conditions, we consume a lot of electricity while operating airconditioners and other equipment.
Therefore, to reduce CO2 emissions based on electricity usage, promoting the introduction of renewable energy is essential. To date, the Vizag Site in India has procured solar electricity. The Exton Site in the United States has generated solar power and used it onsite. In addition, in fiscal 2019, the European Knowledge Centre (United Kingdom) has started using 100% renewable electricity. Furthermore, we promoted the introduction of renewable energy by purchasing I-RECs (Green Power Certifications for Asia) for three plants in China and India. As a result, the renewable energy adoption rate as a percentage of total electricity for the Eisai Group in fiscal 2019 rose to 26.8%.
In addition to the foregoing, in fiscal 2020, we purchased power certificates and 100% hydroelectric power mainly for domestic and overseas plants and research laboratories and increased the renewable energy adoption rate in total electricity to 54.1%. In the future, we will promote the use of 100% renewable electricity, the introduction of renewable energy using PPA (Power Purchase Agreement) or introduce our own in-house equipment taking into consideration responses in times of emergencies, and aim to achieve 100% utilization rate of renewable energy for our total electricity consumption by fiscal 2030.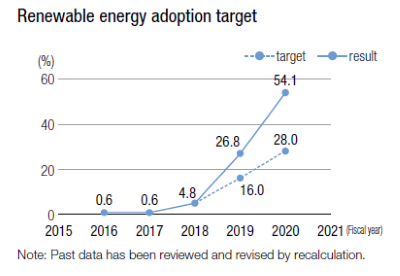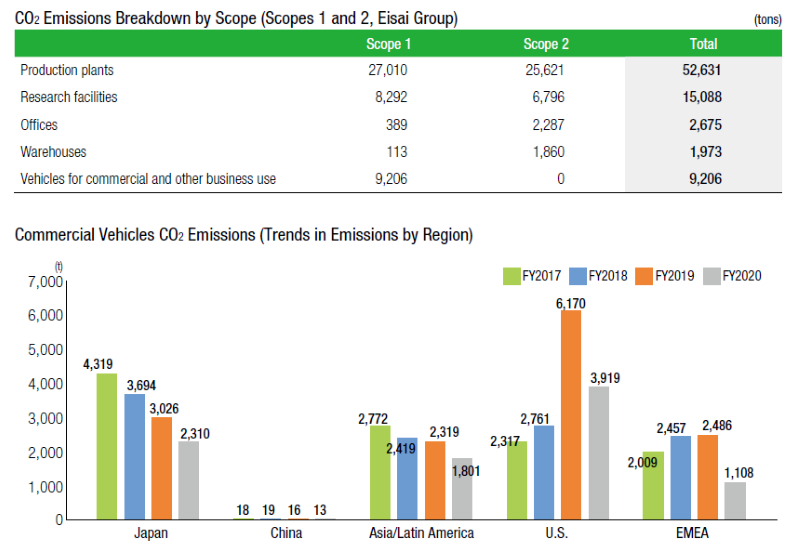 Efforts Concerning Commercial Vehicles (Eisai Group in Japan)
Eisai Co., Ltd. has also been making efforts to reduce CO2 emissions from sales operations. The replacement of commercial vehicles with hybrid vehicles (HV) is progressing steadily, and in principle, a switch to HVs is required when purchasing new vehicles since 2010. In fiscal 2020, the adoption rate of HVs was up 0.1% from the previous year to 73.7%, virtually the same level as in the previous fiscal year. On the other hand, CO2 emissions from commercial vehicles were 1,573 tons, down 25.2% from the previous year. Amid the spread of
COVID-19, the frequency of vehicle usage decreased sharply due to the introduction of remote interview method using digital devices to provide information to medical professionals and this led to a decrease in CO2 emissions. We will continue to shift to vehicles with high fuel efficiency as well as pursue environment-friendly sales methods as part of efforts to reduce CO2 emissions.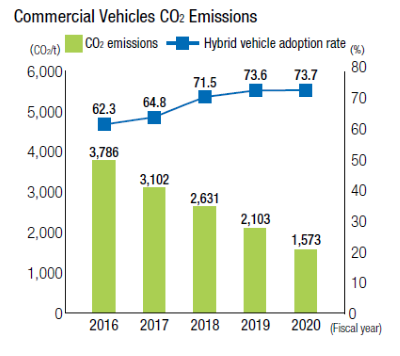 Participation in Japan Climate Initiative
Eisai is a member of the Japan Climate Initiative (JCI), a network of Japanese companies, local governments, research institutions and NGOs which are proactively implementing climate actions in Japan.
Eisai has supported the following messages:
A message calling on the Japanese government to raise its 2030 renewable energy target to 40-50% (January 18, 2021, supported by 92 companies)
https://japanclimate.org/english/news-topics/re2030increment/
JCI's Statement to Call for an Ambitious 2030 Target for Japan to Realize the Paris Agreement Goal (April 19, 2021, supported by 291organizations)
https://japanclimate.org/english/news-topics/call-for-ambitious-2030-target/