The Eisai Group in Japan is promoting initiatives for the formation of a low-carbon society to help solve the problem of climate change. Eisai Co., Ltd. is participating in the Commitment to a Low Carbon Society initiated by the Federation of Pharmaceutical Manufacturers' Associations of Japan (FPMAJ), and the Eisai Group in Japan is implementing relevant initiatives based on its own medium-term plan for the reduction of CO2 emissions.
During fiscal 2017, the business activities at plants and research institutes both in and outside Japan were active, which caused an increase in the emissions of the entire Group. Meanwhile, energy consumption of EA Pharma Co., Ltd.'s Drug Discovery Research Institute was changed to inclusion in the consumption of the plant owner, Ajinomoto Co., Inc., which contributed to a reduction in the total emissions. In addition, we proceeded with the installation of inverter-equipped air conditioning systems for production processes at the Kawashima Plant, which resulted in a reduction of more than 500 tons of CO2 emissions. Consequently, the CO2 emissions of the entire Group remained at almost the same level as the previous fiscal year.
The Eisai Group has set the following targets for reducing emissions of greenhouse gas in the medium- and long-terms as a response to climate change issues. These targets have been approved as Science Based Targets (SBT) from SBT Initiative*1 (https://sciencebasedtargets. org/).
30% reduction of GHG emission (Scope 1*2 and 2*3) by FY2030 from FY2016
30% reduction of GHG emission (emission based on purchased products and services in Scope 3*4) by FY2030 from FY2016
For the realization of a low carbon society, Eisai steadily promotes the activities for the achievement of these targets.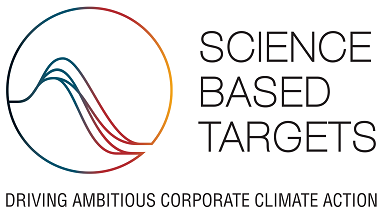 The SBTi helps companies determine a pathway for reducing their emissions in line with what is required to keep global temperature increase below 2 degrees Celsius compared to pre-industrial temperatures. The SBTi was established in 2015 and is a collaboration between CDP (formerly the Carbon Disclosure Project), the UN Global Compact, the World Resources Institute (WRI) and the World Wide Fund for Nature (WWF).

Direct emission of GHG released into the air by the use of fossil fuel

Indirect emission of GHG with use of electricity and steam purchased from others

Indirect emission of GHG by supply chain excluding Eisai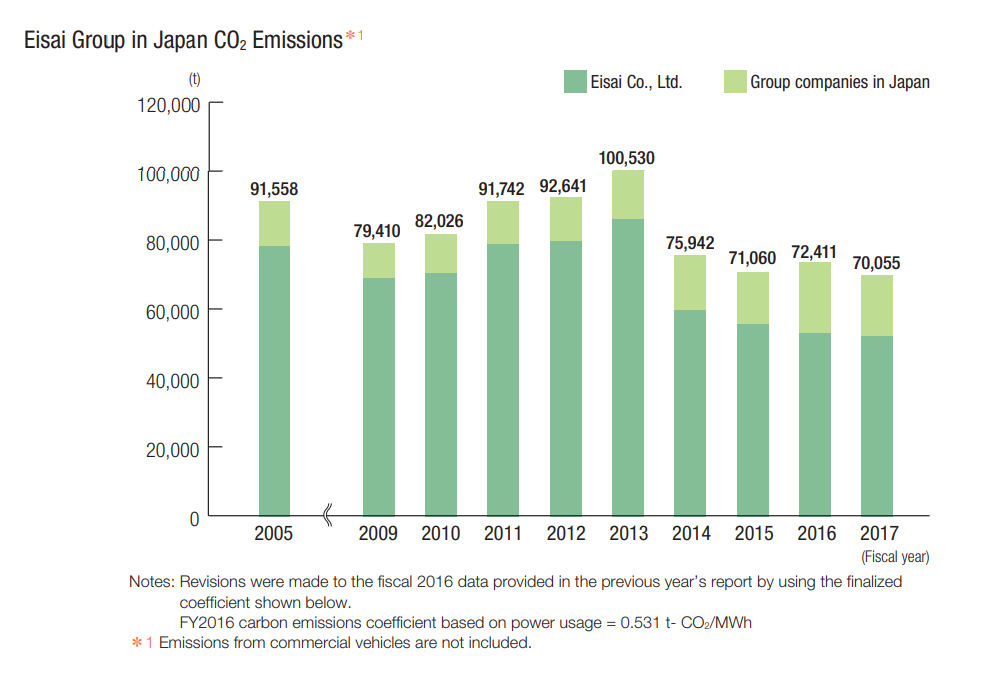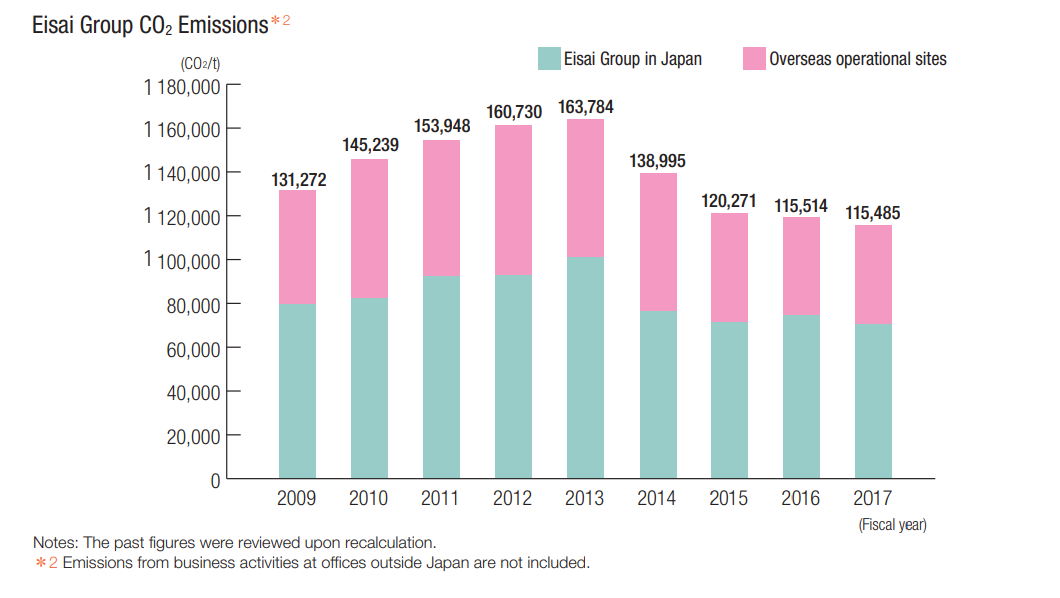 Efforts Undertaken at Offices
Based on the "Seven Power-Saving Rules," the Eisai Group in Japan strives to save electricity throughout the year, not only during the power-saving campaigns held in summer and winter. Offices, including administration and sales offices, are trying to save power through such means as controlling the temperature of air-conditioning systems, turning off lights when not in use and shutting down computers when employees leave their seats for a while. At the head office buildings, we have installed demand controllers to control peak power. We are also focusing on raising employee awareness of reducing power by implementing regular energy-saving patrols and visualizing actual power savings achieved. CO2 emissions originating from office activities of the Eisai Group in Japan in fiscal 2017 totaled 3,582 tons, a 4.7% decrease from fiscal 2016. The increase is attributable to the addition of the head and sales offices of EA Pharma Co., Ltd.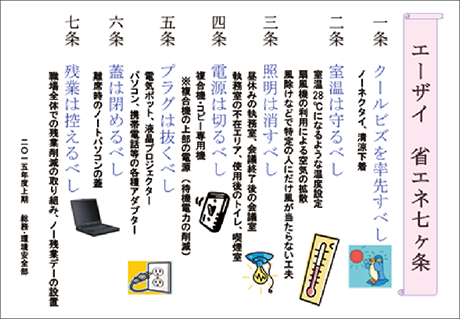 Efforts concerning Commercial Vehicles
Eisai Co., Ltd. also undertakes efforts to reduce CO2 emissions from sales operations. In Japan, the replacement of commercial vehicles with hybrid vehicles (HV) has been proceeding, and we have been equired to choose HVs when purchasing new vehicles since 2010. The adoption rate of HVs rose 2.5% to 64.8% in fiscal 2017, and CO2 emissions originating from commercial vehicles decreased 18% from fiscal 2016 to 3,102 tons. We will continue shifting to more fuel-efficient vehicles as part of our efforts to further reduce emissions.