The Eisai Group in Japan is promoting initiatives for the formation of a low-carbon society to help solve the problem of climate change. Eisai Co., Ltd. is participating in the Commitment to a Low Carbon Society initiated by the Federation of Pharmaceutical Manufacturers' Associations of Japan (FPMAJ), and the Eisai Group in Japan is implementing relevant initiatives based on its own medium-term plan for the reduction of CO2 emissions toward fiscal 2020.
In fiscal 2018, an increase in the volume of production, mainly for anti-cancer agents and antiepileptic agents, resulted in an increase in energy consumption at plants both in and outside Japan. Nevertheless, the Eisai Group in Japan was able to hold down CO2 emissions to 70,831 tons, a 1.8% increase from the previous fiscal year, by steadily carrying out energy-saving activities cultivated to the present.
Overseas, energy consumption rose significantly along with an expansion of the Suzhou Plant (China), and this led to an increase in CO2 emissions of around 3,500 tons. On the other hand, the Vizag Plant (India) began purchasing solar power from outside the company in September 2018. This resulted in an approximately 4,000 ton decrease in CO2 emissions and contributed significantly to a reduction of CO2 emissions for the entire Eisai Group. Total emissions for the Eisai Group combining domestic Group and overseas plants and research laboratories were held to a 1.6% increase from the previous fiscal year.

Establishing SBT (Science Based Targets: Targets for Reducing Greenhouse Gas (GHG) Emissions Based on Scientific Grounds)
The Eisai Group is working to reduce CO2 emissions from business activities to contribute to climate change mitigation. In particular, the Eisai Group in Japan has steadily implemented a CO2 mission reduction plan toward fiscal 2020. Nonetheless, today there is a need for medium- and long-term GHG reduction initiatives based on scientific grounds to curb the advance of climate change. Accordingly, the Eisai Group has established SBT toward fiscal 2030 as detailed below and has started undertaking related initiatives. These targets have been approved by the international NGO SBTi. (https://sciencebasedtargets. org/).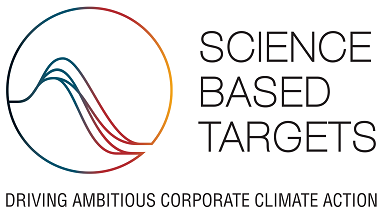 A 30% reduction in GHG emissions (scope 1+2) by fiscal 2030 compared with fiscal 2016

A 30% reduction in GHG emissions (within scope 3, emissions from purchased products and services) by fiscal 2030 compared with fiscal 2016
GHG emissions released directly into the atmosphere through the use of fuels

GHG emissions associated with the use of purchased energy (electricity and heat)

Indirect GHG emissions in the supply chain excluding the

company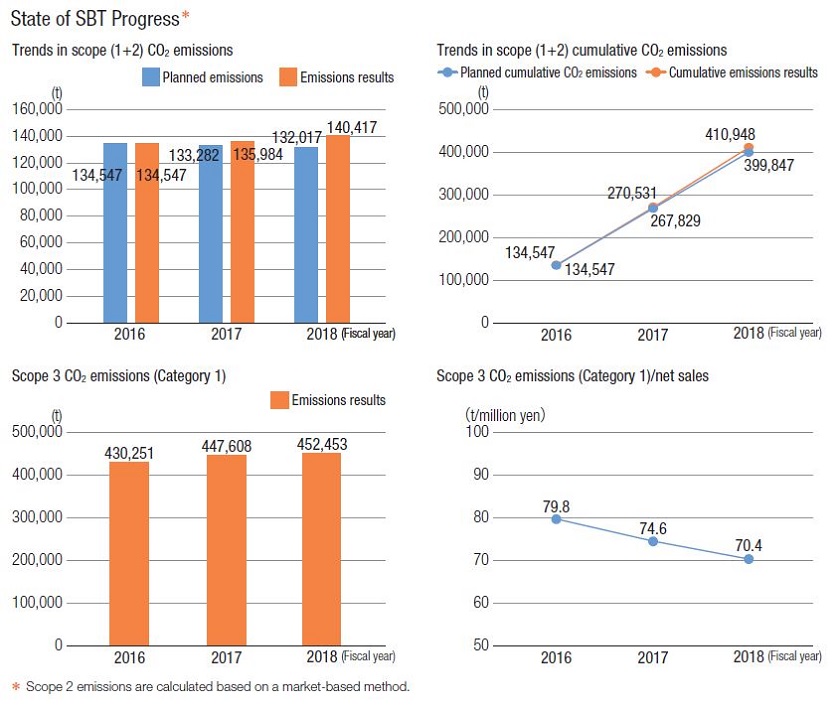 Plan for Adopting Renewable Energy
The Eisai Group has worked to reduce CO2 emissions accompanying our business activities from a CSR perspective. Today even more aggressive reductions are being demanded for climate change mitigation. In the future, we will systematically raise our renewable energy adoption rate and work to further reduce CO2 emissions.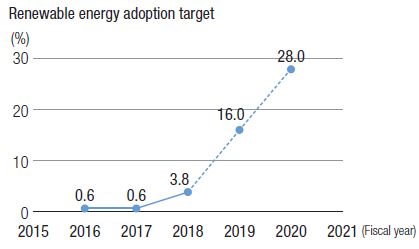 Efforts Undertaken at Offices
The Eisai Group in Japan strives to save electricity throughout the year, not only during the powersaving campaigns held in summer and winter. Offices, including administration and sales offices, are trying to save power through such means as controlling the temperature of air-conditioning systems, turning off lights when not in use and shutting down computers and others when employees leave their seats for a while. At large buildings, we have installed demand controllers to control peak power. We are also focusing on raising employee awareness of reducing power by implementing regular energy-saving patrols and visualizing actual power savings achieved. CO2 emissions originating from office activities of the Eisai Group in Japan in fiscal 2018 totaled 2,972 tons, a 9.9% decrease from fiscal 2017.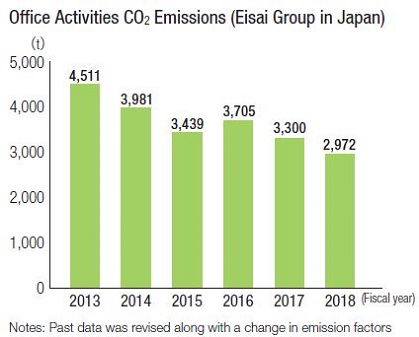 Efforts concerning Commercial Vehicles
Eisai Co., Ltd. also undertakes efforts to reduce CO2 emissions from sales operations. The replacement of commercial vehicles with hybrid vehicles (HV) has been proceeding steadily, and in principle, a changeover to HVs is required when purchasing new vehicles since 2010. The adoption rate of HVs rose 6.7% to 71.5% in fiscal 2018, and CO2 emissions originating from commercial vehicles decreased 15.2% from fiscal 2017 to 2,631 tons. We will continue shifting to more fuel-efficient vehicles as part of our efforts to further reduce emissions.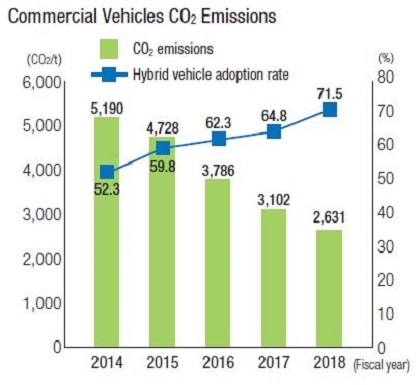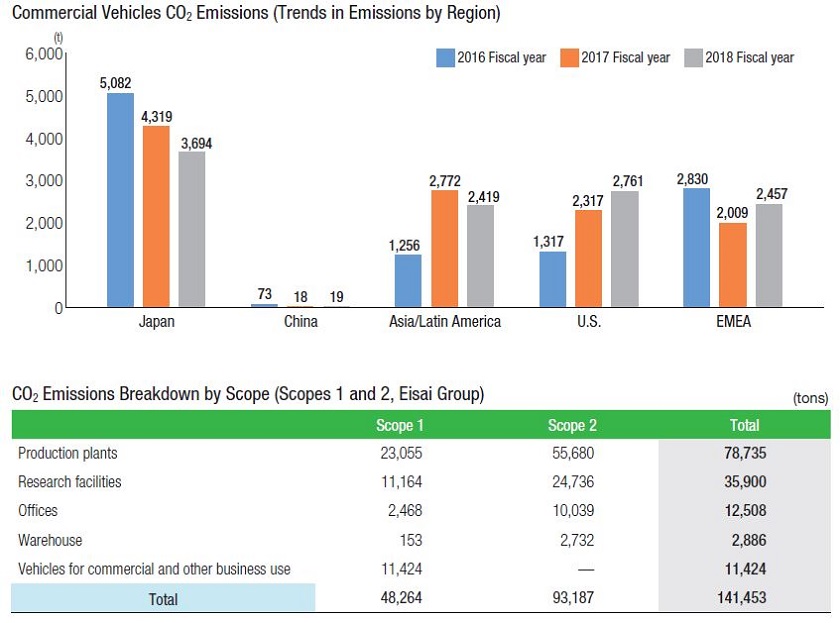 Enhancing Resilience to Climate Change-related Risk and Performing Analyses of Climate Change Impacts Utilizing the TCFD Framework
The Eisai Group recognizes that raising resilience toward climate change-related business impacts in addition to reducing CO2 emissions accompanying business activities are essential for continuing to fulfill our corporate social responsibilities as a pharmaceutical company. This is why we expressed our support for the recommendations of the Task Force on Climate-related Financial Disclosures (TCFD)* in June 2019, and we are also performing analyses of climate-related risks and opportunities utilizing the TCFD framework. By accurately ascertaining the impacts of climate change on business over the medium and long terms, we will effectively work to reduce risk and create opportunities and sequentially expand and upgrade information disclosure.
Governance
Our structure to promote environmental protection is as shown in "Environmental Management." Regarding climate-related risks and opportunities, Eisai also launched a cross-organizational project, with the Corporate Officers in charge of General Affairs and Environmental and Safety Affairs as the overall persons in charge. This project will identify climate-related risks and opportunities. In the future, we will consider strategies for raising resilience and climate-related risk management.
Strategy
Eisai recognizes that climate-related risks and opportunities are important elements for consideration in strategy formulation. The World Health Organization (WHO) forecasts an increase in tropical diseases due to climate change and Eisai is pushing ahead with the development of pharmaceuticals for malaria and neglected tropical diseases (NTDs).
The chart below shows the results of analysis as well as countermeasures regarding climate-related risks and opportunities in Eisai's business and supply chain. In the future, Eisai plans to perform detailed analysis of items considered to be of even higher risk while promoting scenario analysis to evaluate long-term climate-related risks and opportunities.
Risk Management
Eisai has begun analyzing the impact of climate change on our business over the medium and long terms. In the future, besides existing risk management activities (CSA: Control Self Assessment), we plan to also carry out centralized management of climate-related risks at the Risk Management Committee.
Metrics and Targets
In raising resilience to climate change risk as well, we believe it is important to make efforts to reduce GHGs not only at the Company but also throughout our entire supply chain. Climate-related metrics and targets are as shown in "Formation of a Low-Carbon Society."
* TCFD is a private-sector-led task force for disclosing climate-related financial information and is positioned under the Financial Stability Board (FSB) comprising representatives from the central banks, financial supervisory authorities, ministries of finance and other agencies from 25 main countries and regions. It aims to identify and disclose the financial impact of risks and opportunities arising from climate change and publicly announces its recommendations.
*You can scroll to the left or right here
Major climate-related risks and opportunities
Response measures

Physical risks

Impediments to production activities and procurement activities due to increases in natural disasters
Promote risk analysis and resilience countermeasures for operational sites and suppliers

Supply shortage of pharmaceuticals in the event of a simultaneous occurrence of rising healthcare needs and impediments to production activities due to natural disasters

Strengthen structure for providing stable supplies in times of emergencies

Transition risks

Rises in manufacturing costs and logistics costs due to increased prices for fuels, electric power and other items

Minimize impacts through expansion of renewable energy use

Impact of strengthened environmental regulations on the operations of production plants and suppliers

Strengthen environmental management of plants and suppliers in anticipation of future environmental regulations

Opportunity loss in the case of delayed responses to rising environmental requirements
Steady reduction in GHG emissions for the attainment of SBT

Opportunities

Obtain market opportunities by responding to rising healthcare needs due to climate change
Develop pharmaceuticals for the treatment of malaria and NTDs
Enhancement of corporate value from outside the company through environmental considerations
Promote environmental considerations, coexistence with local communities


We are working to protect biodiversity, including the protection of depleted plants, at the Kawashima Plant and The Naito Museum of Pharmaceutical Science and Industry.
(* Please refer here for details on The Naito Museum of Pharmaceutical Science and Industry. http://www.eisai.co.jp/museum/english/index.html)