The Eisai Group in Japan is working to achieve zero emissions and conducting waste disposal with three goals in mind; specifically, reduce the amount of waste generated, increase the amount of recycled waste and decrease the amount of waste sent to landfill. In fiscal 2017, we attained zero emissions for the tenth consecutive fiscal year; however, the total amount of waste generated increased by 3.5%. The main cause was an increase in waste oil and waste alkalis attributable to an increase in production at the plants in Japan.
At the same time, we proceeded with recycling by undertaking the thorough sorting of waste. We placed priority on recycling by selling wastepaper, valuable metals and plastics in the disposal of waste. Although the amount of waste generated increased slightly from the previous fiscal year, the amount of waste sent to landfill and the ratio of waste sent to landfill decreased by 3 tons and 0.11% year on year, respectively. The recycling rate (including valuables sold) remained high at 58.7%, a decrease of 4.1% as compared with fiscal 2016.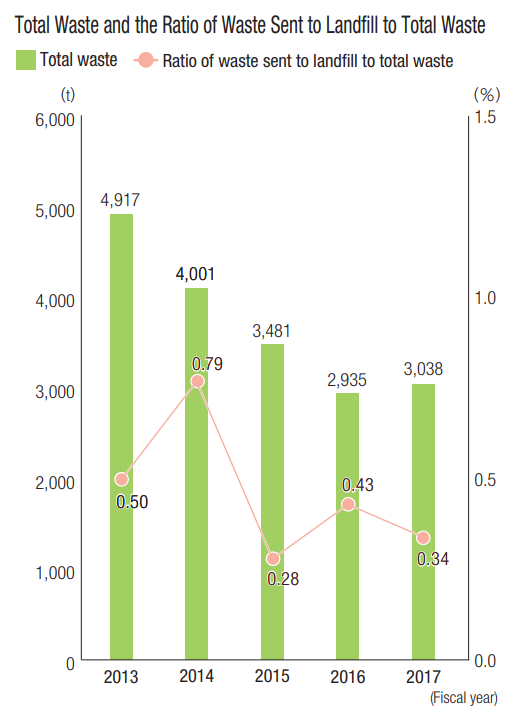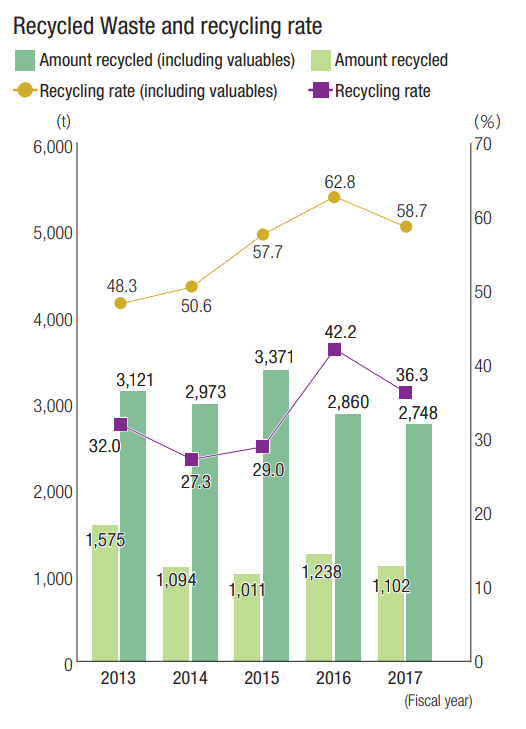 Initiative for Recycling Resources
In order to promote the establishment of a recycling-oriented society, it is essential to reduce the amount of waste generated in addition to reusing and recycling resources such as metal, glass, waste oil and paper products from waste. Based on this perspective, we actively promote the sale of equipment and devices for reuse as well as the recycling of scrap metal, glass bottles and waste oil. Also, to reduce the total amount of wastepaper, we are promoting the sale of wastepaper while avoiding generation of unnecessary waste by devising better ways to proceed with meetings and to copy documents. We have expanded the scope of our efforts to promote the sale of wastepaper in Japan from operational sites and the head office to include sales offices. We also continue to reuse organic solvents, such as those used in the manufacture of active pharmaceutical ingredients, and sell these as auxiliary fuel.
Onsite Inspections of Waste-Processing Companies
The Eisai Group in Japan has been conducting regular onsite inspections of its waste disposal contractors. For the purpose of checking that waste is being disposed of properly, periodic inspections are carried out for contractors engaged in the collection, transport, intermediate processing and final disposal of waste. During fiscal 2017, a total of 32 onsite inspections were conducted by the Eisai Group in Japan at sites around the country, and it was confirmed that waste is being disposed of in an appropriate manner.
For potential new contractors, we conduct careful screening that includes onsite inspections. At Eisai Co., Ltd., in particular, new contracts are only signed after deliberation and approval by the Company-Wide Environment and Safety Committee, with priority given to government-certified excellent industrial waste management contractors.