Initiatives for Proper Waste Disposal and Resource Recycling
The Eisai Group in Japan is working to reduce the ratio of landfill waste to the amount of waste generated to 1% or less to achieve zero emissions in waste management with three goals in mind, i.e. to reduce the amount of waste generated, to increase the amount of recycled waste, and to reduce the amount of waste sent to landfill.
In fiscal 2020, although the total amount of waste generated rose by 712 tons due to increased production activities, the amount of waste recycled increased by 190 tons due to the selection of waste treatment contractors that actively promote waste disposal through sorting and resource recycling. In fiscal 2020, the Kawashima Plant implemented a cleanup of its wastewater treatment plant and pond. Consequently, a large amount of organic sludge was generated. As a result of this cleaning process, the recycling rate declined by 0.6%. On the other hand, although the amount of waste generated rose significantly owing to increased production, the amount of waste sent to landfills increased by 2.3 tons to only 13.6 tons, achieving zero emissions for the 13th consecutive fiscal year. Looking at a breakdown of waste items, the amount of waste oil (organic solvent) for manufacture of APIs (Active Pharmaceutical Ingredients), plastics for pharmaceuticals packaging materials, and glass waste increased.
We continue to actively promote the reuse of organic solvents in the manufacture of APIs and the sale of waste solvents as auxiliary fuel. As for waste plastics, we select excellent waste treatment contractors to avoid any adverse impact on ecosystems caused by marine pollution and microplastic generation.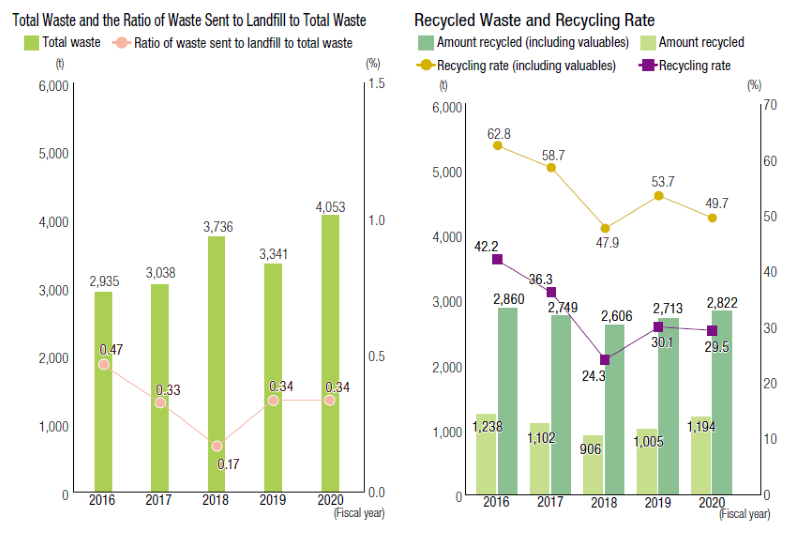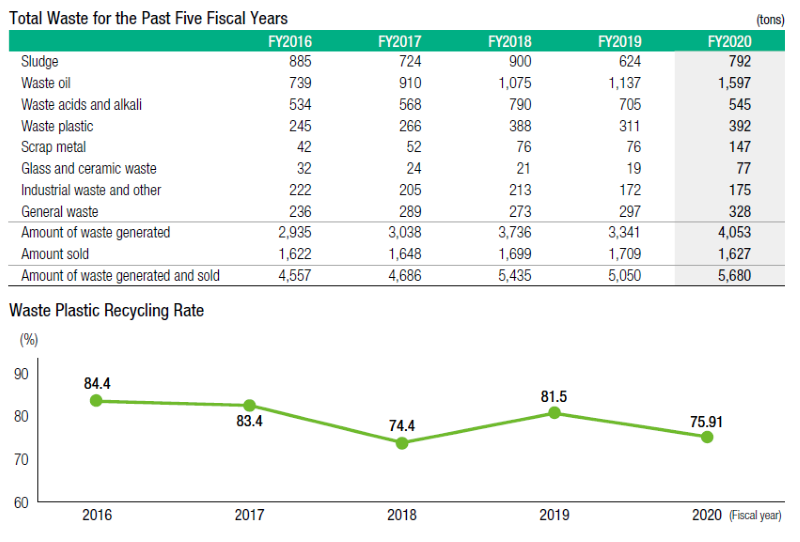 On the other hand, in the offices such as our Head Office, we are making efforts to reduce the amount of paper waste generated by devising new ways of holding meetings and making paper copies and are also promoting the sale of waste paper. We are also promoting paperless operations such as by digitizing stored documents. While continuing to treat waste appropriately in compliance with related laws and regulations, we are further promoting the reduction of waste generation and increasing recycling with the aim of effectively using resources as we pursue ways to contribute to the creation of a recycling-oriented society.
Onsite Inspections of Waste-Processing Companies
The Eisai Group in Japan has been conducting regular onsite inspections of its waste disposal contractors. For the purpose of checking that waste is being treated properly, periodic inspections are conducted on contractors engaged in the collection, transport, intermediate processing and final disposal of waste. During fiscal 2020, a total of 23 onsite inspections were conducted by the Eisai Group in Japan amidst the impact of COVID-19 and it was confirmed that waste is being disposed of appropriately. In addition, for potential new contractors, we conduct careful screening, including onsite inspections, giving priority to excellent government-certified industrial waste management contractors.