Message from Vice President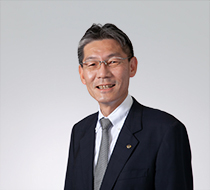 As a global trend to tackle climate change caused by global warming, more than 120 countries have declared carbon neutral to be achieved by 2050, while in Japan, the Suga administration has declared carbon neutral in October 2020. The United States, which had withdrawn from the Paris Agreement, a global framework for combating global warming, has rejoined the Paris climate accord with the transition to the Biden administration. In addition, at the Climate Summit hosted by the United States in April 2021, major participating countries significantly increased their greenhouse gas (GHG) emissions reduction targets.
As a healthcare company expanding its business globally, Eisai has established the "Eisai Network Company (ENW) Environmental Policy" and develops its corporate activities with an emphasis on preserving the global environment. In addition, as a company that has signed the United Nations Global Compact, Eisai promotes efforts to reduce the environmental load at each stage of business (R&D, manufacturing, distribution, sales, use and disposal), aiming to achieve the SDGs (Sustainable Development Goals) set forth at the United Nations General Assembly.
With regard to reducing GHG emissions, Eisai has also established science-based GHG emission reduction targets approved by the Science Based Targets (SBT) initiative, thus has been promoting efforts to reduce GHG emissions by 30% by 2030 compared to FY2016. However, any companies are required to take higher measures to prevent global warming.
Eisai has set its new medium- to long-term target for reducing GHG emission that causes global warming. For its medium-term target, Eisai will shift all energy usage of the entire corporate group to renewable energy. Additionally, Eisai has set a goal of achieving carbon neutrality by 2040. This is an ambitious goal. To achieve the goal, it is necessary not only to make our own efforts such as installing energy-saving equipment and continue to upgrade it, and expanding the utilizing renewable energy and so on, but also to incorporate future infrastructure development and new technology development.
We believe that our corporate philosophy of human health care (hhc) cannot be achieved without the sustainability of the global environment. In the future, we will deepen our cooperation with our business partners and work toward the achievement of the medium- to long-term goal. We ask for your continued support and cooperation.
EISAI'S STATEMENT OF COMMITMENT FOR CARBON NEUTRALITY BY 2040
Eisai has set a new medium- to long-term target with an aim to achieve carbon neutral by 2040.
Eisai will continue to strengthen its efforts to protect the global environment.
Medium-term target: Achieving 100% renewable energy usage by 2030
Eisai will switch all electric energy, which accounts for 65.3% (as of FY2019) of the total energy usage used by the entire corporate group, to renewable energy. (Aiming zero CO2 emitted by the use of electric power classified in Scope 2.)
Long-term goal: Achieving carbon neutrality by 2040
Eisai will ensure the ratio of CO2 emission to absorption across the entire Group is to come out even. (Following the achievement of the reduction target of Scope 2, Eisai will aim to reduce the CO2 emitted with use of fossil fuels classified in Scope 1 to net zero.)