Talent Strategy
Eisai regards its employees as an important stakeholder and asset for the realization of its corporate philosophy, namely hhc.
Eisai's talent strategy is to develop human resources who cultivate confidence and pride through proactive and challenging work, and voluntarily contribute to the creation of new value with a strong appreciation of Eisai's corporate philosophy. We aim to form borderless talent groups that can actively engage with people regardless of time or place, build trust, and continue to create innovation while adapting to changes. Toward this end, we promote our talent strategy from a global viewpoint.
Establishment of a Global Talent Management System
Eisai formulated Eisai Global Talent Management Policy in 2016, and it has instilled this policy, which proactively embraces diversity and inclusion, and leads to full understanding of patients' needs and to the Company's innovation. Incorporating in the policy the idea of acquiring talented people who sympathize with the "hhc" mindset, and finding and cultivating talent who can develop new business opportunities, Eisai clarified globally that the collaboration by diverse human resources who demonstrate their individual strengths is essential to realizing the "hhc" philosophy.
Eisai Global Talent Management Policy
Eisai employees understand patients' true needs through a process of "Socialization", giving them a strong driving force for innovation; they then think about where and how to put this innovation into practice in order to meet these needs
We endeavor to provide meaningful work that offers innovation and development opportunities
We foster the development of a corporate culture free from discrimination or harassment, which embraces diversity & inclusion, and encourages taking on challenges and achieving success through trial and error
We attract and recruit outstanding human talent from around the world who identify with the "

hhc

" mindset to maximize the satisfaction of patients and consumers
We find and develop talent who can observe the current real world (in terms of trends, presentations at academic conferences, etc.) and identify new business opportunities (including timing) rather than adhering to the status quo
Cultivation of Global Talent
Our greatest strength is the successful instilling of our corporate philosophy, which ensures that management policy and corporate strategies are fully understood by our global employees. The basis for our human resource development is understanding and appreciation of the "hhc" philosophy, and the company creates various opportunities for "Socialization" where employees spend time with patients in training programs at different levels. We are carrying out more than 500 contribution activities globally with the aim of instilling the "hhc" philosophy.
In addition, Eisai implements selective human resource development programs called the E-GOLD Program, led by the CEO, and the E-ACE Program, led by the CTO (Chief Talent Officer), every year to cultivate global leaders.
We also support employee exchange and foster a sense of unity within the Eisai group through the Global Mobility Program. Approximately 80 employees who have already experienced the program have developed their capabilities and have now become active as global business leaders. As approximately half of the participants are from foreign countries, the program helps to strengthen awareness of the importance of diversity among our employees in Japan.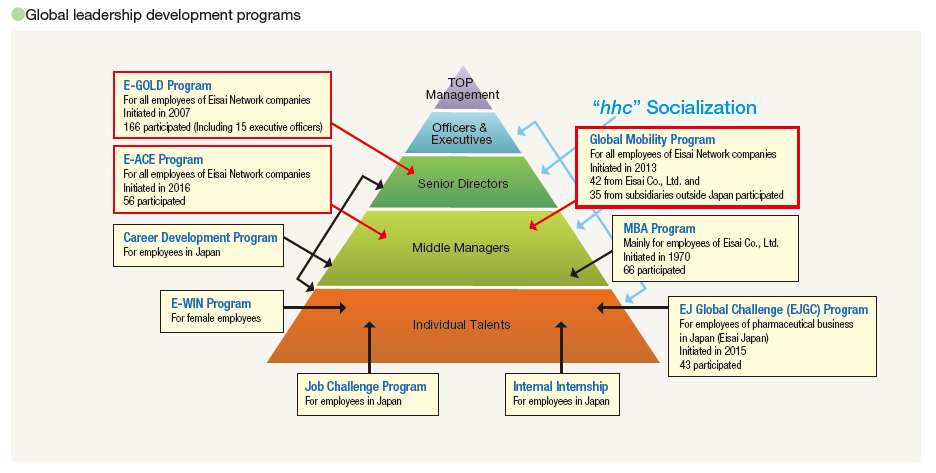 Strengthening the Human Resources Portfolio under the Mid-term Business Plan 'EWAY Future & Beyond'
To maximize the human resources base for executing management strategies, we will use People Analytics* to visualize employee engagement, in addition to qualitative information utilization. Moreover, we provide opportunities for each employee to maximize their performance by executing effective personnel strategies backed by human resources portfolio analysis and an optimum arrangement analysis based on the quantitative information obtained.
To realize the digital transformation (DX) strategy, which is the core of our new business model, we have been actively hiring specialists such as data scientists and engineers to strengthen our human resources base. Furthermore, with a focus on developing leaders who can promote our DX strategy, we conducted DX training for all executive officers in fiscal 2020. We will further enhance the development of leaders and specialists to lead our DX.
* Data collection and analysis of employees and organizations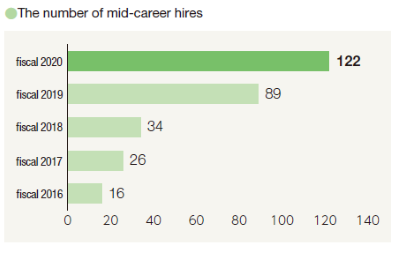 Realization of Diverse Career Paths and Human Resource Development
We aim to create an environment in which human resources who can build trust with their surroundings develop, take on challenges, and continue to provide value to society. For that purpose, we have started learning style reform to enable employees to select, challenge, and self-improve based on their own will and responsibilities. Our training is shifting to an opportunityproviding style in which the employee chooses what to learn according to their personal characteristics, preferences, and needs, and takes on the challenge actively. We have prepared a lot of alternatives in regard to training curriculum, time, and place. We are also providing a wide range of career development opportunities through cross-border programs both inside and outside the company.
We are attempting to transit from company-led career development to a proactive approach based on the diversity of individual values and willingness to take on challenges by enhancing career development and training using e-learning, etc.