The basis of the development of human resources is to understand the true needs of patients through "socialization."
Eisai regards its employees as an important stakeholder and asset for the realization of its corporate philosophy, namely hhc.
From our perspective, the basis of the development of human resources lies in socialization. In other words, it involves each employee to spend time with patients to understand their true needs. Socialization also motivates our employees to deliver innovations that will fulfill patients' needs. Launched in April 2016, the medium-term business plan 'EWAY 2025' is constituted on this basis and incorporates the "socialization with patients" into training programs throughout the regions in an effort to strengthen the development of our human resources.
The Global Talent Management Policy was formulated along with the launch of 'EWAY'. This defines the aspiration of Eisai employees, trainings, promotion and recruitment and our workplace climate based on the philosophy ofhhc. Socialization is also set as the basis of the development of human resources in the Policy.
Eisai Global Talent Management Policy
Eisai's employee understands patients' true needs through socialization, gains strong driving force for innovation; s/he then thinks where/how to convert the knowledge into innovation to fulfill the needs not only in science but also in wider scope and make it happen
Eisai endeavors to provide meaningful work for innovation and development opportunities
Foster corporate culture without discrimination or harassment, which embraces diversity & inclusion, and encourage challenge and "trial and error" for success
Attract and acquire great talent who feel forhhcto maximize the satisfaction of patients
Find and develop talent who can observe the current real world (trend, publication in academic conference, etc.) and interpret (ability to decode time and opportunities) new business opportunities ("Ricchi"*) without adhering to the status quo
*

Areas where real patient needs are still unmet, and where Eisai can become a frontrunner
Hiring and Training Digital Talent in 'EWAY Future & Beyond'
We are promoting drug creation using digital technology which we call "5D (Data Driven Drug Discovery and Development) drug creation," establishment of a dementia ecosystem platform, and enhancement of the link between daily living domain and medical domain using digital technology. In 'EWAY Future & Beyond', which is launched in April 2021, the digital transformation will be in full-scale operation. We focus on fostering leaders who promote digital transformation, and increasing the digital literacy of employees. In addition, we will promote mid-career recruitment of digital talent such as data scientists and engineers, to prepare for the creation of new business models.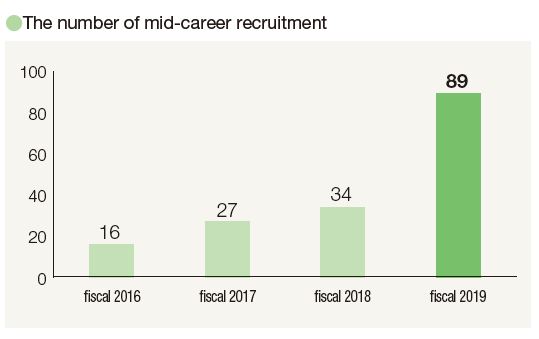 Efforts to Develop Human Resources to Lead Our Business on a Global Scale
Globalization at Eisai is rapidly expanding. In fact, more than half of the 10,000-plus employees at Eisai, work overseas. Local employees are assigned to top management positions at most of its overseas subsidiaries. Six of our 30 corporate officers are from outside Japan. The Executive Committee Meeting, the highest decision-making body at Eisai, has been conducted in English for over a decade now.
In order to further expand contribution to patients around the world, the development of leaders who run the business on a global scale beyond national borders is imperative. Eisai regards management candidates who to lead Eisai in the future as "global leaders." Our young employees in their early stage of career, who demonstrate the ability to decode time and opportunities are regarded as "next-generation talent." Our human resources are systematically developed through various assignments and training programs.
Eisai Global Opportunity for Leadership Development (E-GOLD) and Eisai Agile Change for Excellence (E-ACE) are important training programs led by the CEO and CTO, respectively. The former is designed for global leaders while the latter is for next-generation talent. Fifteen out of the 166 E-GOLD graduates are now playing active roles in management as corporate officers.
As for the overseas transfers and long-term business trips, we have global systems which actively offer opportunities for employees to go beyond national borders and pursue their careers or develop their skills (global mobility). In the last four years, more than 60 employees have participated in this program. In addition, we have programs to offer opportunity for employees to study abroad to acquire an MBA or study at law school. Nearly 120 employees have studied abroad under this system.
(The information is current as of September 2020)