Eisai Health Declaration (The Second Phase of Key Strategic Items)
Eisai enacted the "Eisai Health Declaration" in June 2019 with its intention to strongly promote activities to maintain and improve employees' health. Eisai considers the health of its employees, who are responsible for realizing the hhc philosophy, to be the most important matter, and thereby strongly promote maintaining and improving employees' health by disseminating the Eisai Health Declaration both inside and outside the company.
The key strategic items set forth in the Eisai Health Declaration are revised every three years, considering the health status of employees as well as changes in the social environment. Eisai hereby announces that it has established the second phase of key strategic items.
April 2022,
Representative Corporate Officer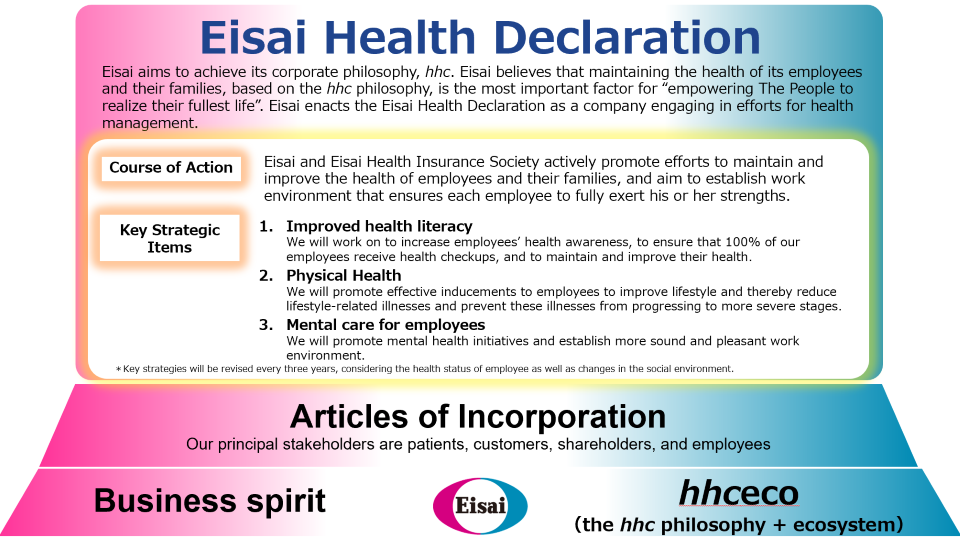 Eisai will work on to achieve the key strategic items by the end of FY 2024, in consideration to the current situation. From FY 2025 onward, Eisai will newly set key strategic items, considering the status of health management promotion and social requirements.