The Promotion of Diversity as Eisai's Management Strategy
Haruo Naito, the current Representative Corporate Officer and CEO, was appointed President of Eisai in 1988. It was clear that times were changing, the social climate was shifting, and that these changes were having an effect on people's perspectives toward work and life. He began transforming the corporate image and challenging employees to adopt new mindsets and attitudes as soon as he began his tenure. Then, in 1990, with Eisai recognizing that patients, their families and the general public should be the most important stakeholders in medical care and for pharmaceutical companies, the company announced the concept of "Eisai Innovation." This advocated taking pride in achieving business through improving the benefits of these stakeholders and challenged each individual employee to change the way they looked at their jobs, their lives and the world with the message "The world is changing. Let us change along with it." The spirit of this new concept was summarized as human health care (hhc) and incorporated into the company's Corporate Mission in 1992.
Furthermore, believing that diversity is the source of innovation and an important approach for realizing the hhc philosophy, the CEO issued the Eisai Diversity Declaration and shared on a company-wide basis in 2012 in order to continue to respond to the increasingly diversified needs of patients in a dramatically changing social environment.
In April 2016, a new personnel system was introduced in Japan, based on the three pillars of "Producing professionals," "Achieving diverse ways of working," and "Actively supporting diverse human resources." Aiming to promote and realize these three pillars, Eisai is striving to create a workplace environment and foment an organizational climate in which each and every employee regardless of nationality, race or gender can actively excel as independent professionals.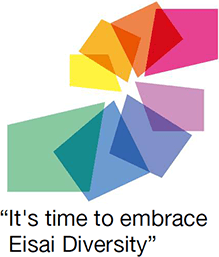 Efforts toward the Advancement of Women in the Workplace
In the past, there was a situation where few women were employed in Japan as generalists, however in recent years, Eisai has recruited almost an equal proportion of male and female employees as generalists. Eisai is continuously making efforts to develop the career visions of female employees, including stratified career seminars, introducing a selective leadership training program known as E-WIN (Eisai Women's Innovative Network), as well as a mentorship program. In mid-career recruitment, Eisai is proactively seeking women who would work as executives or candidates for the position. At the end of FY2012, the ratio of women in management positions in Japan was only 3.7%, however this figure has increased year after year to 7.0% as of January 2019. In compliance with the Act on Promotion of Women's Participation and Advancement in the Workplace enacted on April 1, 2016, Eisai has set a target proportion of women in management positions of 10% at the end of FY2020.
Advancing the careers of female employees
Stratified career training designed for female employees has been provided since 2014.ing system has been introduced.

Mentoring system has been introduced.


"Adaptation to diversity" has been included in the performance appraisal criteria.

Diversity-related training is provided to department managers.
Internal website introduces various cases of employees who can serve as role models.
Su
pporting work/life balance
Time management system was introduced for employees to improve the effectiveness and efficiency of their way of working with greater focus on "time."
System to allow non-managerial-level employees to choose the scope of work locations in accordance with their lifestyles and life events was introduced.
Flextime for childcare and caregiving has been made applicable to employees working offsite.
Shorter working hours for childcare and caregiving has been made applicable to managerial-level employees.
Training is provided to medical representatives (MRs) who return to work after childcare leave (reinstatement training, accompanying other MRs raising children).