In 2012, the CEO of Eisai issued the Eisai Diversity Declaration. The idea that diversity leads to the improvement of patients' benefits was shared company-wide. The Diversity Committee considered numerous different actions and the Human Resources Development Headquarters is currently promoting diversity and inclusion.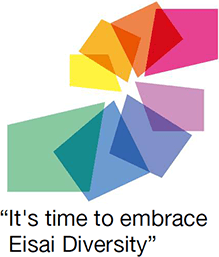 Efforts toward the Advancement of Women in the Workplace
Our U.S. and Chinese subsidiaries assign women to top management positions. Women also account for more than 45% of management positions in our U.S., European and Chinese subsidiaries. This shows that many of our female employees have pursued successful careers at our overseas subsidiaries.
In the past in Japan, we did not have many female employees promoted to managerial positions. In recent years, our male and female employees are promoted to comprehensive positions with a prospect for promotion in almost equal proportions. Year after year, we have more female employees who are potential candidates for managerial positions. By implementing a selective training program for these female employees, their career perspectives are developed. In the mid-career recruitment, we proactively seek women who would work as executives or candidates for the position. Each year women account for a greater part of management positions in Japan (Eisai Co., Ltd.), reaching 5.9% as of the end of July 2017. In compliance with the Act on Promotion of Women's Participation and Advancement in the Workplace, enacted on April 1, 2016, Eisai encourages female employees to pursue their careers by setting a target proportion of women in management positions in fiscal 2020 at 10%.
Stratified career training designed for female employees has been provided since 2014.
Mentoring system has been introduced.
"Adaptation to diversity" has been included in the performance appraisal criteria.
Diversity-related training is provided to department managers.
Internal website introduces various cases of employees who can serve as role models.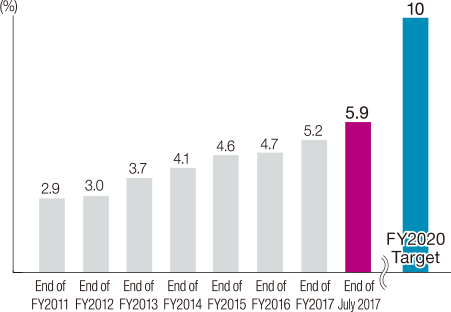 Supporting work/life balance
Time management system was introduced for employees to improve the effectiveness and efficiency of their way of working with greater focus on "time."
System to allow non-managerial-level employees to choose the scope of work locations in accordance with their lifestyles and life events was introduced.
Flextime for childcare and caregiving has been made applicable to employees working offsite.
Shorter working hours for childcare and caregiving has been made applicable to managerial-level employees.
Training is provided to medical representatives (MRs) who return to work after childcare leave (reinstatement training, accompanying other MRs raising children).