Eisai's Global Quality Assurance System
June 30, 2015
In recent times, regulations governing the quality of pharmaceutical products have been getting stronger in emerging market countries to ensure the quality of locally marketed products. The Eisai Group makes sure to comply thoroughly with all regulatory requirements related to Quality Assurance (QA) in order to secure the stable supply of high quality products throughout the world, and additionally promotes various QA activities to improve access to these high quality products.
As part of efforts to strengthen quality regulations, there is an increase in the number of emerging market countries which have joined or applied for membership in PIC/S*, highlighting the growing importance of compliance with "global-standard" quality regulations in emerging and developing countries. Eisai has established its own corporate GMP** standards in line with the GMP requirements set by key regions and countries including the United States and the EU as well as those set by WHO. Eisai's corporate standards are relatively strict to meet various GMP requirements, and applied throughout the company's operations worldwide. At the same time, despite this convergence towards global standards, many country-specific regulatory requirements still exist. Eisai believes these requirements should be carefully addressed in order to maintain and improve access to medicines in each country, actively implementing QA activities in consideration of the local regulatory requirements as well as the environmental conditions which affect the supply and long-term storage of medicines.
For example, in regions with hot and humid climates, Eisai carries out the execution of stability studies under conditions of high temperature and high humidity as well as the adoption of protective packaging tailored to the characteristics of each product.
*

PIC/S stands for "The Pharmaceutical Inspection Convention and Pharmaceutical Inspection Cooperation Scheme" and its mission is "to lead the international development, implementation and maintenance of harmonized GMP standards and quality systems of inspectorates in the field of medicinal products." PIC/S was started by several European regulatory authorities and after some changes, regulatory authorities from a wide range of countries, including the United States, Canada and several countries in Asia, hold membership today. It is said that Japan is also discussing future participation in PIC/S.

**

GMP stands for "Good Manufacturing Practice" and refers to the series of standards related to manufacturing controls and quality assurance for medicinal products.
Eisai aspires to realize an organizational structure that maintains independence of the QA execution and inspection functions while ensuring viability and transparency. Under the lead of the Executive Vice President of Eisai Demand Chain Systems (Eisai's manufacturing division), the Quality Core Function Unit (CFU) is responsible for the QA for all Eisai products marketed globally. The heart of Eisai QA is the Global Quality Committee (the GQC), which is comprised of the President of Quality CFU and the six regional quality heads in Japan, Americas, EMEA (Europe, Middle East and Africa), Asia, India and China. The GQC discusses global quality policy, standards and guidance as well as actions taken regarding quality and GMP issues which will lead to further improvement of Eisai product quality. Quality-related information is shared on a global level and decisions regarding the manufacture of high quality products are made also at the GQC.
In addition to the QA departments at Eisai manufacturing sites in Japan, the United States, the UK, China, India and Indonesia, Eisai has established a structure that can rapidly respond to events which happen in each region and country, assigning Quality Assurance Managers at each Eisai marketing affiliate to deal with complaint handling, managing regulatory approval changes, and recall procedures.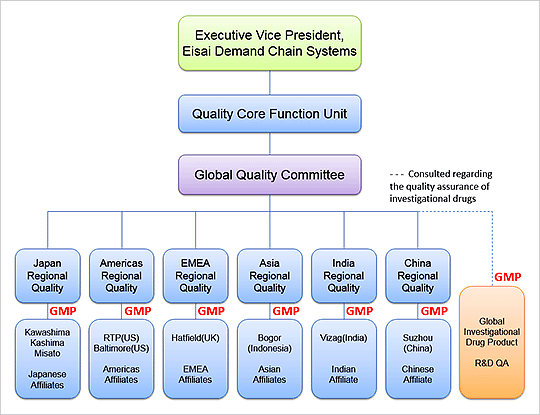 At the Eisai Group, compliance with the "Eisai Corporate GMP Standards" is required. The Eisai Corporate GMP Standards present Eisai requirements in GMP fields and incorporate the essence of WHO's and key countries' GMP. Each manufacturing site prepares, implements and maintains its own GMP documentation in accordance with the Eisai Corporate GMP Standards, as well as conducting staff-training.
In addition, GMP audits are regularly undertaken by a group of QA specialists based in Eisai offices and manufacturing sites around the world to confirm the state of GMP compliance at each manufacturing site. As Eisai global logistics expands to supply the company's products worldwide, Eisai strives to enhance GMP audits and training for Eisai manufacturing sites especially in Asia to respond to more stringent quality regulations around the world.
Complying with the Eisai Corporate GMP Standards ensures that high-level GMP is implemented and carried out consistently across all our manufacturing plants, thus securing the supply of high quality of products for the world. To date, Eisai manufacturing sites have been inspected in terms of GMP and approved by many regulatory authorities around the world, including the U.S. FDA, U.K. MHRA and WHO. GMP audits are regularly undertaken also at CMOs (Contract Manufacturing Organization) for APIs (Active Pharmaceutical Ingredient) and drug products based on our own standards so that high quality of Eisai products can be ensured there as well.
Through the Eisai Global Quality Assurance System, Eisai is able to ensure the high quality of our products, and by clearing the requirements for quality standards in countries throughout the world, Eisai is also able to secure access to medicines worldwide.