On April 5, 2023, the seventh meeting of the Parliamentary Association for Neglected Tropical Diseases Eradication was held in a hybrid format at the House of Representatives in Tokyo, with about 40 people consisting of Parliament members and NTDs officials participating.
Sayoko Sasaki, Eisai's Vice President in charge of ESG, gave a presentation at the meeting and highlighted that NTDs initiatives are one of Eisai's important business domains guided by our corporate concept. She also touched on Eisai's initiatives including free provision of lymphatic filariasis treatment and comprehensive support for elimination activities in endemic areas since 2013, as well as research collaborations with various global partners such as Drugs for Neglected Diseases initiative (DNDi), universities and research institutes. In addition, she made recommendations for enhancing the presence of Japan in the global health field and accelerating the elimination of NTDs. She emphasized the importance of driving innovation via further support to the Global Health Innovative Technology Fund (GHIT Fund), establishment of a system that enables priority and flexibility in regulatory process for NTD treatments, and continued support from the Japanese government to strengthen healthcare in Asia and Africa.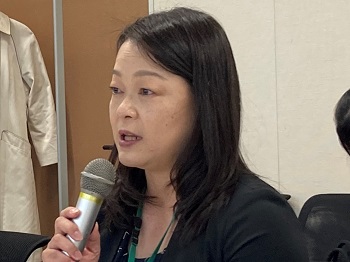 Eisai strives to create long-term corporate value by achieving social good in the form of relieving anxiety over health and reducing health disparities. Eisai will continue to strengthen multi-sectoral partnerships to contribute to the elimination of NTDs and global health.
Initiatives for Improving Access to Medicines Initiatives for Elimination of Neglected Tropical Diseases Recent Activities TOP