Eisai has been collaborating with the Association for Aid and Relief, Japan (AAR Japan), an international non-governmental organization (NGO) founded in Japan, to tackle mycetoma since 2019. We have been supporting AAR Japan's program to conduct disease awareness activity and to provide medical support in Sudan, one of the countries where mycetoma is prevalent. Aiming to communicate the importance of accurate knowledge and early treatment at medical institutions, we have implemented disease awareness activities for more than 2,400 residents and dispatched medical teams to provide treatment and surgery to approximately 100 mycetoma patients since the start of our collaboration (as of March 2022).
Building upon the outcomes achieved so far, we are now expanding collaborations with AAR Japan to tackle mycetoma via a holistic and sustainable approach, which includes provision of mental care to patients have undergone a surgery, and capacity building for local cooperative organizations. Our collaborative project with AAR Japan to strengthen local capacity and raise disease awareness in Sudan has been selected for "Projects for global growth of medical technologies, systems and services through human resource development in 2022" by the Ministry of Health, Labour and Welfare, Japan. As part of this project, we conducted online trainings for cooperative organizations and healthcare professionals involved in mycetoma countermeasures in Sudan in July and August 2022 through cooperation with the Institute of Tropical Medicine, Nagasaki University.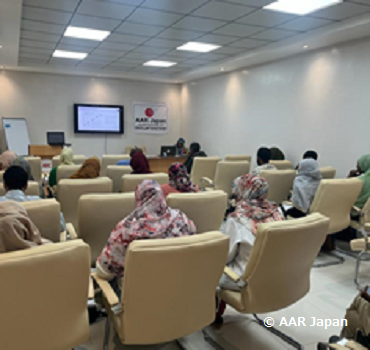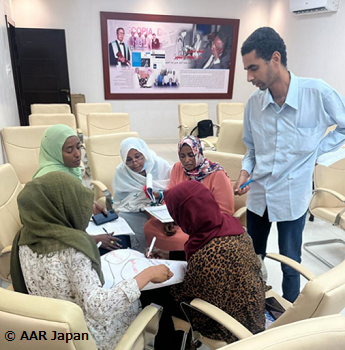 At the online trainings, we introduced our collaboration activities with AAR Japan in Sudan and Eisai's in-house discovered antifungal agent fosravuconazole (E1224) being developed as a potential mycetoma treatment. We also talked about the importance of One Health initiative, a cross-cutting approach to improve health of humans and animals, and environmental well-being. Active discussions were held among participants at workshop and Q&A session, and we learned a lot about local needs in the fight against mycetoma and actions required to address these challenges. We will work with AAR Japan and global partners to strengthen our efforts to combat mycetoma.
Mycetoma is said to be one of the most neglected tropical diseases due to a lack of basic information on the disease, including its transmission pathway and incidence as well as unestablished diagnostic and treatment methods. Public-private partnership plays a pivotal role in initiatives for eliminating neglected tropical disease (NTDs) including mycetoma. Eisai will continue our efforts to relieve anxieties of people suffering from mycetoma via collaboration with partners.

Please click here to watch our animation video highlighting partnership to combat mycetoma.
Please click here to read interview with AAR Japan.
Initiatives for Improving Access to Medicines Initiatives for Elimination of Neglected Tropical Diseases Recent Activities TOP