On September 20, 2022, Dr. Haruo Naito, CEO of Eisai, participated in the TICAD8 official side event entitled "Health-Related Quality of Life and Well-being by Drug Development and African Traditional Medicines" co-hosted by Kumamoto University and NGO Rocinantes. At the panel discussion of the event, Dr. Naito introduced Eisai's proactive initiatives for global health including neglected tropical diseases (NTDs) and malaria.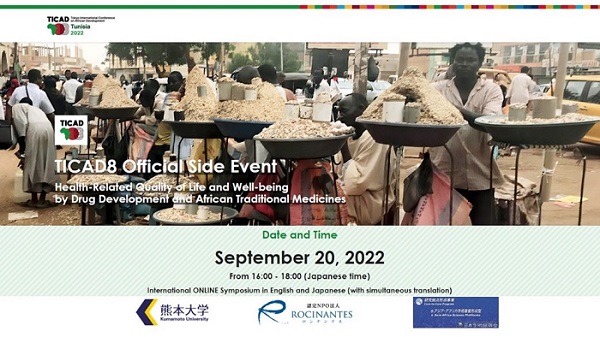 CEO Naito talked about our activities to eliminate lymphatic filariasis (LF), one of the NTDs through providing LF treatment free of charge and engaging in support activities in LF endemic areas. In addition, he also touched on the development of new treatments via partnership with Global Health Innovative Technology Fund (GHIT Fund), an international public-private partnership based in Japan, as well as initiatives to improve access to healthcare by utilizing digital technology. He also stated that the efforts for global health towards the elimination of NTDs and malaria is a core business domain of Eisai to impact Africa.
Discussions on improving healthcare services in Africa by accelerating new drug development in line with local situation and revitalizing traditional medicines were held among participants, consisted of academia, parliamentarians, private sector and civil organization.
For event program and video, please click here.
Under the human health care (hhc) concept, Eisai will continue its efforts to effectively achieve social good in the form of relieving anxiety over health and reducing health disparities.
Initiatives for Improving Access to Medicines Initiatives for Elimination of Neglected Tropical Diseases Recent Activities TOP