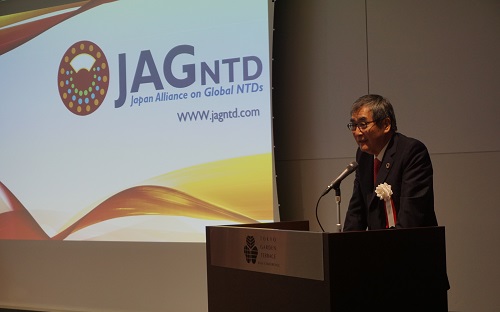 1. Background to JAGntd establishment
Neglected Tropical Diseases (NTDs) are endemic in 149 countries, infecting some 1 billion people and creating serious social difficulties. The spread of NTDs is mainly caused by poor hygienic conditions associated with poverty. Infections from these diseases may result in serious physical impairment and this often results in normal economic and social activities becoming highly challenging to the individual. The prevalence of NTDs is a stumbling block to economic growth for developing and emerging countries and represents a serious issue for these regions.
In recent years, efforts to eliminate NTDs have been vitalized through partnerships and accomplished significant results. Among them, the London declaration has been highly influential. Announced in 2012, the London Declaration is the largest public-private partnership in the field of global health. After the London Declaration, support from each sector expanded, and more than 1.5 billion tablets were supplied through WHO's NTD control program in 2017 alone and they contributed to treatment and prevention. As a result, elimination of lymphatic filariasis (LF) was achieved in 14 countries, blinding trachoma in 8 countries and onchocerciasis achieved in 4 countries, respectively. Diseases such as human African trypanosomiasis (sleeping sickness) and dracunculiasis (Guinea worm) are close to global elimination.
Japan also has experience in NTD elimination domestically and knowledge of R&D, and has actively implemented support activities for developing countries. However, a network which industry, government and academics can participate widely hadn't been constructed and there had been no contact point for providing information neither domestically nor internationally. In response to these circumstances, JAGntd (Japan Alliance on Global Neglected Tropical Diseases) was established as a mechanism to corroborate individuals, association and organization related NTDs under the guidance of the Nagasaki University Institute of Tropical Medicine.
2. Inauguration Ceremony for Establishment of JAGntd
On November 9, 2018, an inauguration ceremony was held for the establishment of JAGntd. First of all, Dr. Kazuyo Ichimori, the steering committee chairman of JAGntd (Institute of Tropical Medicine Nagasaki University) made a speech that Japan has made great contributions to the world's NTDs elimination activities over the years, but the fact that international recognition is not high is an issue and she believes that it is necessary to create a mechanism to fill this gap and establish this alliance. And she mentioned JAGntd will contribute further to elimination of NTDs in the future.
After that, Dr. Shigeru Kono, President of Nagasaki University, Mr. Tsutomu Tomioka, a member of the House of Representatives, Mr. Keizo Takemi, a member of House of Councilors (video message), Eisai CEO Haruo Naito, Ms. Thoko Pooley, Director of Uniting to Combat NTDs (NGO) and Dr. Takao Toda, Vice President for Human Security and Global Health Japan International Cooperation Agency (JICA), gave congratulatory speeches respectively.
3. CEO Naito's Speech
As the company's contribution to eliminating NTDs, in addition to supplying the drug for LF, diethylcarbamazine (DEC tablets), at price zero, CEO Naito mentioned that local Eisai employees in LF endemic countries are implementing comprehensive activities with WHO and government officials of each country such as support for mass drug administration of LF, disease awareness activities for residents, sanitary environment improvement. And CEO Naito again announced our commitment to continue supplying DEC tablets until complete elimination is achieved in all LF endemic countries. Furthermore, CEO Naito mentioned that Eisai is engaged in research and development of drugs for infectious diseases including NTDs through partnerships, and corporate activities need to be changed in response to Sustainable Development Goals.
4. Collaboration with JAGntd
Eisai agrees with the activities of JAGntd, and by working with partners in Japan and overseas, we will further strengthen our efforts to eliminate NTDs.
Initiatives for Improving Access to Medicines Initiatives for Elimination of Neglected Tropical Diseases Recent Activities TOP