Eisai has been engaging in various activities to eliminate lymphatic filariasis (LF) by providing diethylcarbamazine (DEC) tablets, one of the treatments for LF, to LF-endemic countries free of charge through the World Health Organization (WHO) since 2013. In collaboration with Japan International Cooperation Agency (JICA), Eisai has supported the elimination activities of LF in Papua New Guinea (PNG) by supplying approximately 10.4 million DEC tablets.
Due to COVID-19 pandemic, mass drug administration (MDA) campaigns which play a pivotal role in LF elimination have been postponed in PNG. In collaboration with JICA, Eisai provided 50,000 disposable masks and 35,000 gloves for COVID-19 countermeasures to support the resumption of MDA. The National Department of Health issued a letter expressing their appreciation for Eisai's consistent supply of DEC tablets and the donation of masks and gloves, as well as introducing local elimination activities for LF program.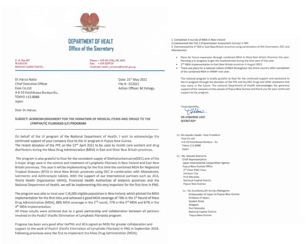 DEC tablets provided by Eisai were used in MDA campaigns in New Ireland and East New Britain, and will also be used in West New Britain from this fiscal year. The materials Eisai donated will contribute to MDA campaigns in East and West New Britain provinces.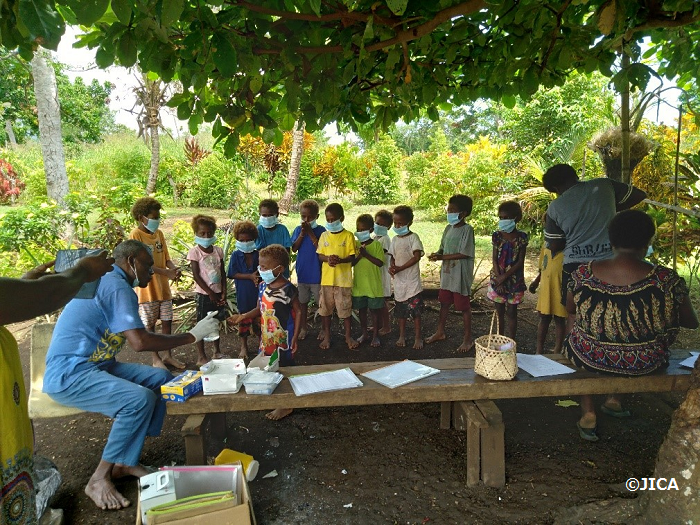 In the letter, the National Department of Health also mentioned its future plans to expand MDA programs throughout the entire country. Eisai will continue to contribute to the elimination of LF in PNG through multi-sectoral partnerships with the government of PNG, the WHO and JICA.

Initiatives for Improving Access to Medicines Initiatives for Elimination of Neglected Tropical Diseases Recent Activities TOP