Eisai commenced the free provision of its in-house manufactured diethylcarbamazine citrate (DEC) tablets, a treatment for lymphatic filariasis (LF), to the World Health Organization (WHO) in October 2013. Since then, Eisai has provided about 1.94 billion DEC tablets to 28 endemic countries through WHO's elimination program (as of December 2019).
Together with supplying DEC tablets to WHO, Eisai has assigned internal "DEC Project Managers" who are responsible for planning and execution of LF elimination activities. The majority of staff appointed as DEC Project Managers are from Eisai subsidiaries in LF endemic countries throughout Asia. They discuss with government officials in charge of LF and other relevant stakeholders in endemic regions about what can be done by them from a local perspective and work together in order to contribute to the early realization of LF elimination. In addition, the DEC Project Managers in each country hold annual face-to-face meeting, share their best practices, and examine their future activities.
The 7th DEC Project Managers meeting was held in Indonesia this year. Indonesia has declared every October from 2015 onwards as LF elimination month (BELKAGA: Bulan ELiminasi KAki GAjah). Since then, the government has set out on the nationwide LF elimination, and has been working on raising awareness of the disease and conducting the mass drug administration (MDA) in endemic regions throughout the country. DEC Project Managers participated in BELKAGA event in Betun Malaka located in the eastern Indonesia.
Minister of Health and key personnel of administration in Indonesia participated in the event and gave speeches about the early realization of LF elimination. Local children performed a dance for the LF awareness. Afterwards, MDA using Eisai's DEC tablets took place. Eisai has been providing DEC tablets for BELKAGA MDA since 2015.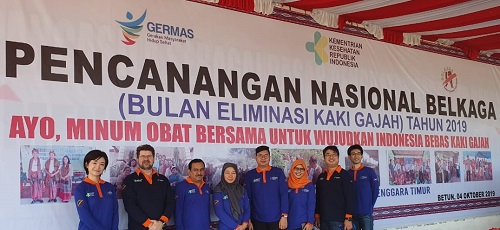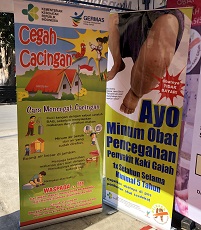 DEC Project Managers, local medical students, and Regional Director in Betun Malaka of Ministry of Health conducted socialization with LF patients after the BELKAGA event to obtain hints for the LF elimination support method in the future. In this socialization, the daily living environment and the current issues and needs of LF patients were discussed, and the solutions were considered. Then, Eisai employees gave lectures on LF to about 120 people including the dean, faculties, and students of medical faculty at the Muhammadiyah University of Semarang, a LF endemic region located in center of Java Island. Since 2015, Eisai employees have continuously been holding the lecture at local medical universities which support the community-based healthcare to enhance the social awareness of LF.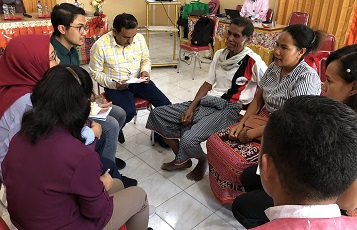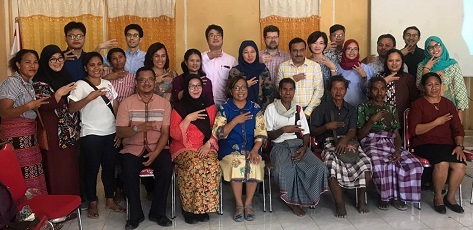 As described above, Eisai has been considering the solutions for issues related to LF by implementing socialization with local LF patients every year and participating in MDAs. The future efforts are being discussed by sharing the progress of efforts for LF elimination in each country and each region, and brainstorming for needs of patients, medical settings and the solutions, at DEC Project Managers meeting. Eisai aims to continue contributing to the early elimination of LF through the ongoing free provision of DEC tablets as well as the activities of the DEC Project Managers.
Initiatives for Improving Access to Medicines Initiatives for Elimination of Neglected Tropical Diseases Recent Activities TOP