Lymphatic Filariasis (LF) is one of the major public health problems in many South‐East Asian countries including Myanmar. According to the mapping of LF in Myanmar in 2007, 45 out of total 65 districts (69% of districts) were endemic for LF and 41.8 million people were at risk among a total population of 60.38 million.
The main strategy to interrupt transmission of LF is to treat entire populations at risk of the disease through integrated preventive chemotherapy using mass drug administration (MDA). In 2000, the Ministry of Health and Sports in Myanmar developed the National Plan to Eliminate Lymphatic Filariasis strategy aiming to eliminate LF by the year 2020 in cooperation with WHO, and MDA using the combination of albendazole and diethylcarbamazine (DEC) has been implemented.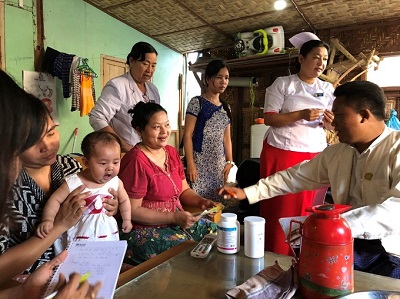 Eisai has dispatched 1.5 billion DEC tablets to 28 countries through WHO since October 2013. Myanmar is one of the three major countries together with India and Indonesia to which Eisai has supplied a large amount of DEC tablets and as of October 2018, Eisai has supplied about 380 million DEC tablets to Myanmar, which accounts for over 25% of the total supplied.
Eisai's contribution is highly valued, and Eisai was invited by the Department of Public Health, Ministry of Health and Sports in Myanmar in order to observe the MDA conducted in January 2018. At that time, the Department of Public Health, Ministry of Health and Sports awarded Eisai a certificate of appreciation with the comment "We are extremely grateful for the valuable contribution of Eisai's provision of DEC tablets free of charge".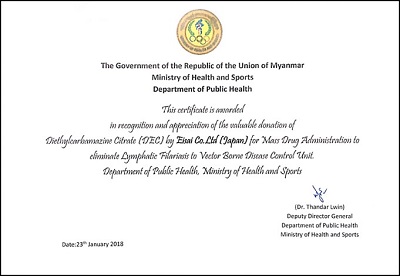 Going forward, Eisai will not only work on the supply of DEC tablets, but will also conduct comprehensive activities including raising disease awareness for LF elimination activities in Myanmar in the future. 
Initiatives for Improving Access to Medicines Initiatives for Elimination of Neglected Tropical Diseases Recent Activities TOP