On January 30, 2012, Eisai, together with twelve other global pharmaceutical companies, the Bill & Melinda Gates Foundation, the World Health Organization (WHO), the U.S. and U.K. governments, the World Bank, and governments from neglected tropical disease (NTD)-endemic countries, pledged their support to the London Declaration, a coordinated effort to eliminate 10 NTDs by 2020 and the largest public-private partnership of its kind. (https://www.eisai.com/news/news201206.html)
Five years after the London Declaration, medicines for NTDs are being donated by pharmaceutical companies on an unprecedented scale. In 2015 alone, treatments were delivered to 1 billion people in about 150 countries. Significant progress has been made in the elimination of diseases such as lymphatic filariasis (LF), Trachoma, and Onchocerciasis (river blindness). Diseases such as human African trypanosomiasis (sleeping sickness) and dracunculiasis (Guinea worm) are close to global elimination.
On April 18, 2017, in an event marking the 5th anniversary of the London Declaration held in Geneva, Switzerland, Mr. Bill Gates, co-chair and trustee of the Bill & Melinda Gates Foundation , donor company CEOs, officials from donor governments and NTD-endemic country governments, and health workers from NTD-endemic countries, gathered together to review the progress of elimination activities, and to discuss future issues to be tackled.
Eisai is providing diethylcarbamazine (DEC) tablets free of charge for LF treatment and conducting research activities to create new medicines for NTDs. As a partner of the London Declaration, Eisai CEO Haruo Naito participated in the first panel discussion, alongside Mr. Bill Gates, government officials and other partner organization representatives.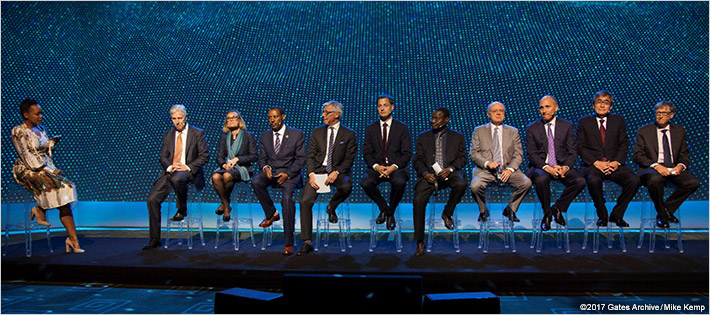 The discussions were focused on progress made since the London Declaration and the impact of NTD programs. Specific topics included the scale of NTD elimination programs, the importance of these programs, and motivations of companies to invest in NTD elimination.
Mr. Bill Gates, reflecting on the accomplishments, spoke in high praise of the vast contributions by pharmaceutical companies.
CEO Haruo Naito added his assessment, stating, "The London Declaration is largest international public-private partnership in the field of global health, with various stakeholders working together for the purpose of NTD elimination. Contributions are not limited to free supply of medicines, but also include the establishment of partnerships to enhance supply chains and partnerships to create new medicines to accelerate NTD elimination. Through the many partnerships established within the framework of the London Declaration, we will bring forth unprecedented results." He continued, adding, "Local government commitment in NTD-endemic countries is essential to ensure that the donated medicines reach the people who need them. We have many tasks ahead of us, such as improving distribution infrastructure, implementing high quality mass drug administrations, improving disease awareness, and earning the trust of local communities. Eisai is not only up to the challenge, but will also continue to provide a stable and high quality supply of DEC tablets until the end of LF elimination."
The second panel discussion consisted of health workers from NTD-endemic countries, who explained how to reach people in remote areas for MDAs by introducing several common tools used to combat NTDs.
In addition, to commemorate the 5th anniversary of the London Declaration, efforts by donor companies were officially acknowledged in the form of a Guinness World Record for "Most medication donated in 24 hours". The total number of treatments was 207 million. This was accomplished thanks to the combined efforts of donor company drug production facilities, including Eisai's Vizag Plant, as well as various NTD elimination partners.
At the end of the event, Dr. Margaret Chan, Director-General of the WHO, delivered the closing remarks. "The London Declaration illustrates the power of partnerships," she said, adding that "Investment in global health produces results. I believe in innovation, and innovation is the solution to help people. Collaboration between stakeholders for NTD elimination will lead to future advancements in various fields."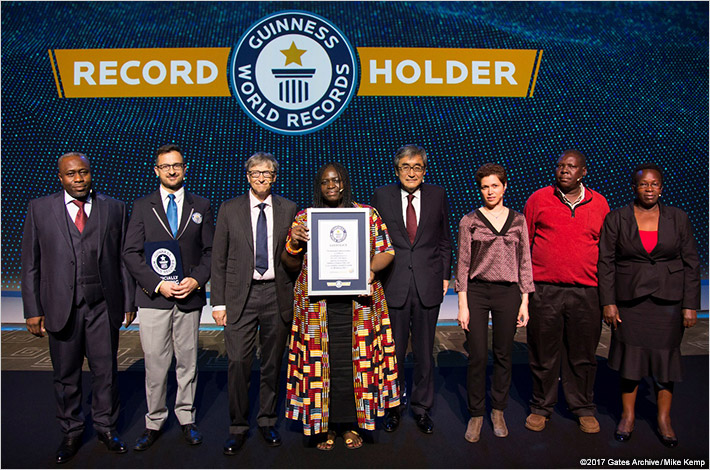 Eisai seeks to contribute to the health and welfare of people in developing and emerging countries. Once they have recovered their health, they can resume productive activities, which will in turn contribute to economic development and expansion of the middle-income class. Eisai considers this to be a long term investment in creating the markets of the future. In addition, Eisai will continue to provide a stable and high-quality supply of DEC tablets to the NTD-endemic countries that need them beyond 2020, until the end of LF elimination.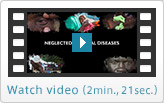 Related news releases:
Guinness World Record for "Most medication donated in 24 hours":
Initiatives for Improving Access to Medicines Initiatives for Elimination of Neglected Tropical Diseases Recent Activities TOP