Global challenges of non-communicable diseases
Today, non-communicable diseases (NCDs), including cancer, cardiovascular disease, diabetes, chronic respiratory diseases, and mental health disorders, are the leading causes of death and disability worldwide, accounting for 60 percent of all deaths worldwide—36 million deaths annually. This places an enormous burden on patients, communities and economies around the world.
Infectious diseases like AIDS, Ebola and Zika have dominated global health interventions, conversations and investments for over a decade. However, in the midst of these epidemics and outbreaks, non-communicable diseases have emerged as an additional public health crisis, creating a double burden for people in low and lower-middle income countries.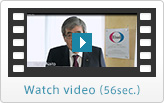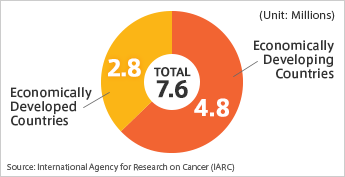 While an aging population and increased risk due to lifestyle choices are contributing factors to this increasing burden of NCDs in low and lower middle income countries, these countries also have under-resourced health care systems with multiple barriers that limit access to diagnosis, treatment and care.
For example, according to estimates from the International Agency for Research on Cancer (IARC), 4.8 million people in economically developing countries died from cancer in 2008, accounting for more than 60% of the total cancer deaths occurring worldwide in the same year.
Working together for a healthier world
At the World Economic Forum held in January 2017, Eisai, together with 21 biopharma companies, launched Access Accelerated, a global initiative to advance access to NCS prevention and care in low and lower-middle income countries. The companies will work with the World Bank Group and Union for International Cancer Control (UICC), and conduct programs to address the rise of NCDs, including identifying strategies to enhance access to innovative medicines, to support regulatory harmonization efforts, and to pilot solutions for primary care diagnosis, screening and delivery to support NCD care in several countries. In addition, disease-specific partnerships will be launched, with an initial focus on cancer. The goal of this new initiative is to work towards the United Nations Sustainable Development Goals (SDGs) target of reducing premature deaths from NCDs by one-third by 2030.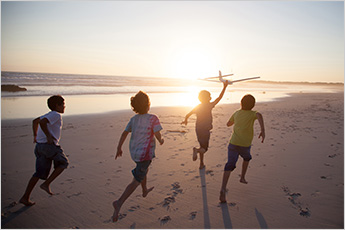 For more information about Access Accelerated, and how Eisai contributes to this initiative, please visit the following: