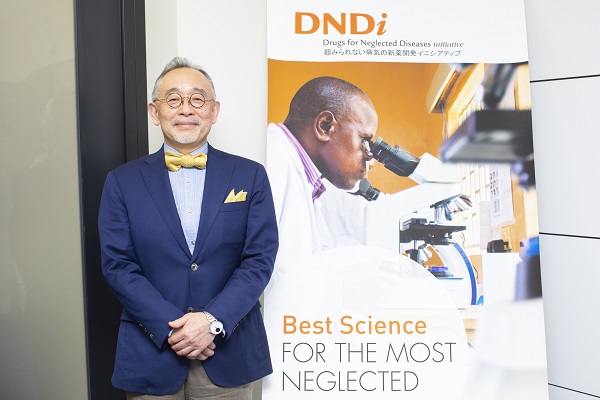 Dengue fever, filariasis, rabies. These diseases we hear of even in Japan, are called "neglected tropical diseases" (commonly known as NTDs) because they have not been paid attention globally and sufficient measures to combat them have not been taken.
In 2003, DNDi (Drugs for Neglected Diseases initiative) was established in Switzerland as a non-profit research and development organization that develops safe, effective and affordable treatments for people suffering from NTDs. DNDi has developed 12 medicines and treatments to date, saving millions of lives.
In 2009, Eisai and DNDi entered into a collaboration by executing a licensing agreement for the development of a new drug for Chagas disease. Since then, we have collaborated on other tropical diseases including mycetoma, and have signed a long-term partnership agreement in 2021.
We interviewed Mr. Tatsuro Kuzuki of DNDi Japan about the overview of the organization and his thoughts on the collaboration with Eisai.
About DNDi, a non-profit research and development organization that develops drugs for NTDs
Please tell us the background and activities of DNDi.
DNDi is a non-profit research organization founded in Geneva, Switzerland, by Médecins Sans Frontières (translated as Doctors without Borders) and six other organizations.
Médecins Sans Frontières primarily provides humanitarian assistance during conflicts and disasters, but has seen many neglected diseases endemic in the poor communities where it operates. DNDi was born from the idea of developing therapeutic drugs for such neglected patients.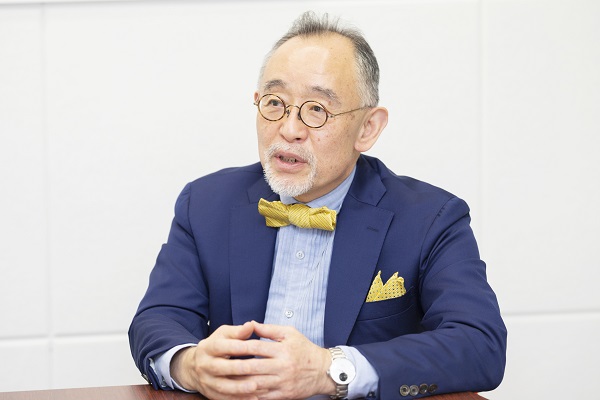 Generally, research institutes and pharmaceutical companies are the main players in the development of drugs. Because drug development takes a huge amount of time and resources, until now, priority has been given to the development of drugs that are expected to be profitable, which are drugs that are needed in high-income countries, while the needs of low- and middle-income countries have been put off.
I believe that the emergence of investment organizations such as the GHIT Fund (Global Health Innovative Technology Fund), which was founded in Japan, has triggered a breakthrough in this situation. By procuring external funds, it has become possible to diversify investment risks in new drug development.
DNDi has a network of neglected disease experts, and has created an environment where we can work on drug discovery by sharing roles with pharmaceutical companies. Today, many Japanese partners are participating in DNDi's worldwide drug discovery projects.
The experience of saving people's lives was a fundamental part that lead me to the development of NTD treatment drugs
Mr. Kuzuki, please tell us about the work you are in charge of at DNDi Japan?
My job title is "R&D liaison", and liaison means a bridge or connection. My role is to facilitate communication between the DNDi Headquarters in Switzerland and our partners in Japan.
Please tell us about your experiences that lead to the present.
I was involved in a wide range of work from research and development to licensing, production and marketing at a pharmaceutical company. Among them, clinical development was a very rewarding job. As an example, the effect of anti-infectives is obvious. When they are effective, people feel better in 2-3 days after taking them. I feel that the experience of saving people's lives with a drug that I was involved in developing was a fundamental part in what led me to become involved in the development of drugs to treat NTDs.
I think everyone has different motivations in life, but I find great joy in work where I am appreciated by others or I can contribute to others. I felt that DNDi Japan was exactly the job I was looking for, so after my early retirement, I joined this organization by chance.
In order to lead new drug development to success, it is important to build relationships based on trust and communication
What did you find difficult while working as an R&D liaison on a new drug development project that transcends national borders?
The difficulty I have experienced is the difference between languages and contexts (cultural understanding).
I use English to communicate with the Headquarters, but both Switzerland and Japan are non-English speaking countries, so there are times when there is a difference in perception during communication. More than that, there were many problems when the other party did not understand or could not understand the differences due to the cultural background of Japan.
It is no exaggeration to say that a relationship of trust with a partner is everything, especially when negotiating a deal with points that both sides cannot compromise on. By acting from the standpoint of the Japanese partner rather than that of DNDi, I search for a collaboration that both sides can agree on.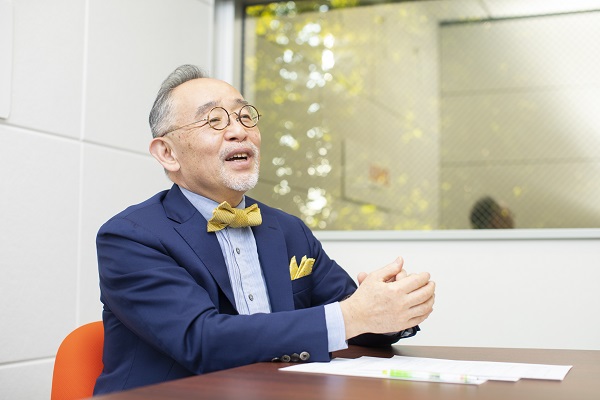 You have collaborated with many domestic partners so far. Please tell us about the presence of Japan in the field of NTD research and development.
Europe has an extremely strong presence in research and development of NTDs due to its historical background, but Japan has also been good at drug discovery in the area of infectious diseases such as antibacterial drugs. When developing a new drug, it is important to first find chemical substances called "good seeds." Japan is particularly proud of its achievements in discovering many excellent seeds from natural microorganisms and plants, and developing medicines. Within DNDi, Japan is making a major contribution in the area of "drug discovery".
Over the past few years, projects originated from Japan have been selected as DNDi's Project of the Year. I am very much looking forward to seeing the actual use of Japanese medicines in infected areas within the next few years.
We would like to work with Eisai not only on drug development, but also on data utilization and telemedicine.
Please tell us about the efforts that DNDi and Eisai have made in collaboration so far.
At the drug discovery stage, DNDi and Eisai have been conducting projects to search for drug "seeds" for pathogenic microorganisms of parasitic diseases such as leishmaniasis and Chagas disease.
Regarding leishmaniasis, a compound called DNDI-6174 is scheduled to enter Phase I clinical trial in 2023 if all goes well. In addition, a compound discovered in the joint project "Drug Discovery Booster", which is being carried out by eight pharmaceutical companies, including Eisai, in Japan and overseas, is currently in the preclinical stage.
We are also collaborating on a clinical trial for an NTD called mycetoma, a type of fungus that enters the body and forms an ugly lump under the skin. Results from a Phase II clinical trial of fosravuconazole (E1224) for the treatment of fungal mycetoma are forthcoming. If the results are positive, we plan to consult with Sudanese regulatory authorities on how to deliver the drug to patients as soon as possible.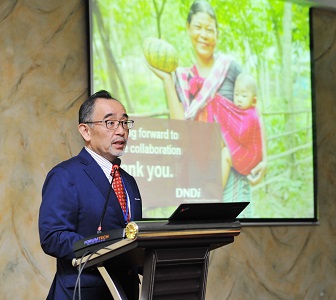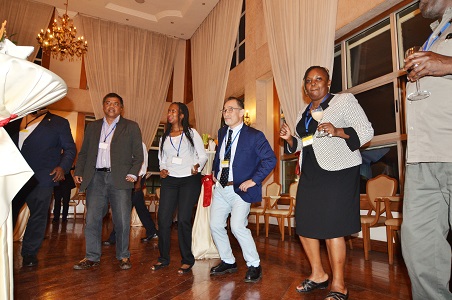 How do you feel about the significance of DNDi and Eisai's collaboration and the future these two organizations are aiming for?
In order to enhance the partnership between Eisai and DNDi and further deepen the mutual trust between the organizations, I would like to see exchanges of personnel. Although it is small, DNDi provides an environment where you can gain experience on site in a wide range of fields, including drug discovery, preclinical, clinical, statistical analysis, CMC (chemistry, manufacturing, and control), and access. In other words, I think DNDi has an environment that could benefit from Eisai's know-how.
In addition to research and development, we would also like to explore the possibilities of data utilization and telemedicine together. Although many people in Africa don't have landline phones at home, they do have mobile phones, so I would like to create a system that enables people to take photos of the affected body parts by smartphone and send them to a specialist for diagnosis.
Beyond that, we can see a society in which people do not die from treatable infectious diseases, and ultimately a resilient health system that can deal with new infectious diseases locally. I sincerely hope that E1224, a potential treatment for fungal mycetoma, will be approved in Sudan in the near future, and that it will be the first step in the above-mentioned steps. I look forward to discussing how to deliver it to patients.
Drug development for neglected diseases made possible by collaboration
Focusing on neglected diseases cannot be done by a single company, it requires collaboration among various partners such as governments, UN organizations, investors and non-profit organizations. Furthermore, in order to solve these issues, it is important that each partner shares the same vision and communicates well.
Eisai will continue to work with partners across sectors to solve NTDs issues.
Initiatives for Improving Access to Medicines Research & Development for Improving Access to Medicines Recent Activities TOP