When the London Declaration on Neglected Tropical Diseases was signed in 2012 by a diverse group of partners, one sentiment was universal: To defeat these debilitating diseases with a collaborative global effort. Five years later, the strong partnership has achieved remarkable progress. One billion people received treatment in 2016 alone, and since 2012, 10 countries have eliminated lymphatic filariasis (LF)1, 5 countries have eliminated trachoma and 4 countries have eliminated onchocerciasis. The NTD programme has now become one of the largest health programmes in the world, and the scope and access of NTD programmes for some of the world's poorest communities provide a gateway to universal health coverage (UHC).
With the purpose of launching fifth progress report, Uniting to Combat NTDs, Nagasaki University, DNDi Japan and St. Luke's University co-organized an official side event at the UHC Forum 20172 in Tokyo on December 15, 2017.
A special guest, Dr. Tedros Adhanom, Director General of WHO, joined the side event. He stated that "NTDs are a very important part of our fight in the global health agenda, the main reason why we are still struggling against this disease is because we have failed to achieve UHC. Elimination of NTD is the milestone to achieve UHC. The key is to work in transparency and to build trust among partners. Each of us has our role to play and together we must work hard to overcome this disease of poverty." Dr. Tedros also thanked all the pharmaceutical companies for their generous donations of NTD medications.
Eisai's Representative Corporate Officer and CEO Haruo Naito, as the representative from the pharmaceutical industry, has indicated "Access and Innovation are the two missions for modern pharmaceutical companies to accomplish, and the London Declaration provided opportunities to fulfill them. Eisai has provided more than 1 billion DEC tablets to 27 countries, we are more than pleased to hear10 countries have eliminated LF. After WHO's announcement on the new LF guideline, all donating companies have committed to provide the treatments for LF until we eliminate the disease from the world."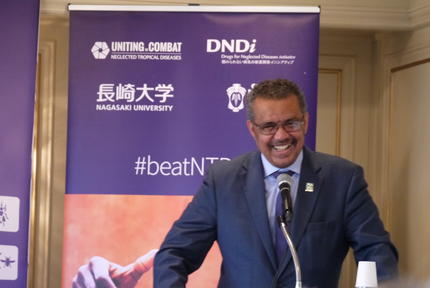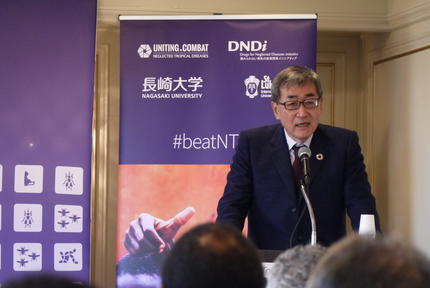 Regarding innovation, CEO Naito addressed the initiatives of Global Health Innovative Technology Fund (GHIT Fund), however he touched on the bottlenecks for innovation such as funding, and drug regulatory approval for NTDs. From the perspective of the pharmaceutical industry, CEO Naito noted that ESG (Environment, Social, Governance) is a key criterion for investors, and global health activities are great elements for companies to fulfill ESG.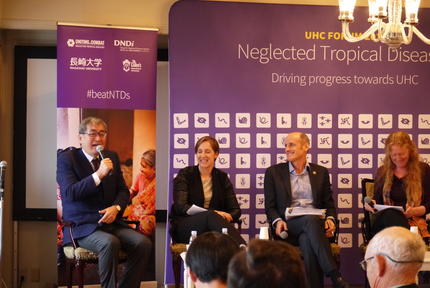 Dr. Tim Evans of World Bank, Ms. Kelly Saldana and CEO Naito joined panel discussion. CEO Naito said "(Pharmaceutical) Industry is evaluated by what kind of value we can create. The value of curing cancer and the value of eliminating one NTD should be viewed as essentially equal. Treating NTD is no longer a side work, it is a major battlefield." The side event was completed with wonderful speeches from prestigious speakers, interactive discussion and thought provoking questions from the floor.
A live stream of the whole side event is available at:
http://unitingtocombatntds.org/events/uhc-forum-ntds/

1 In December, 2017, 10 countries eliminated LF. In February 2018, 11 countries eliminated LF.
2 Universal Health Coverage Forum: A high-level forum hosted by the Government of Japan, World Bank, UNICEF, JICA and UHC2030, to galvanize the health sector, countries, development partners, civil society and the private sector toward the common goal of UHC.
Initiatives for Improving Access to Medicines Initiatives for Improving Access to Medicines for Non-communicable Diseases Recent Activities TOP