Access Accelerated, an initiative to tackle non-communicable diseases (NCDs), hosted a special UN General Assembly side event during the 72nd United Nations General Assembly week in September 2017. Access Accelerated was initiated by 23 biopharmaceutical companies including Eisai, International Federation of Pharmaceutical Manufacturers & Associations (IFPMA), the World Bank and the Union for International Cancer Control (UICC).
The event began with an interactive exhibition where nine Access Accelerated member companies, including Eisai, showcased their NCD access programs in low and middle-income countries. Eisai introduced its dementia awareness program in China- "Remember I Love You", and patient assistance program for metastatic breast cancer in Asian countries- "Hope to Her".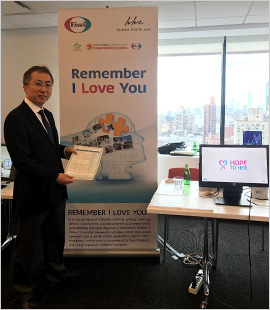 Following the exhibition, President-Elect of the UICC, Her Royal Highness, Princess Dina Mired of Jordan shared her personal story about why she became an advocate for cancer treatment and detailed her work to establish a cancer center in Jordan. Next, a panel brought a diverse range of health professionals to the stage, including leading voices from the frontline of health care delivery, as well as the advocacy and programmatic levels, to discuss the challenges and opportunities to NCD care in Africa, Asia and Latin America.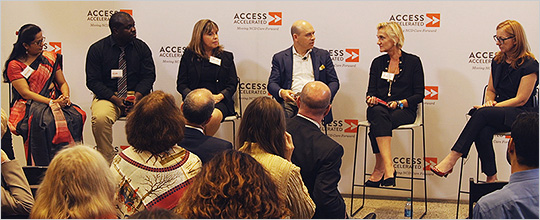 Through the event, Access Accelerated reinforced its commitment to public-private partnerships to work towards reducing deaths from NCDs. Based on our human health care (hhc) philosophy, Eisai will continue to pursuit sustainable business models and improve access to medicine, to further increase the benefits provided to patients and their families around the world.
For more information about Access Accelerated, and how Eisai contributes to this initiative, please visit the following:
Initiatives for Improving Access to Medicines Initiatives for Improving Access to Medicines for Non-communicable Diseases Recent Activities TOP