For natural disasters, both in developed and developing world, Eisai is willing to offer supports which meet affected areas' needs, such as monetary and medical care material donation. Based on our hhc philosophy, Eisai would like to contribute more to people's health and finally, to recovery and further growth of economies in the affected areas. Eisai believes this should be the mission of a pharmaceutical company.
Here are some of the examples of our recent activities.
Tornado outbreak in 2011 (USA)
In an effort to help provide relief for the victims of the April tornado outbreaks which struck the southern part of the United States, Eisai made a donation of $200,000 to the American Red Cross.
News release (23rd May, 2011)
Great East Japan Earthquake in 2011 (Japan)
Eisai offered a donation of 200 million Japanese yen to aid relief efforts for the victims in the Tohoku district-off the Pacific Ocean Earthquake and tsunami on 11th March, 2011, which caused very severe damage. In addition, Eisai donated medical associations, facilities and academic societies in the affected prefectures our ethical pharmaceuticals and general medical devices to be used in medical care. Local medical representatives of Eisai have been actively contributing to the struck areas by offering our products, such as sterile wipes, vitamin drinks, and skin care creams to meet local people's needs.
News release (14th March, 2011)
News release (18th April, 2011)
Tsunami in Mentawai and Mount Merapi eruption in 2010 (Indonesia)
Indonesia was devastated by twin disasters that occurred one after the other in two regions of the country. A tsunami that pounded Mentawai Islands and the eruption of Mount Merapi killed scores of people hundreds of miles apart on October 25 and 26, 2010.
Considering that access to the locations, particularly Mentawai Islands, was difficult due to its remoteness and bad weather, as well as the worsening situation in Mount Merapi, we made the following arrangements for our donations:
1) Donation through PAPDI Medical Relief for Mount Merapi area:
On October 29, Eisai Indonesia donated folding beds for patients, transportation facility (car rental and fuel), medicines including anti-inflammatory drugs and cold preparations, vitamins, mask, eye drops, antiseptic, and topical antibiotic, totaling Rp. 109,977,612 (around USD 12,220).
We chose PAPDI Medical Relief (Indonesian Society of Internal Medicine ? Medical Relief) to distribute our donations at Mount Merapi area. This organization has cooperated with Eisai during relief operations following the Tsunami disaster in Aceh in December 2004 and the Padang Earthquake in September 2009. PAPDI Medical Relief dispatched their Medical Team to Mount Merapi area on October 30.
2) Donation through PERDOSSI, an Indonesian Neurological Association for Mount Merapi area:
On November 8, 2010, Eisai Indonesia donated medicines including anti-inflammatory drugs and cold preparations and Rp. 10 million in cash through PERDOSSI for Mount Merapi Area. Total donations made through PERDOSSI was equivalent to Rp. 61,836,288,- (around USD 6,870).
3) Relief Program through "ACT for humanity"
Since the number of organizations that had access to Mentawai was limited, we cooperated with "ACT for humanity" (AKSI CEPAT TANGGAP (ACT) Foundation, an organization with adequate experience and resources for crisis management) in delivering our donations to Mentawai islands. Eisai Indonesia donated Rp. 22,047,000 (USD 2,449) in cash to support in the group's aid and rescue efforts.
Furthermore, Eisai worked on Humanitarian Aid and Disaster Relief Program in Mount Merapi Integrated Community Shelter (ICS) with total donation Rp. 105,694,000 (USD 12,290). It is aimed to support the refugees in the ICSs which are managed by ACT and focused on health assistance program, including:-
1.

Establishment of Public Clinic in the shelter area, which is 28sqm wide, with two rooms, for medical examination, consultation and dispensing. The public clinic was opened in January, 2011.

2.

Distribution of food and groceries for 140 families in the shelter.

3.

Integrated health examination, health education and medical assistance program for 6 months, with support from 18 GPs and internal medicine practitioners as volunteers.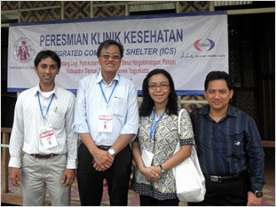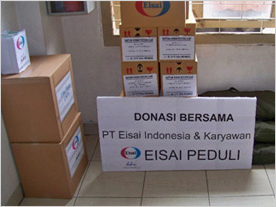 Qinghai Yushu Earthquake in 2010 (China)
A magnitude 6.9 earthquake occurred in Yushu, Qinghai, China, on April 14, 2010. In order to offer every possible help for millions of people affected by this devastating natural disaster, Eisai provided relief donation, including antimicrobial agents and anti-inflammatory agents bought from other companies, equivalent to a total of 309,442.40 Chinese Yuan (approximately 46,536 US dollar) , through regional public hospitals.
Padang Earthquake in 2009 (Indonesia)
In the evening of September 30 and the morning of October 1, 2009, Padang, West Sumarta, was hit by two major earthquakes with magnitudes of 7.6 and 6.6, respectively.
With the support from Eisai network companies in Asia, Eisai Indonesia in collaboration with PAPDI-Medical Relief Team (Indonesian Society of Internal Medicine - Medical Relief) organized two relief efforts in Pariaman ? Padang, West Sumatra. Based on discussions and recommendations from physicians in Padang about their needs, we focused on post-earthquake management to help and support both disaster victims and paramedics in Pariaman after the emergency phase, in addition to the immediate donations of medicinal products through the medical associations. Total donation is equivalent to Rp. 159,592,242 (USD 18,557). Our post-earthquake activities included:
1.

Capability Building Seminar for Community Health Center (Puskesmas) Paramedics: Understanding Healthcare Issues - Post Earthquake Management

This seminar was held in Pariaman Hospital on January 30, 2010, attended by more than 50 paramedics from 20 Community Health Centers.

2.

Social Activities in Ambung Kapur Refugees Shelter: Health Checks and Distribution of Food and Supplies

We visited Ambung Kapur Refugees Shelter on January 31, 2010 to deliver donations to disaster victims. Over 100 families were still living there waiting for support from the government. More than 200 refugees in shelter, from young children to the elderly underwent health checks and were prescribed essential medicines by 10 general practitioners who volunteered for this relief effort. Many victims presented with upper track respiratory infections, low GI infections and dermatitis. We also donated food and other essential supplies for all families at the shelter.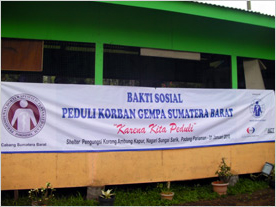 Initiatives for Improving Access to Medicines Initiatives for Improving Access to Medicines for Non-communicable Diseases Recent Activities TOP