Eisai Co., Ltd. (Headquarters: Tokyo, CEO: Haruo Naito, "Eisai") has announced that it has launched vitamin B2 tablet "Chocola BB® Plus" (general food product, Chinese name:

), a major product from the Chocola BB series, in Taiwan. This is the first launch of this product in an Asian region outside of Japan. Starting from this launch, Eisai intends to expand this product into the Asian market.
The Chocola BB series, which celebrates its 65th anniversary this year, is widely used by consumers in Japan as a healthcare product brand trusted by women. Products such as Chocola BB® Royal Drink have also been marketed in Taiwan, and many Taiwanese consumers are familiar with the Chocola BB brand.
Chocola BB Plus is effective for easing rough skin, acne, and mouth ulcers, and provides a boost of vitamin B2 for times of physical fatigue. It was launched as a nonprescription drug (third-class OTC drug) in Japan. In Taiwan, there is high demand from consumers who are both health and beauty conscious, and the launch of this product will allow us to better respond to their needs. Chocola BB Plus will be sold in drugstores, pharmacies and over the internet.
Through the Chocola BB brand, which supports health and beauty, Eisai will make further contributions to addressing the diversified healthcare needs of, and increasing the benefits provided to consumers in Taiwan and other Asian countries.
Media Inquiries:
Public Relations Department,
Eisai Co., Ltd.
< Notes to editors >
[Product Outline]
*You can scroll to the left or right here
1.

Product Name:

Chocola BB® Plus (general food product, Chinese name: )
2.
Ingredients (per 2 tablets):
Sodium riboflavine phosphate (Vitamin B2 phosphate)
38mg
Pyridoxine Hydrochloride (Vitamin B6)
50mg
Thiamine mononitrate (Vitamin B1 mononitrate)
20mg
Nicotinamide
40mg
Calcium pantothenate
20mg
3.
Suggested retail price (including tax):
60 tablets
600NTD
180 tablets
1,400NTD
4.
Exporter:
Eisai Co., Ltd.
Manufacturer:
KOKANDO Co., Ltd.
Supplier:
Eisai Taiwan Inc.
[Product Photograph]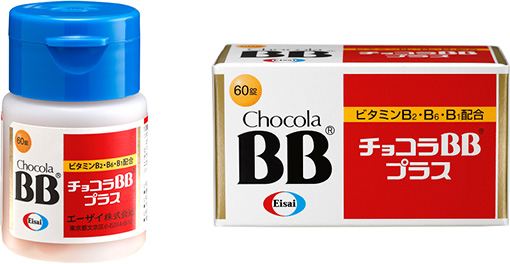 *

Chocola BB Plus will be sold in Taiwan with the Japanese packaging.