Eisai Co., Ltd. (Headquarters: Tokyo, CEO: Haruo Naito, "Eisai") announced today that it has been listed for the 14th consecutive year since 2002 in the FTSE4Good Index Series, a global index for socially responsible investment.
The FTSE4Good Index Series is a selection of companies that meet designated standards in three aspects of environment, society and governance, as chosen by the FTSE Group, a 100% wholly owned subsidiary of the London Stock Exchange. Of the 14 themes for evaluation, Eisai received particularly high scores in "Customer Responsibility", "Anti-Corruption" and "Corporate Governance" among others. As at the end of July 2015, a total of 802 companies from around the world have been selected for the FTSE4Good Index Series, including 176 companies from Japan.
Along with being listed in the FTSE4Good Index Series, Eisai is also listed in the Dow Jones Sustainability Asia Pacific Index, another representative index for socially responsible investment.
Eisai's corporate philosophy is to give first thought to patients and their families and increase the benefits that health care provides as well as address diverse healthcare needs worldwide. Guided by this philosophy, Eisai will continue to develop innovative new drugs and make them available to patients around the world as early as possible to fulfill its social responsibility and secure the trust of stakeholders.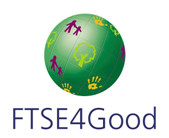 Media Inquiries:
Public Relations Department,
Eisai Co., Ltd.