Eisai Co., Ltd. (Headquarters: Tokyo, CEO: Haruo Naito, "Eisai") announced today that construction of a new packaging facility (below, "New Facility") has been completed at its Hatfield, Hertfordshire production plant in the United Kingdom ahead of plans to launch multiple new Eisai products. An official opening ceremony was held on November 26, 2014 (GMT) to mark the occasion. The Hatfield plant is operated by the company's U.K. manufacturing subsidiary, Eisai Manufacturing Ltd.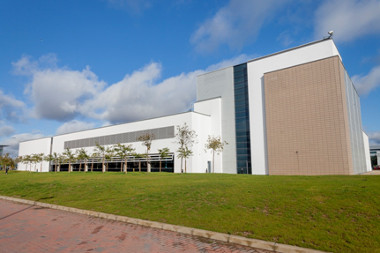 The Hatfield plant serves as a global supply center for new products such as antiepileptic agent Fycompa® while also functioning as a production and packaging base for countries in Europe, where there is a demand for a high mix of low-volume product presentations in multiple languages. Located adjacent to the currently operating facility (total floor space: about 7,800 m2), the New Facility covers a total floor space of approximately 2,900 m2, representing an increase in size of approximately 40%. Housing a packaging line with cutting-edge technology, the New Facility is specifically designed to cope with highly potent compounds to handle the packaging of Eisai's investigational anticancer agent lenvatinib (generic name), and Eisai intends for the Hatfield plant to serve as the global supply center for lenvatinib.
The U.K. Minister for Life Sciences, George Freeman MP, welcomed the completion of the New Facility, commenting, "Pharmaceuticals manufacturing is important to our economy. Eisai's investment in this new facility will help grow pharmaceutical export and is another vote of confidence for the U.K.'s world-class life sciences sector."
Eisai's CEO Haruo Naito said, "Since the establishment of the Eisai London Research Laboratories in 1990, for over nearly 25 years we have continued to invest in the U.K. as our base in Europe. I am proud to announce that the opening of this new high tech facility will enable the supply of innovative new medicines, such as anticancer agents lenvatinib and Halaven® as well as antiepileptic agent Fycompa, from our plant here in Hatfield to contribute to patients all over the world."
Eisai established the European Knowledge Centre (EKC), which integrates the company's discovery research, clinical development, production, marketing, and European headquarters functions into one site, in Hatfield, Hertfordshire in 2009 with the aim of expanding its business operations in Europe. At present, the EKC plays an even more important role as the regional headquarters for Eisai's EMEA business which covers Europe, the Middle East, Africa and Oceania.
By strengthening the production functions of the Hatfield plant and ensuring the delivery of high quality products to patients through this investment, Eisai strives to contribute to patients all over the world.
Media Inquiries:
Public Relations Department,
Eisai Co., Ltd.
< Notes to editors >
1. Outline of Hatfield Plant
1)

Location: European Knowledge Centre, Mosquito Way, Hatfield, Hertfordshire, AL10 9SN, U.K.

2)

Launch of operations: August 2009

3)

Main products:

Dose manufacturing: Fycompa®, Aricept® , Zonegran®
Primary packaging: Fycompa®, Zonegran®, Zebinix®, Inovelon®, Aricept®, Pariet®
Secondary packaging: Halaven®, Inovelon® (oral suspension dose)

4)

Total floor space: Approximately 10,700 m2