Eisai Co., Ltd. (Headquarters: Tokyo, President & CEO: Haruo Naito, "Eisai") announced today that the Company had completed construction of and officially opened the "European Knowledge Centre" (Location: Hatfield, UK) as its new European strategic base.
The "European Knowledge Centre" is built on a 14.5 acre site located inside the Hatfield Business Park (north of London). The Company has made a total investment of approximately £100 million to complete this project. The Centre is made up of a manufacturing plant, research laboratory, office building, and shared facilities, and will employ more than 500 staff, half of whom will work in newly created positions.
Eisai's European regional headquarters, manufacturing subsidiary, and UK clinical research and sales subsidiary have all relocated to the "European Knowledge Centre", and a new discovery research function has been added to extend and strengthen the capabilities of the Company's discovery research subsidiary located at the University College London. Accordingly, Eisai's internal functions including discovery research, clinical development, production, marketing and headquarters operations have been consolidated in the Centre. The housing of these core functions on a single site will allow for smooth communication between each function and will facilitate 'knowledge creation', as the name of the Centre suggests.
Whereas Eisai has up until now relied on business alliance partner companies for product production, the facility will enable the Company to manufacture its own products in Europe for the first time. While the Company will start packaging several of its products in-house during the end of the fiscal year 2009, it also plans to manufacture drug formulations in the future, and will become the centre of the value chain in Europe.
When it comes to business deployment, Eisai considers Europe as a single market economy, and while it has consolidated its service functions including marketing, medical, finance and IT into its European headquarters, sales subsidiaries will take on sales-specific functions as the Company makes the transition to a new and unique "High Efficiency Model" in Europe, in pursuit of securing high efficiency and productivity. The infrastructure is in place to move forward with this business model now that the "European Knowledge Centre" is complete.
Eisai now owns 15 group companies in Europe including regional headquarters and pharmaceutical sales subsidiaries, which currently cover 19 countries mainly in the European Union. The opening of the "European Knowledge Centre" not only means that Eisai can further advance its European business strategy, fulfil unmet medical needs, ensure the stable supply of high quality products, and provide information on drug efficacy and safety, but also allows the Company to further contribute to increasing benefits to patients and their families in Europe.
[ Overview of European Knowledge Centre ]
*You can scroll to the left or right here
Location :
European Knowledge Centre
Mosquito Way
Hatfield, Hertfordshire
AL10 9SN
United Kingdom
Date of Establishment :
June 26, 2009
Site Area :
Approx. 14.5 acres
Number of Employees :
Approx. 500 (including approx. 250 new employees in research and manufacturing)
Total Amount of Investment :
100 million GBP
[ Photos of the European Knowledge Centre are attached for your reference ]
Contact:
PR Department
Eisai Co., Ltd.
[ Aerial View of European Knowledge Centre ]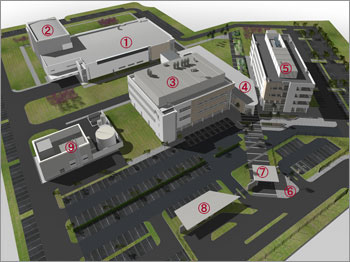 (1) Manufacturing
(2) Warehouse
(3) Research
(4) Shared Facility
(5) Headquarters, etc
(6) Entrance
(7) Gatehouse
(8) Post House
(9) Energy Centre
[ Photo 1 ]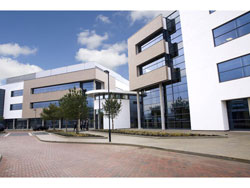 [ Photo 2 ]