Honda Motor Co., Ltd.
Eisai Co., Ltd.
Oita University
Usuki City Medical Association
Honda Motor Co., Ltd. ("Honda"), Eisai Co., Ltd. ("Eisai"), Oita University and the Usuki City Medical Association announced today that they have entered into a joint research agreement to verify the relationship between changes in cognitive function and daily physical condition of elderly drivers and their driving ability.
In recent years, with Japan's aging population, people are returning their driver's licenses because of age-related concerns about their physical condition and driving ability. This is leading to a decline in quality of life due to the inconvenience of transportation in daily life, which is becoming a social issue.
This joint research agreement will be conducted with the aim to maintain and improve the safety and health of elderly drivers by constantly monitoring their daily physical condition and their state while driving, providing safety and peace of mind suited to each individual driver, thereby realizing a society with zero accidents where their families and local residents can also live with peace of mind.
[Key initiatives]
In collecting health data on the subjects, the physical examinations and some of the cognitive function tests will be conducted at the Usuki City Medical Association Citizen's Health Management Center, while Oita University, Department of Neurology, Faculty of Medicine, will mainly be administering cognitive function tests. Cognitive function tests include imaging and neuropsychological tests for clinical diagnosis, and in addition to these, a digital tool for self-assessment of brain health developed by Eisai*1 is to be used. At the same time, the subjects will use wearable devices, which will enable measurement of the subjects' daily physical condition data. In addition, at the Usuki City Medical Association Cosmos Hospital, the subject's driving ability (driving cognitive behavior and driving operation) will be measured using a tool that utilizes research technology developed by Honda to monitor driver behavior and conditions*2. This will allow us to examine how human health data and daily physical condition relate to driving ability.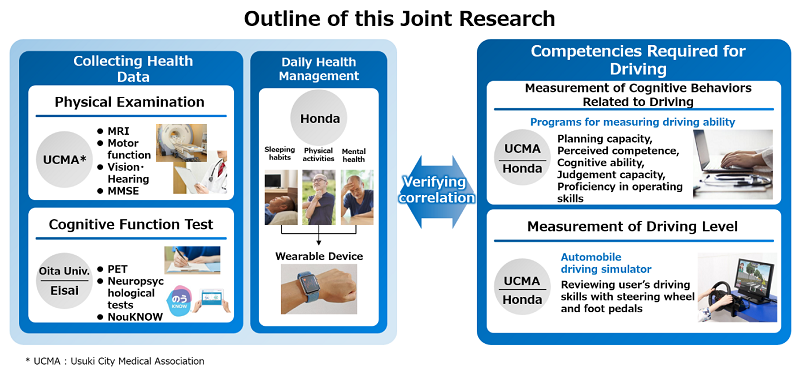 This joint research is expected to enable the monitoring of drivers' daily physical condition and driving behavior in order to detect and notify them of poor physical condition, and cognitive decline related to driving, and to provide safe driving advice and health promotion advice in accordance with changes in the physical condition and driving ability of each individual. Honda, Eisai Oita University and Usuki City Medical Association will continue to work on the creation of new solutions to provide safety and peace of mind suited to each individual, utilizing the results of this joint research.

■Outline of the Demonstration Experiment
Period: September 1, 2022 - March 31, 2023
Subject: 100 people aged 65 or older living in Usuki City, Oita Prefecture, Japan
Responsible organizations: Honda, Eisai, Oita University, Usuki City Medical Association
*1 "NouKNOW" (non-medical equipment) is a self-checking tool of brain health (brain performance) developed by Eisai based on the algorithm created by Cogstate, Ltd. (Headquarters: Australia) for which Eisai holds the rights for exclusive development and commercialization worldwide. This digital tool allows users to self-assess independently evaluating psychomotor function, attention, learning and memory, and working memory in a short time frame (approx.15 minutes) through a simple card test using PC or other devices.
For more information about "NouKNOW", please visit https://nouknow.jp/ (Japanese only)
*2 Honda Safety Navi, a simple and easy to use automobile driving simulator developed for a wider-range of users, based on the concept of "enabling anyone to experience and learn driving skills while driving various traffic situations on-screen with fun", by leveraging know-how Honda accumulated through its development of automobile driving simulators, will be improved and then be used to measure the subjects' driving behavior. In addition, abilities related to driving such as cognitive behavior will be measured with an original program.
For more information about Honda Safety Navi, please visit
https://www.honda.co.jp/safetyinfo/simulator/safetynavi/
<Contacts>
Honda Motor Co., Ltd.

Corporate Communications Supervisory Unit, Corporate Communications Division

TEL: +81-(0)3-5412-1514


Eisai Co., Ltd.

Public Relations Department

TEL: +81-(0)3-3817-5120
Oita University

Department of Neurology,
faculty of medicine

TEL: +81-(0)97-586-5814


Usuki City Medical Association

Secretariat

TEL: +81-(0)972-63-0099