As an hhc activity at Tsukuba Research Laboratories, Eisai invited Mr. Yohei Nishiguchi, a Representative Director of "Cancer Parents" and held lecture as well as discussion in August 2019.
At the age of 35, Mr. Nishiguchi was informed that he had stage 4 cancer. However, he had no one who was in the same situation and same generation to go for advice near him while he was receiving treatment. Based on his experience, he established the website "Cancer Parents" where cancer patients who have children can communicate with each other, in April 2016, and has been working energetically for patients with cancer.
Please visit Cancer Parents website and refer to the detailed profile of Mr. Nishiguchi. https://cancer-parents.org/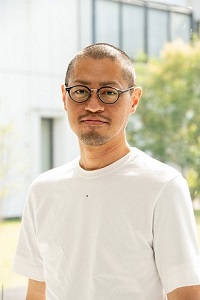 Lecture Session
More than 100 employees, mainly scientists engaged in drug discovery research for anticancer agents at Tsukuba Research Laboratories, participated in the lecture. Based on his experiences of learning about the cancer diagnosis at young age of 35 and returning to work while receiving cancer treatment, Mr. Nishiguchi told us about the actual situation of cancer treatment including side effects of anticancer agents, the difficulty of disclosing about suffering from the cancer, the issue of balancing work and cancer treatment, the economic problems related to cancer treatment, his thoughts and considerations for his family. "I cannot prioritize my life, money, or work. All of them are linked together and important." said Mr. Nishiguchi. His talk made us think deeply as if it were our own. Mr. Nishiguchi also said, "Patients are the members of society, not the beings which only receive supports. I want to build a society for cancer patients where they can live easily as a part of society." His implementation of his thoughts as activities of the Cancer Parents left strong impressions on participants.
Discussion Session
In the discussion, Mr. Nishiguchi and about 20 employees exchanged their opinions about "Information Exchange Tool between Patients" which the Cancer Parents is currently devising. This tool helps patients by sharing their health conditions and health management methods during treatment. Cancer Parents aims to make it useful not only for exchanging information among patients, but also for gathering valuable information for pharmaceutical companies. Active discussion was held about including the perspectives of pharmaceutical company.
Employees' Thoughts
Through this lecture and discussion, all of the participants realized the importance of their daily work, got deeply motivated and committed once again to strive for drug discovery research based on deeper patient perspectives. Followings are the part of impressions by our researchers after attending the discussion.
In the treatment with anticancer agent, it is normal to instruct patients that "you need to take it and must be PATIENT with side effects". However, I fully realized that something must be done to change the current situation of taking anticancer agent with PATIENCE. I was convinced that patients prefer oral drugs for anticancer agents, but I was shocked to hear Mr. Nishiguchi's comments saying "It is very difficult to take a drug at my own will because I know that I will experience side effects." As a researcher who involved in safety research, I renewed my determination to reduce side effects and to minimize the patients' PATIENCE as much as possible.

I felt irritated about the current situation where we cannot respond to Mr. Nishiguchi's wish "I want to be prescribed immediately an effective drug for me." Also, I felt that I should not and do not want to deliver a drug with uncertain effectiveness and unclear cause of side effects. I pledged to promote the various initiatives in nonclinical research more powerfully in order to utilize various information obtained from patients in clinical practice.

The reality of family, work, and life of cancer patients who are in their 30s to 50s and in prime of their lives, stuck in my mind. As a person who is engaged in development of pharmaceuticals, I was downhearted that Mr. Nishiguchi got tired of taking investigational drugs due to side effects even if he hopes these drugs will be new treatments. This was a very good opportunity for me because I have never heard of the concerns of patients who participate in clinical studies. I strongly felt the necessity to accelerate our safety research aiming to create information leading to peace of mind of patients and clarify side effects mechanism in advance.

The opportunity to listen to patient's voice directly is very precious for me, and motivates me to advance my research. If detailed information from patient perspective can be obtained, it may be possible to clarify the mechanism of side effects through my research. I think that it will lead to side effect management and development of new drug with less side effects. I would like to continue to communicate closely with patient.

I was impressed that Mr. Nishiguchi established the "Cancer Parents" to solve patients' worries from his experience, and learned the importance of "proactive activities." In addition, the patient's "real opinion" is very important for medication management establishment, creation of safe environment in which patients can focus on treatment, and community development. Furthermore, I was proud that I assume a role that lead to contribution to patients based on patients' opinions. I would like to make the best use of these thoughts for promoting daily operation actively.

The detailed information from patients are very valuable because they might be new information which cannot be clarified in our research. I would like to establish the evaluation and analysis methods so as to provide these information to other researches, and advance the research to enable the drug discovery utilizing patient information at an early stage.
End of Document