Eisai Korea Inc., Eisai Co., Ltd.'s sales branch in South Korea, together with Woori Mapo Community Welfare Center, received several CSR awards in 2017 for hhc activity "NOW Project." Eisai Korea Inc. started the NOW Project together with Woori Mapo Community Welfare Center in 2015 as a campaign to improve awareness of the various issues faced by people with disabilities through the creation and distribution of songs to support these people. The NOW Project aims to facilitate society's understanding of disabilities and realize the creation of a society that coexists with patients and people with disabilities. The word NOW originated from the Korean-language "naleul issge haneun uli, 나를 있게 하는 우리", meaning I Am Here because We Are Here!
First, Eisai Korea Inc. received "2017 Korea CSR Award" for the NOW Project from the National Assembly of the Republic of Korea. The National Assembly selects good companies and gives the official award to the companies doing exemplary corporate social responsibility activities.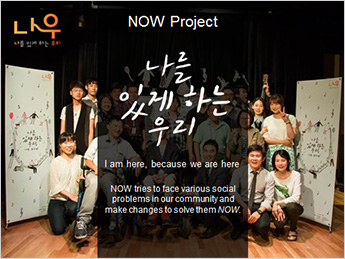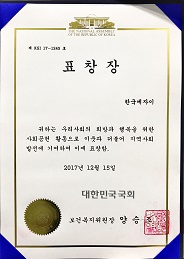 Second, Eisai Korea Inc. was awarded "2017 Seoul CSR Award" by Seoul Metropolitan Government and the Welfare Foundation of Seoul for the NOW Project. "Seoul CSR Award" is an official commendation for CSR projects to encourage corporate social contribution activities and to strengthen public private partnerships.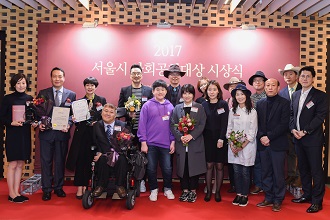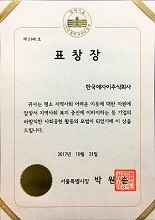 Lastly, Eisai Korea Inc. received "2017 CSR Film Festival Award" in Health Community part from Korean Ministry of Small and Medium-sized Enterprises and Startups for the NOW Project's music video of "Pause Choir (쉼표합창단)". This contest was co-hosted by the Korea CSR Film Festival Committee and several ministries of the Korean Government to encourage CSR activities in the country.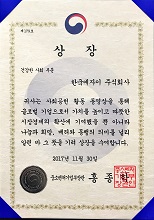 One social theme is selected for the NOW Project every year and a campaign is implemented with partners in the community. In 2015, an original song was released under the NOW Project entitled "Closer", which calls for the realization of a society where all people including people with disabilities can live comfortably. The NOW Project team held concerts to perform this song as well as created "NOW Etiquette", a leaflet listing 10 hints for realizing such a society. As a result of these activities, Eisai Korea Inc. received the Excellence Award in the CSR category for the NOW Project at the Pharmaceutical Industry Advertisement PR Award Ceremonies in 2015. The "Closer" Project also won "Award of hhc Excellence" in Eisai Group's annual hhc Initiative 2016 event that promotes and recognizes excellence in innovative activities based on hhc corporate philosophy.
● "Closer" can be watched here 
In 2016, the theme "AGEING," which is becoming a social problem in South Korea, was selected and "Senior Attack (노년반격)," a program which supports senior musicians, was developed in order to realize a vigorous society where senior citizens may enjoy their second lives. In this program, two bands of senior musicians called "Silvergrass (실버그래스)*" and "Nowadays (바야흐로)" were formed and two songs, "My first run away (첫번째 가출)" and "Around this age (이 나이쯤에)", were released respectively. The musicians performed the songs in various scenes such as TV, radio and events of local government.
Silvergrass (실버그래스)*: It was named after combination of "Bluegrass music," which is a form of American roots music and a related genre of country music, and "Silver grass, vigorous plant which has beautiful flowers in autumn.
● Silvergrass (실버그래스): My first run away (첫번째 가출)
● Nowadays (바야흐로): Around this age (이 나이쯤에)
In 2017, the NOW Project ran "The Pause Campaign" with "The Pause Choir". The "Pause Choir" consists of five children with epilepsy and their families. The "Pause Choir" aimed to improve epilepsy awareness among the community and contained the activities done for increasing awareness. They released a song "Have A Good Time". The Pause Choir had performed in several live concerts including a NOW Concert. The members of the Pause Choir said that they were healed from psychological pains of disease and felt self-accomplishment throughout the project.
● "Pause Choir (쉼표합창단)" can be seen here
The Eisai Group has been engaged for many years in activities for "creating communities where people can live with peace of mind," and these awards are proof that these activities are highly rated. The Eisai Group continues striving to make contributions to address the diverse needs of, as well as increasing the benefits provided to, patients and their families.