On November 20, approximately 100 employees, including senior management from various Eisai subsidiaries worldwide, assembled at our global head office in Tokyo to participate in "hhc Initiative 2015."
hhc Initiative is an annual event that promotes and recognizes excellence in innovative activities based on our hhc corporate philosophy. Each year, the most outstanding initiatives are selected from a range of innovative projects by Eisai employees, covering diverse hhc-driven activities that aim to realize various contributions to patients, case reports and proposals submitted by internal applicants, and achievements of in-house R&D and production organizations that are deserving of special mention. The overall aim of the event is to increase the understanding of the importance of innovative initiatives that emphasize health care from the patients' perspective, and by sharing these results to promote further innovation.

This year's hhc Initiative featured presentations on a total of 22 innovative activity themes. Of these, we would like to highlight a selection of activities from Russia.
Efforts to Contribute to Breast Cancer Patients in Russia
This theme consists of activities aimed at satisfying unmet needs of breast cancer (BC) patients in Russia from the psychological and physical aspects of their disease as there is not enough patient support programs in the country to satisfy such needs, meaning that the quality of life (QOL) of patients after surgery and chemotherapy treatment is relatively low. The Russian team learned of the true situation through socialization (interaction) with BC patients and their families. They found that doctors have less and less time spent in face-to-face contact with patients due to the doctors' busy work schedules. In fact, even when informing patients of a cancer diagnosis, doctors spend an average of only 12 minutes with their patients, and therefore patients do not have enough time to ask anything including questions regarding the nature of the disease, its diagnosis and available treatments. The team took the initiative in collaborating with patients and oncologists to make video clips to answer questions which many patients have after being diagnosed with BC, in the hope the video clips would help ease patients' fears and anxieties. The video clips were utilized in websites of medical institutions, in lectures, etc. and were viewed by more than 800 patients. The team plans to make new video clips showing stories of various experiences of BC patients, and these video clips will be introduced to other regions in the country.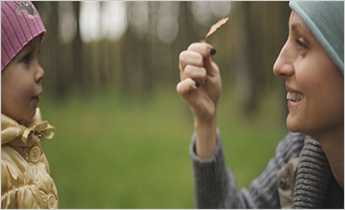 In addition, the team had several dialogues with external stakeholders, such as local governments, oncologists and psychologists, to support BC patients rehabilitating into society at an earlier stage following surgery and/or medical treatment. Ultimately, rehabilitation facilities that could offer physical therapy and psychological consultation to patients were established in two cities in central Russia. The team contributed to improving QOL of BC patients through the inaugural implementation of the support program in Russia. Similar facilities in two other regions are currently being established, and the team aims to help expand the support program all over the country.